Details

Written by

Webmaster Aimee
Hey Petty people,
A week until An American Treasure! Plus lots of things are going on, such as a new song, a bunch of new interviews (here, and here), and his hometown's planned birthday celebrations (including a park named after him). 
Anyways, five new magazine articles coming next week. And for today, a concert review from college newspaper The Stanford Daily, from July 30, 1985:
"Late in the concert, several people at the front held up an elaborate "We Love You TP" banner to Petty, and he took it and wrapped it around his shoulders. It was symbolic of the bond between Petty and his fans, the success of Petty's return to his Southern-rock roots and his ability to translate both into a rousing, heartfelt performance."
See you on Monday, 
Aimee
Details

Written by

Webmaster Aimee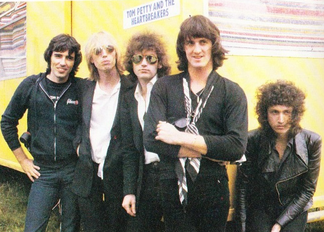 Hey Petty people,
Seems that the Heartbreakers are thinking about not only putting out that updated re-release of Wildflowers, but also the Fillmore shows. There's some discussion about it over on Mudcrutch Farm.
Got some album reviews for you today - two, actually. Considering how short they were, it seemed silly to put just one up. Here they are:
- Aimee
Details

Written by

Webmaster Aimee
Hey Petty people,
A bit of an admission here - I haven't even looked at the site since the last update. I've been busy with other things...important things, such as procrastinating on other things that need to be done...er, well, in any case, I'll pick out a couple of magazine articles in a day or two for the next big update. For the time being, here's a 1989 interview from the Winnipeg Free Press:
"I think they felt a little left out when I said I was going to make a record without 'em. But we'll always drift back into each other's path. It's too good a group to just throw away."
See you all later,
Aimee
Details

Written by

Webmaster Aimee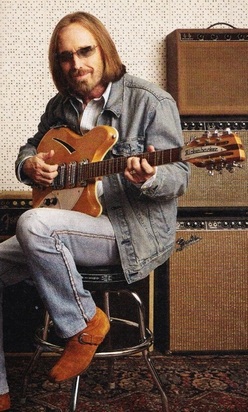 Hey Petty people,
Well, here's another! It's from British music magazine Uncut and published in 2014.
"I did go through a lot of my life with a short fuse where I could erupt into a serious rage. I think that was a product of my childhood, where I had some serious abuse."
Anyways, that's the last one for the time being; I'll start typing up some more soon. I'll keep doing what I was doing before, and try to post a shorter article about once a week or so.
I'll be back at some point,
- Aimee
Details

Written by

Webmaster Aimee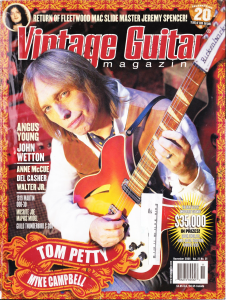 Hey, Petty people,
If you've not already noticed, I'm posting an article from each decade, from the 1970s to the 2010s. Today's is from 2006, in Vintage Guitar. You get two interviews, with Tom Petty and Mike Campbell. If you like guitars, you'll likely enjoy this.
"Yeah, it's about time, you know? You look up after 30 years of being on the road, and you've never done anything else. So I'd like the opportunity to live a somewhat normal life for a while; out life has really been either on the road or in the studio, and very little else. We grew up doing this! And again, we have a lot of songs to record."
I'll be posting the last article tomorrow, then it's back to typing.
- Aimee