Record reviews: 'Torpedoes' breaks through for Petty, Heartbreakers
By Dave Marsh
Wilmington Star-News - January 4, 1980
Records are rated from one star to five in ascending order of quality.
TOM PETTY AND THE HEARTBREAKERS: "Damn the Torpedoes" (MCA) 3 Stars
This is Petty's breakthrough disc, and its best numbers, especially "Refugee," prove that it's a meaningful commercial milestone. Petty is an excellent songwriter, who synthesizes a Springsteen-like pastiche of influences into something genuinely personal.
The problem, despite this album's streamlined production by Petty and Jimmy Iobine and sweet singing, is that Petty lacks a killer instinct. There are plenty of tough rock 'n' roll attitudes here, but because Petty refuses to fully commit himself emotionally, they remain poses, just another cute kid fronting a very hot band. Which is a shame, because performed with the heart they deserve, three or four of these numbers might be all-time classics.
As it is, they're as well crafted as any other late '70s California hard rock, more intelligent than most of the competition but ultimately just as inconsequential.
Tom Petty lives it up
By John Laylock
The Windsor Star - January 5, 1980
Already the New Year has been happy -- I discovered Tom Petty on New Year's Day.
Now, I can hear whispers out there -- New Year's 1979, you say, or maybe even '78?
Okay, far enough. Petty's been around awhile, and his latest album is on its way to gold, and he played in Detroit not long ago. I'm slow.
But it took a tape of that concert, broadcast on the radio Jan. 1 to open my eyes (or, I suppose, ears) to Petty.
Certainly the album Damn the Torpedoes (on Backstreet-MCA) gave little clue what the fuss was all about. Not even when individual tracks began to get air-play -- the mordant Refugee and Even the Losers, the snappy Don't Do Me Like That, all sounding better outside the context of the album.
About music: Petty fights back
By James Kinsella
Plattsburgh Press-Republican - Friday, January 11, 1980
TOM PETTY AND THE HEARTBREAKERS: Damn the Torpedoes. MCA-5105.
PLATTSBURGH -- Tom Petty is backed by a group called the Heartbreakers, and heartbreak is the driving force behind Petty's new album, Damn the Torpedoes. But rather than lie down and moan and groan, Petty fights back with exhilirating rock that's both serious and fun.
Petty works in a mode that has many pretenders but few artists -- slashing power-chord rock with high harmonies, boy-girl lyrics and a full-steam 4/4 beat. If there's such a thing as "pure rock," melted down to where the music's roots are unrecognizable and "rock and roll" remains present more in spirit than in musical construction, this is it.
Earth Anthem
By Jo-Ann Wong
The Deseret News - Friday, January 18, 1980
The crews made it here Wednesday night but Tom Petty and the Heartbreakers didn't. They said Petty had a sore throat. The show was cancelled and so was the appearance of opening group, "The Fabulous Poodles."
True to their name, the postponement broke many hearts including mine. It would have been a rare opportunity to see what this group is about. I especially wanted to see the man "Newsweek" magazine called "rock's swaggering new savior."
Petty borrows a little musical histry from the Byrds and the Rolling Stones. His recent hit, "Don't Do Me Like That," sounds like something from the The Band.
Petty adds some soul shouts, good lyrics and a direct approach with good effects.
Critics have been kind to Petty, and his three albums have been praised. Some compared the band to that of Van Morrison or Roger McGuinn.
Petty still hot
By Bill Harris
The Daily Aztec - Tuesday, January 22, 1980
Tom Petty and the Heartbreakers | Golden Hall | January 18
Tom Petty seems surprisingly unaffected by the legal hassles which have beset him for nearly a YEAR AND A HALF. Stemming from the purchase of his original label, ABC, by the giant MCA, Petty's problems curtailed nearly all his live and studio performances.
With the liabilities sorted out, and with a new label, (MCA subsidiary Backstreet), Petty has resumed his position as the leader of the new rock 'n' rollers. On his current West coast tour, Petty is offering a musical apology for his hiatus in the form of solid, unrestrained music that is producing sell outs and standing room only shows at almost every stop.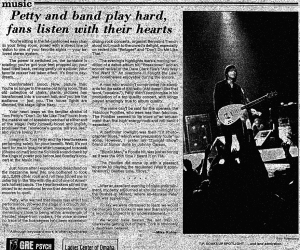 Albums: Petty's third finds musical focus
Revew by James Williamson
The Gateway - January 18, 1980
Damn the Torpedoes, Tom Petty's third album, brings Petty and his band finally into focus as a distinctive rock 'n' roll voice. Through nine tracks of hard-nosed mainstream rock, the Heartbreakers make music that raises the album to the level of one of the best pop recordings of 1979.
Tom Petty, like Nils Lofgen and Dave Edmunds, has a pure rock 'n' roll heart. His music is not used as a vehicle for sociopolitical comments or deeply personal expressions but to explore the subject as old as Elvis Presley's "Heartbreak Hotel" and Chuck Berry's "Maybellene": the basic boy-girl love relationship.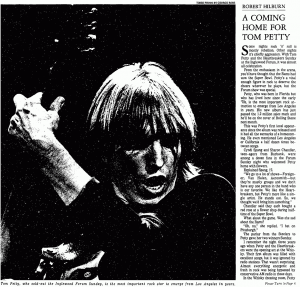 A Coming Home For Tom Petty
By Robert Hilburn
The Los Angeles Times - January 22, 1980
Some nights rock 'n' roll is mostly rebellion. Other nights it's chiefly aggression. With Tom Petty and the Heartbreakers Sunday at the Inglewood Forum, it was almost all celebration.
From the enthusiasm in the arena, you'd have thought that the Rams had won the Super Bowl. Petty's a vital enough figure in rock to deserve the cheers wherever he plays, but the Forum show was special.
"Torpedoes" Right on Target
By Amy Hunter
The Crawford Pacer - January 25, 1980
Damn The Torpedoes, Tom Petty and The Heartbreakers' latest album, is definitely their finest yet. With Pettys strangling vocals and the Heartbreakers pumping rhythms, this album has been rapidly climbing the charts ever since its release in late November 79.
Tower Records reported that Damn the Torpedoes was one of their biggest selling albums over the holidays along with Pink Floyds The Wall.
Like their two previous albums, Damn the Torpedoes is stocked with radio hits. The biggest being "Refugee", a tough minded, street song with lyrics like "It don't really matter to me, everybodys got to fight to be free."
"Here Comes My Girl," another very popular song, is an almost typical love song except that the verses are nihilistic rather than soppy love mishaps. He asks himself questions that we ask ourselves every day like, Why am I here?, and Should I stay? In this song, Petty's hope comes from his girl.
"Even the Losers" and "Don't Do Me Like That" are two more great songs, although all of them are good. "Don't Do Me Like That" is a swinging  song with Benmont Tench's organ keeping a steady rocking beat and Petty's guitar sounding almost like a banjo.
Petty's Dylan-like vocals and his raw guitar resembles early Rolling Stones music making an irresistible combination. His songs are ordinary and down to earth; a style lost in many of todays cosmic, synthesized rock 'n' roll. All in all, Damn the Torpedoes is an exciting, refreshing album well worth buying.
Tom Petty Rocks Hard Into the 80s
By David Lindsay
American Eagle - February 1, 1980
The year 1980 will be an interesting one for rock music. Last year proved to be strange enough with the long awaited releases of Stevie Wonder, Led Zepplin, Fleetwood Mac, and the Eagles.
But look who's yet to release this year: The Rolling Stones, Grateful Dead, The Who, Steely Dan, Jackson Browne, Moody Blues and Bruce Springsteen.
Fans of "The Boss" have been extra itchy since the original date of his release was last fall. The latest word is that the new Springsteen album, "The Ties That Bind," will be released sometime in May followed by a new tour.
Meanwhile Rock fans who are looking for a hard, dynamic rock sound might want to check out Tom Petty's latest Damn the Torpedos. It`s laced with hard rockers and catchy ballads that follow in the style of Bob Dylan, Springsteen, Nick Lowe and The Stones. In fact, Petty does such a good job of imitating these styles that he steals with authenticity.
The opening cut, 'Refugee', has Petty screaming in a Dylan voice that "It don`t really matter to me. Everybody`s got to fight to be free. (Said) You don`t have to live like a refugee.' Petty follows this with a Springsteen-influenced love ballad 'Here Comes My Girl' with heavy organ and electric guitar.