Studio Track
by Bob Kirsch
Billboard -- August 31, 1974
At the Village Recorder in Los Angeles, Mudcrutch is in with Denny Cordell producing and Rick Heenan engineering.
Studio Track
By Bob Kirsch
Billboard -- November 16, 1974
Mudcrutch was in cutting for Shelter, with label chief Denny Cordell producing and Galen Denogles working the control boards.
Top Single Picks: First Time Around
Billboard -- February 15, 1975
MUDCRUTCH -- Depot Street (3:26): producer: Denny Cordell; writer: Thomas Petty; publisher: Tarka, ASCAP. Shelter 40357 (MCA). Good reggae cut that fits in with the current commercial standards as well. Closest thing to actual reggae to have a chance to be a major AM hit to come along in some time.
Recommended LPs: Pop
Billboard — December 4, 1976
TOM PETTY AND THE HEARTBREAKERS, Shelter SRL5226 (ABC). Petty, another punk rock, black leather jacketed offshoot, delivers an assortment of sullen ballads and uptempo shriekers. This LP gains impact on its second spin. Petty's laid back vocals become rather infectuous. Best cuts: "Hometown Blues," "Luna," "Mystery Man," "American Girl."
Tom Petty and the Heartbreakers Review
Review by Giovanni Dadomo
Sounds -- January 1, 1977
In the next 15 column inches, Giovanni Dadamo will attempt to convince you of the excellence of a new American band. Over to you, Mr. D...
Tom Petty: 'Tom Petty And The Heartbreakers' (Shelter SRL 52006 Import) ★★★★★
I like this record so much that I'd hate for a single person out there to miss out on it because of my failure to communicate.
Okay, howzabout 'Tom Petty & the Heartbreakers' is purely and simply the best mainstream rock debut by any American band this year and anyone who doesn't rush out and buy the booger immediately don't know nuthin!' And yes, I really do believe the first half of the statement to be perfectly true. But then what'll happen is some PR wise guy cuts it out and pastes it on an ad and suddenly it's just another hunk of hype.
Editor's Note: Thanks to Sue Reaney for this scan.
Mystery Man
By Giovanni Dadomo
Sounds - February 26, 1977
Hot potato Tom Petty (remember where you read about him first) tracked down courtesy of the GPO
Some people: They won't stop talking, others don't even want to start. Tom Petty, he's definitely in the latter camp. "I hate to sit down and talk about what I did in the past," says Petty, "because I didn't do anything in the past, nothing of any consequence anyway."
We're enjoying that least satisfying of interview situations, the transatlantic phone-call, Tom Petty and I. And the reason I'm talking to him is that, if you don't know it already, Tom Petty and his band the Heartbreakers are responsible for what is undoubtedly the finest American debut album to come my and a lot of other people's way in a long time.
Anyways, about this mist-shrouded past of Mr. Petty's—the lack of information began by way of the Shelter Records biography which accompanied Tom's platter. It was, how you say, a little less than forthcoming, one of those 'let the music do the talking' numbers in the form of a mock interview with TP during the course of which nothing was revealed. And sure, of course it don't matter one jot who or what is making the music—particularly when it's as fresh and exciting as Tom Petty's indubitably is but all the same it's only natural to be curious.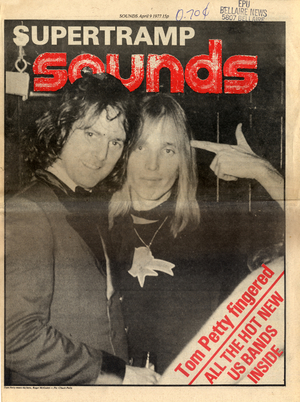 The Heartbreak Kid
By Susin Shapiro
Sounds -- April 9, 1977
He's twenty-four, he's part-Cherokee, he sings like a Byrd, and he says he's 'in this business for chicks'. He is Tom Petty, and Susin Shapiro thinks he's going to be the next big thing.
Any seasoned critic, worth their salt -- heh heh -- will evaluate a record not only on the basis of its music and their taste but also according to its ordinal position in a group's career. A debut lp gets a different sort of treatment than a second, third, or fourth. It is easier to call 'Goat's Head Soup' a bomb in light of the Stones' lps preceding it; I doubt that as a first record any critic would have deemed it quite so worthless.
History is grist for critical perceptions; history alters the focus of appreciation. Remarks centre less on the music and more on the process, the arc of changes. First records are in some perverse way the easiest, even if they require the bigger leap of faith. All you have before you is this shiny black pancake of sound to appraise, no previews, no past triumphs or disasters, no a priori prejudices, except your own. If you loathe heavy metal, the first Kiss LP didn't alter your opinion much.
More Than a Petty Face
Melody Maker -- May 26, 1977
Tom Petty and the Heartbreakers end their breakthrough British tour with Nils Lofgren this week -- but the band return for their own concert series next month.
The band's phenomenal rise to headlining status has taken just three weeks. They came to Britain at the beginning of this month to play as support band on the Lofgren tour. Petty and the Heartbreakers, however, are ending the tour as one of the most in-demand bands currently playing in this country.

Tom Petty's rock fervor
By Mikal Gilmore
Rolling Stone #242 -- June 30, 1977
LOS ANGELES -- Tom Petty has been touched by the spirit. Backed by his band, the Heartbreakers, the emaciated Petty prowls the Whisky's stage, scanning the audience with a serpentine squint and then spraying them with his Flying-V guitar. When he sings his "Fooled Again" like Van Morrison in delirium, you believe him. His pinched face and wispy blond hair, ablaze in a crimson light, heighten the tension in the Heartbreakers' music. It's all powerful testimony, and the audience fans the spirit with a volley of exhortations and clenched fists.
Petty and the Heartbreakers have been generating a modest but steady wave of such zealous responses since the release last winter of their good-time rock & roll debut LP, Tom Petty and the Heartbreakers. Critics have been especially kind to them, comparing the band's melodic hard-rock to that of Van Morrison and Roger McGuinn.