A Bizarre Bazaar
Eye -- January 19, 1971
OK, citizens of Hogtown. Here's your chance to unload your old clothes, books, records and all other paraphanalia; gain something in return, and do some good for Hogtown. Saturday, January 23 at Mudcrutch Farm (maps will be around town) there will be not only free music and free food; but a really far-out bazaar.
A trade, barter and sell system will enable everyone to bring their wares and belongings to the festivals, set their own prices or make their own bargains and spread around some really far-out goods. The plan is this: everyone has fun, benefits and also gives the Hogtown Feast Fun 20% of the profits, which will be channeled back into Hogtown through community projects. No one loses, and a lot is gained.
Flash! Help Save Mudcrutch Farm
Eye -- February 23, 1971
The boys are being thrown out because a dozen or so neighbors wrote nasty letters to the landlady in Tampa. Let's write to the landlady and tell her how nice her tenants are -- how nice a thing they did for the community. Write a letter and we'll pay the postage. Bring your letters to the Hogtown General Store, behind Great Southern Leather. I'd tell you the address but I forgot.
madman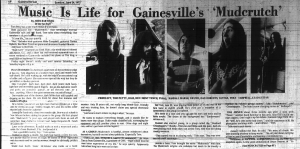 Editor's Note: The first page of this can be seen in the photo section of Conversations With Tom Petty.
Music Is Life for Gainesville's 'Mudcrutch'
By John Bartosek
Gainesville Sun -- Sunday, June 24, 1973
Tom Petty has a one-track mind. It's on music.
Bass guitarist for "Mudcrutch," that seemingly eternal Gainesville rock and roll band, Tom talks about everything. But somehow it all gets back to music.
"It's our life," he says quietly.
"Our," includes lead guitarist Mike Campbell, guitarist Danny Roberts, Ben Mont Tench on piano and drummer Randall Marsh.
And music is their life.
Platter Poop
Review by Don Cope
The Technique -- Friday, November 19, 1976
Tom Petty and the Heartbreakers (Shelter)
With his emaciated appearance and his leather jacket, you'd think that Tom Petty is the next star of decadence rock, right?
Wrong again. Petty is simply the latest graduate of the Dwight Twilley School of No-Frills Rock. The funny part is that Petty's debut album is much better than Twilley's Sincerely released earlier this year.
Petty has got the "I'm On Fire" (Twilley's big hit) riff down pat and has made it a little heavier. Like Twilley, Petty tries to incorporate sixties rock style melodies into his songs.
He succeeds on two songs in particular, "The Wild One, Forever" and "American Girl." The former features Petty's best vocal performance and the latter is the best rocker but it fades out just as the Heartbreakers really begin to cook.
The star of the Heartbreakers is guitarist Mike Campbell. While he never gets the chance to step out and solo, his rhythm work is the backbone of this album.
Unfortunately, Petty and the Heartbreakers may never get off the ground without a hit single, although Twilley has had one and he continues to wallow in relative obscurity.
Tommy Petty Leaves Home Again: A Rock Roller Out of Time
By John Snyder
Gainesville Sun -- Friday, December 10, 1976
Whatever happened to those hard rock & roll stars of the '60s. Remember those raunchy, rebel rockers, dressed in body shirts, tight bell-bottoms, shrunken leather jackets and black pointed boots, with their long, tangled hair tossing to and fro as they crouched low to the ground trying to bend yet another lead note from their blasting guitars, maybe even remember the defiiantly held cigarette from their mouths long enough to pick a few notes with their front teeth.
Rock & roll stars have mellowed considerably over the years. These days the musicians have cleaned up their acts. The Liverpool look has been replaced by a western fashion, cavorting has been replaced by a layed-back stage presence and most lead riffs are now played smoothly on acoustic or pedal-steel guitars.
Yes, those '60s rockers are a dying breed, almost. There's at least one guy around who is carrying the rocker's cross, crusading for the music of a decade past, straining against the winds of change. His name is Tommy Petty.
Rolling Stone
By Dave Marsh
Meriden-Southington Journal - December 22, 1976
"Tom Petty and the Heartbreakers."
Who knows where they are from? What they look like is a tough teenage band, who maybe double as a car club on nights when they can't get dates. No part is particularly special -- songs, singing, playing are all kind of primordial L.S. rock, like Love or the Seeds. But it's such a Sixties throwback, you can't help but fall in love.
Audience Turns, Turns, Turns On To McGuinn
By Peter Teichmann
The Delphian - March 23, 1977
Saint Patrick's Day was something different at Adelphi this year. Closing out the day's celebrations were two concerts by Tom Petty and the Heartbreakers and Roger McGuinn and Thunderbyrd. Neither show drew the crowd that was expected by the Concert Commitee of the Student Activities Board (S.A.B.)
Hitting the stage with eardrum-shattering volume, Tom Petty and his band of musicians treated the audience to a different form of music. What one would actually call this type of music is debatable. I would call it garbage.
Relying on what seemed like nothing but pure noise, Petty and group played through their segment of the show in hurried fashion. Singing completely unintelligible words and blending this with S.S.T. level volume, the band totally deafened the small crowd. When it came time for The Heartbreakers to leave the stage, they were greeted with cries of relief from the few people that had not taken to the halls for hearing relief.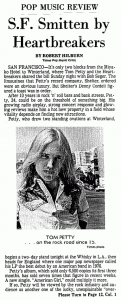 Pop Music Review: S.F. Smitten by Heartbreakers
By Robert Hilburn
Los Angeles Times -- April 26, 1977
SAN FRANCISCO -- It's only two blocks from the Miyako Hotel to Winterland, where Tom Petty and the Heartbreakers shared the bill Sunday night with Bob Seger. The limousines that Petty's record company, Shelter, ordered were an obvious luxury. But Shelter's Denny Cordell figured a toast was in order.
After 10 years in rock 'n' roll bats and back streets, Petty, 24, could be on the threshold of somehting big. His growing radio airplay, strong concert response and glowing reviews make him a hot new property in a field whose vitality depends on finding new attractions.
Petty, who drew two standing ovations at Winterland, begins a two-day stand tonight at the Whisky in L.A., then heads for England where one major pop newspaper called his LP the best debut by an American band in 1976.
Pop Special: Heartbreak Hit From Tom's Boys
By Russell Kyle
Evening Times -- May 6, 1977
Okay, so the "Tom Petty and the Heartbreakers" album has been in some ships since the beginning of February.
But I just got hold of a copy, and quite simply it is the best debut album I've ever heard by any band in many a long day.
Not a great deal is known about TP and his band apart from the fact that they are from America. They are also on the forthcoming Nils Lofgren tour as support act.
Mr Lofgren, for whom I have much respect, is in great danger of being blown off the stage if the Heartbreakers can turn in a live show that's half as good as the album. That's how good they are.