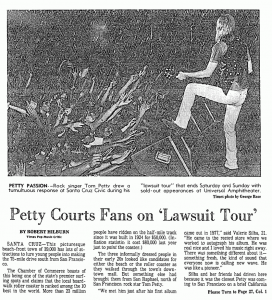 Petty Courts Fans on 'Lawsuit Tour'
By Robert Hilburn
The Los Angeles Times - July 27, 1979
SANTA CRUZ -- This picturesque beach-front town of 39,000 has lots of attractions to lure young people into making the 75-mile drive south from San Francisco.
The Chamber of Commerce boasts of this being one of the state's premier surfing spots and claims that the local boardwalk roller coaster is ranked along the 10 best in the world. More than 23 mllion people have ridden on the half-mile track since it was built in 1924 for $50,000. (Inflation statistic: it cost $80,000 last year just to paint the coaster.)
The three informally dressed people in their early 20s looked like candidates for either the beach or the roller coaster as they walked through the town's downtown mall. But somehting else had brought them from San Raphel, north of San Francisco: rock star Tom Petty.
"We met him just after his first album came out in 1977," said Valerie Silba, 21. "He came to the record store where we worked to autograph his album. He was real nice and I loved his music right away. There was something different about it -- something fresh, the kind of sound that everyone now is calling new wave. He was like a pioneer."
Off the Record
By Jon Marlowe
The Miami News - June 27, 1979
Talk on the street says you, too, might go bankrupt. American rock star Tom Petty of Heartbreakers fame has gone and proven that fame 'n' fortune do not necessarily hang out together in ye olde rock 'n' roll world. Petty filed for voluntary bankruptcy under Chapter XI recently in Los Angeles.
Anti-nuke musings
By Toni Lenz
The Montclarion - Thursday, September 27, 1979
MUSE Concert | Madison Square Garden | Sept. 22
Even though this concert was billed as Musicians United for Safe Energy (MUSE), and didn't specifically mention any one artist, you knew everyone was there to see the one and only Bruce Springsteen. From the T-shirts emblazoned with his face, to the cries of "Bruce!!," you could tell.
Fans endured a mercifully short set by Raydio and their easily forgotten three songs. Then we were treated to another short set by Peter Tosh—complete with Arabian garb. Tosh performed a rousing reggae set, but had trouble whipping the crowd even into a mild frenzy.
Another break, where we were temporarily diverted with a boring, no-nukes film, during which Nixon was booed and the American Indian was cheered, followed.
Petty disappointing
East Los Angeles College Campus News - October 31, 1979
Tom Petty and the Heartbreakers new album, "Damn the Torpedoes," is a big disappointment.
For a veteran band, they should know better than to put one good song among so many mediocre tunes on an album.
"Don't Do Me Like That" has all the ingredients for a hit single. Good vocals, a catchy melody, and a name band behind it.
But the other songs just don't compare. More like shouting than singing, "Here Comes My Girl" is the worst. The song is much too long because half of it is repetitions of the title.
Read more: East Los Angeles College Campus News - October 31, 1979
Tom Petty launches energetic 'Torpedoes'
By Robert Ely
St. Petersburg Times - November 7, 1979
It isn't clear why the new album by Tom Petty and the Heartbreakers is titled Damn the Torpedoes, except that the conclusion of that famous naval battle cry pretty well describes what's imprinted on the vinyl. The album is an energetically displayed collection of nine songs true to the ideal of rock music as liberating celebration.
But "full speed ahead" also describes the course Florida-born Petty, 27, is charting as he emerges as a major force in contemporary rock music.
Petty may not be as daft at turning a phrase as Bruce Springsteen, but he has greater control as a singer without sacrificing intensity. And like Springsteen, Petty is cable in his writing to turn potentially trite images -- teen romance, hot cars etc. -- into universal experience.
Rocklines
By Brian D. Dickman
The Griffin - November 9, 1979
Tom Petty's new album is called "Damn the Torpedoes," probably because of all the legal hassles which threatened to shoot down his chances of ever getting it released.
Well, it's finally here, and Mr. Petty and his band, the Heartbreakers, appear determined to come back with a vengeance. "Refugee" starts the album with a snarl and spit. "Somewhere, somehow, somebody must have kicked you around some," sings T.P., and the band backs him with the kind of power you wouldn't want to face in a gang fight.
Next is the strained and struggling opening lines of "Here Comes My Girl," which ponder the question, "why bother with life," until he remembers where his co-ed wrestling match partner comes from.
"Even the Loses" and "Shadow of a Doubt" glide along with the help of organist Benmont Tench's talents and Petty's best Jack Daniels-slurpin' drawl. And "Century City" roars along in fine R.E.O. Speedwagon style, with the aid of some downright mean guitar pickin'.
I might warn you now that if you buy this album, don't play side two first. You might think the record company goofed and gave you a J. Geils album instead. "Don't Do Me Like That" sounds as if it was pulled from the Geils College of Musical Knowledge, with its backing piano boogie and watery organ slides. One can't complain, though, because along with "What Are You Doin' In My Life," it's one of the best rocka-rolla songs on the album.
"Louisiana Rain" ends the album Cajun classic fashion, as Petty does his best Bob Dylan act, trudging through that teary-eyed bayou rain to his good-ol' Baton Rouge homeland. Makes yuh kinduh wantuh go skin a crawfish or sumpthin'.
"Damn the Torpedoes" is a fun album, because like those classic K-Tel TV Records, you get something totally different with every song. Except in this case, there's only one band, and fortunately Tom Petty and the Heartbreakers are good enough to pull it off.
Petty and Heartbreakers Release New Album
By Susan Fielwald
The Lowell - November 9, 1979
Tom Petty and the Heartbreakers have lost their heart insignia, but they haven't lost their touch. Their new album, Damn the Torpedoes, is destined for success.
The group has a new label, Backstreet, and a new producer, Jimmy Iovine. Along with these changes, they have changed the style of their album cover.
It is no longer black with a large heart and arrow as the other two Tom Petty albums were. Instead, it is bright red with a picture of Petty on the front and one of the band on the back.
Now that you know how to identify the album, don't miss it. The new material is better than ever. Petty wrote all the songs except for two which he and Mike Campbell co-wrote. All of the songs are in the same Tom Petty style with which the band has made two big hits, "Breakdown" and "I Need To Know."
Record Review: Life in the wasteland
By Jon Healey
The Daily Princetonian - November 16, 1979
In the wake of the second British invasion, led by the likes of Elvis Costello, a number of new, talented American groups have developed unnoticed. Two such groups are Tom Petty and the Heartbreakers and Jules and the Polar Bears, both of whom have released new albums, Damn the Torpedoes and Fenetiks, respectively. These albums demonstrate just how much both groups deserve attention, for they are remarkably entertaining and insightful as well.
The world of Torpedoes, Petty's third album, is bleak, but not without means to salvation. The secret to living in a hopeless world, Petty contends, is to find out who ones' friends are, and to order ones' world accordingly. Petty seeks order, but prefers to let matters sort themselves out: "Let me know when you're finished with me/What you want me to be/Baby you tell me." Torpedoes thus represents Petty's attempt to tie up his loose ends and make sense of what he has left.
Petty's efforts tend to be more than just songs. They are also anthems, hymns to those who save themselves: "Somebody must have kicked you around some/Tell me why you would lay there reveling in your abandon ... You see you don't have to live like a refugee."
Sound Ideas: Petty challenges The Boss
By Marty Racine
The Milwaukee Sentinel - Friday, November 16, 1979
The term 'New Wave' is applied not only to a definitive style of rock 'n' roll -- definitions too big for this discussion -- but also to that branch of rock which is fresh, urgent, off the streets, lyrically "meaningful," new, honest, daring -- interesting.
Bruce Springsteen, for example, is not readily categorized as New Wave because of his mass appeal and at times lengthy songs, but under the above descriptions he is and so are Tom Petty & the Heartbreakers and the Police.
---
 Tom Petty's third album, "Damn the Torpedoes" (MCA 5105), will go down as one of this year's blockbusters, an album that makes you take notice. Already it's showing up on virtually evey FM rock (AOR) playlist in the country. Big radio sellers are not usually unique works, but in this case the attention is justified.
Petty, as was Springsteen in his early days, has been a "cult" artist through his first two LPs, which is an euphemism for someone who doesn't have a big following. "Cult" also connotes an overlooked talent, and there are those who feel Petty is rock 'n' roll.