Tom Petty and Co. return in January
By Bill DeYoung
Gainesville Sun - January 3, 1990
Tom Petty & the Heartbreakers last played here in 1983.
There will be a Gator Homecoming in the literal sense.
The concert by Tom Petty & the Heartbreakers -- Saturday, Jan. 27 in the O'Connell Center -- will be the hometown boys' first appearance in the university city since February, 1983.
As everybody knows, Petty was born and raised in Gainesville, as was pianist Benmont Tench (he's the son of Circuit Court Judge Benjamin Tench).
Drummer Stan Lynch lived in Gainesville from the age of 5, and guitarist Mike Campbell moved here as a youngster, too. Three of them -- Petty, Tench and Campbell -- have been playing together since the late '60s. They were frat-party favorites.
In the years since leaving Florida, this motley crew of musicians has released a handful of critically-acclaimed albums, toured the world with Bob Dylan, played Live Aid and Farm Aid and collected titles like "the best rock 'n' roll touring band in America."
Petty, Heartbreakers to return for concert
By Anthony Lederman
The Independent Florida Alligator - Monday, January 8, 1990
Tom Petty and the Heartbreakers are coming home and will play in the O'Conell Center Jan. 27, their first official visit to Gainesville since 1983, said Paul Newman, adviser to Student Government Productions.
SGP Chairman Raul Mateau, who negotiated to bring Petty back, said the last two SGP chairwomen always had an open invitation for Petty to play, but neither could get him to come to Gainesville.
"The negotiations were one of the most difficult we've ever been involved in," Mateau said. "This is a big event for the whole city, not just for the University."
"An SGP concert has never been a sellout," Mateu said. "But if we do, this one might be it."
Read more: The Independent Florida Alligator - January 8, 1990
Editor's Note: This is another of those things that aren't directly about Petty but are interesting to include in the Archives.
Obituaries: Dub's owner dies at home
Gainesville Sun - January 10, 1990
James "Dub" Thomas, the burly, addable proprietor of the Gainesville nightclub that bore his name, died Tuesday of an apparent heart attack at his home in Montocha, north of Gainesville. He was 58.
Known as Gainesville's father of rock 'n' roll, Thomas owned and operated Dub's for 26 years and had recently purchased the Feed Store and a part-interest in Lillian's Music Store.
At Dub's, Thomas cut a legendary figure, hand-picking the acts he hooked from the ranks of local musicians. In the 1960s, his favored bands included future members of the Eagles, and in the early '70s a regular attraction at Dub's was Mudcrutch -- which included Gainesville's Tom Petty and several future members of Petty's Heartbreakers.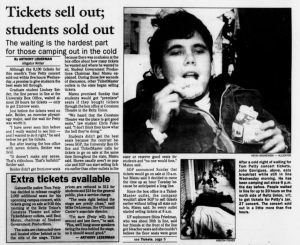 Tickets sell out; students sold out
By Anthony Lederman
The Independent Florida Alligator - Thursday, January 11, 1990
The waiting is the hardest part for those camping out in the cold.
Although the 9,100 tickets for this month's Tom Petty concert sold out within five hours Wednesday, a promise to give students the best seats fell through.
Graduate student Lindsey Reider, the first person in line at the University Box Office, waited almost 20 hours for tickets -- only to get 21st-row seats.
Just before the tickets went on sale, Reider, an exercise physiology major, said the wait for Petty was worth it.
"I have never seen him before and I really wanted to see him -- and I wanted to do it right," he said before he got his tickets.
Read more: The Independent Florida Alligator - January 11, 1990
Patient Petty fans get floor tickets
By Mike Bruscell
The Independent Florida Alligator - Friday, January 12, 1990
More than 80 Tom Petty fans who didn't back down from long lines Wednesday were able to buy floor tickets from the University Box Office, but they may have to move for Petty's equipment, O'Connell Center director Lionel Dubay said.
Dubay said 84 extra seats went on sale about 2 p.m. Wednesday. The seats were reserved for Petty's sound-mixing board, but were made available because of the demand for tickets, he said. Since Petty's production staff didn't specify what seats would be reserved for the equipment, O'Dome personnel set aside six rows on the floor in front of the stage, then releasd half of them for sale.
"We, as a precaution, killed more seats than had to be done," Dubay said.
The 84 seats may have to be moved depending on where the equipment is set up. If that happens, the seats will not be moved off the floor, Dubay said.
Many who waited in line for tickets Wednesday were surprised they got floor seats. UF sophomore Eric Brown got in line at about 10:30 a.m., hours after the line had formed. By 2:30 p.m., Brown had a floor seat.
"I was nervous about even getting a ticket," he said.
The 10 Best Rock and Roll Albums of the '80s
By Kevin Knopf
Synapse - January 18, 1990
The '80s were a very important period in rock music with the emergence of many new and exciting groups. In the late '70s punk rock shook the musical foundation and paved the way for a new wave of musical groups from both Britain and the United States. Groups like Husker Du, X, the Minutemen, and the Replacements retained strong ties to punk and produced great music in the '80s. Rap music came on the scene and continues to exert a heavy influence.
Established musicians like David Byrne and Paul Simon turned to new rhythms to add variety to their music, with wonderful results. Led Zeppelin's commanding presence in the '70s was taken over by a wide range of heavy metal bands in the 80s. A host of new wave groups produced interesting albums in the late '70s and early '80s -- the Cars, and the Police being noteworthy. A wide range of new artists such as the Sugarcubes, 10,000 Maniacs, Prince, and Camper Van Beethoven made their presence known. And for what it was worth, the '80s also had Madonna.
But my top 10 list does not include any of these artists.
Observant readers will note my extreme bias in these selections -- all the albums are relatively mainstream and almost all of them were produced by well established groups. The criteria for the list is pretty simple; it includes albums that I think one could listen to into the '90s and still enjoy. And that is what makes an album a classic.
Tom Petty and the Heartbreakers, "Long After Dark"
Bob Dylan called this band "one of the last great American rock and roll bands," and he meant it. Never in the '80s was a group more musically matched than Petty and his backup band. Benmont Tench (keyboards), Mike Campbell (lead guitar), Ron Blair (Bass) and Stan Lynch (on drums) playing as a unit put out an incredible rock and roll sound to back up Tom's look-how-you-hurt-me lyrics. The album is perhaps the most hard-edged the band has produced but songs like "Change of Heart" and "Straight into Darkness" were instant Petty classics.
Petty comes home to O'Dome
By Bill DeYoung
Gainesville Sun - January 28, 1990
Performance sets new record for paid attendance
For his first hometown concert in seven years, Gainesville native Tom Petty set a record for paid attendance in the O'Connell Center. Although Saturday night's show was not technically a sellout, only a few hundred seats remained empty in the hall, which has a capacity of about 11,000.
Mayor-commissioner Cynthia Chestnut, in a pre-concert ceremony, presented Petty with the key to the city and officially proclaimed Saturday "Tom Petty Day" in Gainesville.
Petty later told his audience about the encounter. "I never dreamed when I was living over the Gator Groomer that one day I'd be sitting down talking to the mayor," he said. "People ask me how does it feel to be back in Gainesville. Well, it feels really good."
Opening with "Love is a Long Road," Petty and his band, the Heartbreakers, played for just under two hours. The concert showcased a song or two from each of the group's eight albums, and was liberally laced with material from Petty's solo album, "Full Moon Fever," which is nominated for four Grammy Awards at the February ceremony.
His long blond locks trimmed to shoulder-length, Petty wore gray jeans and a striped jacket. The singer was visibly moved by the filled-to-the-rafters O'Connell Center, and frequently bowed and saluted the audience.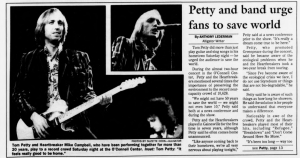 Petty and band urge fans to save world
By Anthony Lederman
The Independent Florida Alligator - Monday, January 29, 1990
Tom Petty did more than just play guitar and sing songs in his hometown Saturday night -- he urged the audience to save the world.
During the almost two-hour concert in the O'Connell Center, Petty and the Heartbreakers mentioned several times the importance of preserving the environment to the record near-capacity crowd of 10,628.
"We might not have 50 years to save the world -- we might not even have 10," Petty said both at a news conference and during the show.
Petty and the Heartbreakers played in Gainesville for the first time in seven years, although Petty said he often comes home unannounced.
"Like anyone coming back to their hometown, we're all very nervous about playing tonight," Petty said at a news conference prior to the show. "It's really a dream come true to be here."
Read more: The Independent Florida Alligator - January 29, 1990
Petty's Gainesville Show: A Hot Time In His Old Town
By Parry Gettelman
Orlando Sentinel - February 2, 1990
GAINESVILLE — If you didn't make it up here for Tom Petty and the Heartbreakers' homecoming Saturday night, you missed a great show. But if it's any consolation, the concert was marginally less superlative than the one at Orlando Arena last summer.
At the University of Florida's O'Connell Center, it took the band a few songs to loosen up. Maybe it was a touch of nerves. As Petty noted, "We have a lot of friends and relatives here tonight, so we gotta be really good, you know."
A man sitting behind us had gotten tickets through Petty's brother Bruce and said the band had held some 300 tickets for its guests (Tom gave Bruce 48 - what a guy). However, longtime Petty fans seemed to be outnumbered by college-age folks, who were more familiar with Petty's new solo material than the Heartbreakers' classics.
On "Breakdown," for instance, most of the crowd sang along only with the chorus. There was a bigger response for Petty's latest hits, "I Won't Back Down" and "Free Fallin'," played back to back.
The audience didn't give off quite as much energy as the one in Orlando, and the show was consequently a bit lower-key. But the Heartbreakers were obviously excited to be back.