The Mojo Interview
By Mat Snow
Mojo - January 2010
The bard of blue collar rock has led the Heartbreakers to glory and on through tragedy. "Wounded" on the way, he has endured "abuse" and "rage." "I slowly found my way back," reveals Tom Petty.
Tom Petty is sitting at the wheel of a crimson Cadillac parked outside his guitar-lined warehouse den-cum-studio in Los Angeles' shabby Van Nuys district as the rain pelts down, and the man is rocking. Three tracks from his current album-in-progress with his band the Heartbreakers are blasting from the stereo, and the nervy quiver of a man fuelled on black coffee refills and king-size Shepheard's Hotel cigarettes vanishes as he air-guitars, hair-shakes and pumps a denimed leg, entirely lost in music—his own.
And who can blame him? We're here to mark the past in the hefty shape of the multi-CD/DVD Live Anthology package documenting three decades of Tom Petty & The Heartbreakers delivering on-stage time and again despite traumas—many self-administered—that would have finished most other bands years ago. But actually, as Petty enters his 60th year, he's really, really excited about the future.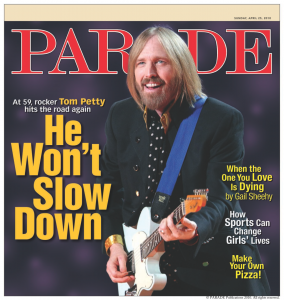 'Go After What You Love'
By Ben Fong-Torres
Parade - April 25, 2010
At 59, rocker Tom Petty still finds happiness in making music
"I have a very blessed life," Tom Petty says. "I think any time you're making a living at what you love to do, you're blessed. That's what I try to instill in my kids. Go after what you really love and find a way to make that work for you, and then you'll be a happy person."
On this sunny spring afternoon at his Malibu beach house, sitting yards away from the Pacific Ocean, Petty appears to be pretty happy. What he loves to do--and has been doing for more than 40 years--is make music. He and his band, the Heartbreakers, are getting ready for a major tour through 45 cities, coast to coast.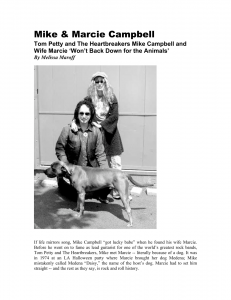 Mike & Marcie Campbell
By Melissa Maroff
The Pet Press - May 2010
Tom Petty and The Heartbreakers Mike Campbell and Wife Marcie 'Won't Back Down for the Animals'
If life mirrors song, Mike Campbell "got lucky babe" when he found his wife Marcie. Before he went on to fame as lead guitarist for one of the world's greatest rock bands, Tom Petty and The Heartbreakers, Mike met Marcie -- literally because of a dog. It was in 1974 at an LA Halloween party where Marcie brought her dog Medena; Mike mistakenly called Medena "Daisy," the name of the host's dog. Marcie had to set him straight -- and the rest as they say, is rock and roll history.
"I connected with the dog and then found out the dog came with her," Mike says. "If it weren't for the dog, we probably wouldn't have met." And for two dog lovers it was "something very good from the get go," they admit. After 34 years of marriage, the love is still strong, which is evident the minute you see them together. They compliment each other; both have a sense of humor, don't take themselves too seriously and love their family, which extends to their animal family -- and other animals as well.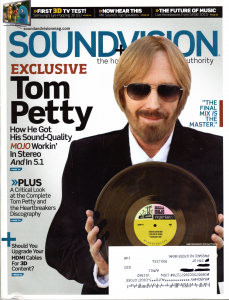 Editor's Note: The last two articles did not appear in the magazine, but online.

On The Cover: Tom Petty Is: Mr. Mojo!
Sound & Vision - June-July-August 2010
Vinyl Accents: An S&V Exclusive!
Tom Petty proudly displays Side 1 of the first record of the 180-gram, two-LP version of his and the Heartbreakers' rollicking new album, Mojo. "We do vinyl for everything now," he says matter-of-factly to S+V Editor-In-Chief Mike Mettler in Southern California during the interview that serves as the backbone of our 12-page TP&THB feature, "Mojo Workin'," starting on page 22. Recounts Mettler: "Tom and I were looking at a few of the LPs that I had brought to the interview, like The Last DJ and Damn the Torpedoes, when he stopped to linger on Wildflowers. Tom said that when things got tough in the studio during the Wildflowers sessions, he'd motivate the players by saying, 'Come on, dammit! Just stay another hour, and I'll see you all at the Grammys!' And after that album won a pair of Grammys in 1996, he went to each of them and said, 'See? I told ya!'" 
The Hard Stuff: DVDs
Review by Terry Staunton
Classic Rock - June 2010
Tom Petty And The Heartbreakers | Classic Albums: Damn the Torpedoes | Eagle Vision
Dissecting a weapon of mass-market destruction.
It would be overstating things to suggest that Petty's third album, released in 1979, was make-or-break, but with Shelter Records, the label that released his earlier long players, bought out by the corporate muscle of MCA, it could be argued that underperformers on the roster were advised to keep looking over their shoulders. As it transpire, Damn The Torpedoes catapulted Tom Petty And The Heartbreakers onto the A-list, taking them from critically-acclaimed top-notch bar band to stadium-filling superstars.
The extended version of the 'making of' documentary originally shown on TV in the late 1990s is essentially the story of a band in transition.
A key in their stepping up to the next level was producer Jimmy Iovine, who casually claims that third albums are often pivotal landmarks in artists' development, citing Bruce Springsteen's Born To Run and Patti Smith's Easter as prime examples. Indeed Iovine says he used Smith's Because The Night as a template for fashioning a bolder and brasher sound, although Petty suggests his songwriting remained the same, rarely writing more than two verses and one chorus. Mike Campbell plays the muso card, Rickenbacker on knee, dissecting the glories of Even The Losers, Refugee and Here Comes My Girl.
7/10
Tom Petty and the Heartbreakers' Vancouver gig shows time is catching up with the rockers
By Steve Newton
Georgia Straight - June 9, 2010
At GM Place on Tuesday, June 8
Man, I gotta quit living in the past, because my expectations are just too damn high. Two of the greatest concerts I've ever seen were Tom Petty and the Heartbreakers at the Commodore in 1978 and then Petty again--with Bob Dylan--at Berkeley, California's Greek Theatre in '84. Both shows left me totally drained and in awe of the elevating power of rock 'n' roll, so that now whenever I hear the words "Tom Petty live" I perk up like Pavlov's pup at the sound of a bell.
Tom Petty spoiled me rotten, I have to say, but now it seems like the party's over. Not that his show at GM Place sucked, because Tom Petty could never suck: his songs are too good and his band too tight. But time is catching up with the 59-year-old rocker, and seriously sapping the spark that once made him brilliant on stage.
And would it have killed him to play a few more hits?
Tom Petty & The Heartbreakers | Mojo | Producers: Tom Petty, Mike Campbell, Ryan Ulyate | Reprise Records | Release Date: June 15
Review by GG
Billboard  - June 12, 2010
Tom Petty & the Heartbreakers have always been a rock 'n' roll band. But "Mojo," a mostly blues-rock opus clocking in at nearly 65 minutes, is for those who've been waiting for the long-lived group to let the throttle out all the way. Petty and lead guitarist Mike Campbell don't restrain themselves with these arrangements, ranging from the tasteful licks of "Jefferson Jericho Blues" (about founding father Thomas Jefferson's plantation proclivities) to screaming solos on "I Should Have Known It" and the album-closing "Good Enough." Benmont Tench gets his own piano and organ spotlights on such tracks as "Running Man's Bible" and the swirling "Something Good Coming," while Petty and company cut a wide swath through Delta blues (Takin' My Time"), reggae (the pro-pot "Don't Pull Me Over"), garage rock ("Candy") and nods to soul ("No Reason to Cry") and soul ("Something Good Coming"). It's not news that these guys rock, but on their first new album in eight years the Heartbreakers have their "Mojo" working like they never have before -- which is a fine thing indeed.
SATURDAY NIGHT LIVE TRICKERY: Not digging Tom Petty's Mojo: Even more Heartbreakers cannot save this album
By Jim Beviglia
CultureMap Houston - June 14, 2010
While inspecting my CD collection one day, the Better Half innocently asked me why some CDs were credited to Tom Petty and some were credited to Tom Petty & The Heartbreakers.
Considering that Petty often uses the band's members in his "solo" albums, it wasn't an easy answer. I'm sure it comes down to the level of collaboration involved in the songs, but, to the listener, there isn't really an easily discernible difference; Petty's unique songwriting gift is the dominant force, no matter who gets the credit.
Well, Tom seems like he wants to change that on Mojo, the band's new release, as he allows the Heartbreakers to cut loose with abandon. In particular, he gives longtime right-hand man Mike Campbell the opportunity to show off his chops on lead guitar. Campbell has always been subservient to the songs in the past, but this album is as much his showcase as it is Petty's.
Tom Petty and the Heartbreakers | Mojo | ★★½
By Matthew Cole
Slant Magazine - June 14, 2010
Tom Petty hasn't recorded an album with the Heartbreakers since 2002's The Last DJ, and that offering, a musically flat and thematically overheated protest against the commercial excesses of the music industry, probably hasn't done much to tide fans over in the interim (meanwhile, Petty's populist scruples haven't stopped him from asking upward of $150 for his latest concerts). All the more puzzling, then, that Petty and company don't even attempt a return to form on Mojo. Instead, they opt for bluesy jamming over their familiar Byrds-style jangle, with all of the appropriate signifiers of rootsy Americana in place: there's a chugging ode to the highway, "U.S. 41," that comes complete with honking harmonica interludes; "Jefferson Jericho Blues" and "Running Man's Bible" provide an early airing for the requisite religious iconography; and "First Flash of Freedom" actually has a bit about untameable wild mustangs running across "hills that no rich man could claim." As paeans to the rugged American sprit go, Mojo is about as evocative as a middle school civ report; you keep waiting for a line about Davie Crockett or the Alamo.