Happy Birthday, Tom Petty! Musicians talk about why he still rules at age 61
By Annie Zaleski
Alternative Press -- October 17, 2011
On October 20, Thomas Earl Petty turns 61 years old. The classic rocker better known as Tom Petty has penned some of the most enduring songs of the last 35 years— including "American Girl," "Free Fallin'," "I Won't Back Down" and "Refugee"—which has made him one of the most popular, beloved artists ever. In the spirit of celebrating his birthday, we asked some of his biggest fans—including Jack's Mannequin's Andrew McMahon, Tegan and Sara's Tegan Quin and members of bands including A Rocket To The Moon, Hawthorne Heights and the Summer Set—to talk about what Petty means to them. Here's what they said.
Tom Petty: Elvis
By Tom Petty
Rolling Stone #1142 - October 27, 2011
When Tom Petty was 10, his uncle got a job on the set of Elvis Presley's 1962 film Follow That Dream, and Petty stopped by. "He arrived in a fleet of white Cadillacs," Petty says. "People were screaming, handing records over a chain-link fence for him to sign. I remember his hair was so black that the sunshine was glowing off of it. Just a nod and a hello made your skin tingle. I was high for weeks. It lit a fever in me to get every record I could, and I really digested it. Elvis became the soundtrack of my early years."
Tom Petty and the Heartbreakers at Cal State Northridge: Concert Review
By Erik Pedersen
The Hollywood Reporter - October 30, 2011
The Bottom Line: The band revived deep tracks for an even deeper message.
Venue: Cal State Northridge's Plaza del Sol Performance Center
Twenty songs, two hours. Ho-hum -- another typical Tom Petty and the Heartbreakers concert, right?
Ha.
Factor in this: a small venue, deep tracks the band hasn't deployed in ages - including two that Petty said they'd never played live - and no "American Girl" or "Don't Come Around Here No More." What?! No, this was a special night.
Tom Petty Breaks Out Hits, Deep Cuts and Commentary at Benefit Concert
By Steve Appleford
Rolling Stone - October 30, 2011
Intimate California show raised money for public college radio
"Nothing scares corporate radio more than public radio," Tom Petty declared last night with a wicked grin, as he faced an intimate crowd of just 500 in a benefit concert for the tiny college radio station KCSN-FM, on the outer edges of suburban Los Angeles. "We think people can understand a lot of different kinds of music."
Petty and the Heartbreakers headlined the first of two nights at the Plaza del Sol Performance Hall on the campus of Cal State Northridge, not only raising funds for the public-supported station but making a stand for a sound and a way of life. Petty openly lamented the rise of pop music "game-shows" and the ongoing decline of freeform radio on commercial airwaves, which his own success depended on in the early days.
Tom Petty Revs the Heartbreakers Back Up
By Patrick Doyle
Rolling Stone #1143 - November 10, 2011
"I took some time off this year, and I enjoyed it for the most part," says Tom Petty, "but I kind of need something to do." So the rocker is revving back up this fall, starting on October 29th with an intimate 500-capacity Heartbreakers gig at the California State University, Northridge, to benefit L.A. public radio station KCSN. Then, on November 25th, the band will take part in Record Store Day's Black Friday event with a vinyl-only live LP recorded mostly on last year's Mojo tour. Petty and the band are also hard at work on the next Heartbreakers record, which they're planning as a 12-song set, much of it cut live in the studio. "It's a bit early to explain, but there's a blues base to a lot of it," Petty says. "But there's a few things. It's not all one thing. We're real happy with what we got so far."
He Knew He Was Right
By Mark Blake
Q - July 2012
Rock's great curmudgeon once described himself as a "pretty unpleasant guy to be around." After 36 years in a career that has informed everyone from The Strokes to The Rolling Stones, he welcomes Mark Blake into his Hollywood studio and declares a long battle against record labels and celebrity vindicated. He'll also explain the origin of that scar on his left hand. "I had a bad temper," admits Tom Petty.
In conversation Tom Petty often grips his right wrist with his left hand. If you get up close you might see the trace of a scar running across the back of the band. That's the one he smashed into a wall after losing his temper one night in 1985. Doctors stuck metal pins into the broken bones and Petty spent nine months relearning how to use his fingers. He can walk through an airport metal detector without setting the alarm off, but since hitting 60, the old injury has been playing up.
This Time It's Personal
By Fred Schruers
Billboard - July 26, 2018
At home in Malibu with Tom Petty as the eternal social rocker, now on his 13th album with the Heartbreakers, sounds off on the one percent, the Catholic Church and the corruption of power: "The good thing about getting old... you know what's worth spending time on and what's not"
The seaside community of Malibu is a retreat for wealthy hedonists for good reason—there's rolling surf and almost inevitable blue sky and golden hills and world-class sushi. The cost of paradise, beyond the mortgage payments, lies in hazards like traffic gridlock, rock slides, mudslides—and worst of all, wildfires. The rampaging flames can destroy a home, or a neighborhood, or even a life.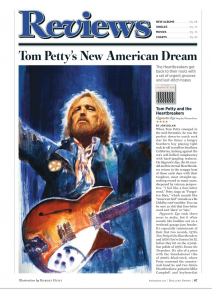 Reviews: Tom Petty's New American Dream
By Jon Dolan
Rolling Stone #1214 - July 31, 2014
The Heartbreakers get back to their roots with a set of urgent grooves and last-ditch hopes
Tom Petty and the Heartbreakers | Hypnotic Eye | Reprise/Warner Bros | ★★★★
When Tom Petty emerged in the mid-Seventies, he was the perfect down-to-earth rock star for the times: a hungry Southern boy playing tight rock & roll in mellow Southern California, kicking against the era's soft-bellied complacency with hard-jangling realness. On Hypnotic Eye, the 63-year-old and his eternal Heartbreakers return to the scrappy heat of those early days with their toughest, most straight-up-rocking record in many years, deepened by veteran perspective. "I feel like a four-letter word," Petty sings on "Forgotten Man," which sounds like "American Girl" remade as a Bo Diddley roof-rumbler. You can be sure as shit that four-letter word isn't "darn" or "rats."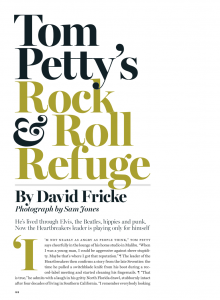 Tom Petty's Rock & Roll Refuge
By David Fricke
Rolling Stone #1215 - August 14, 2014
He's lived through Elvis, the Beatles, hippies and punk. Now the Heartbreakers leader is playing only for himself.
"I'm not nearly as angry as people think," Tom Petty says cheerfully in the lounge of his home studio in Malibu. "When I was a young man, I could be aggressive against sheer stupidity. Maybe that's where I got that reputation."
The leader of the Heartbreakers then confirms a story from the late Seventies: the time he pulled a switchblade knife from his boot during a record-label meeting and started cleaning his fingernails.
"That is true," he admis with a laugh in his gritty North Florida drawl, stubbornly intact after four decades of living in Southern California. "I remember everybody looking up when I popped the blade. It let them know: 'You're not changing my mind about anything.'"