Oven Fresh: Tom Petty and the Heartbreakers | Mojo | (REPRISE) | ★★★★
Review by Lynne Margolis
American Songwriter - July/August 2010
When Tom Petty and the Heartbreakers made The Last DJ, their last "official" Heartbreakers album, in 2002, Petty was mad: the state of the music industry -- and plenty of other issues -- had him downright pissed off.
But on Mojo, he's not out to wag a sharply accusing finger or make biting political statements (aside from the obligatory "legalize it" message of the reggae-fied "Don't Pull Me Over"). This time, it's about reconnecting with, well, the mojo -- the thing that made this band such a joy in the first place. It's about playing great music. Specifically, great jazz-blues music.
Petty said when he was recording the album that it had a very Allsman-y sound, and he wasn't kidding. It's full of the gliding chords that drove those early-era Allman Brothers Band jams, when Duane and Gregg would hit their Les-Paul-and-Hammond sweet spots and the rest of the band would fall right in. In fact, we could re-label the Heartbreakers the Tom Petty Blues Band and not be out of line.
Supergroups: Traveling Wilburys
Classic Rock - July 2010
Harrison, Lynne, Orbison, Petty and Dylan. Tom Petty recalls the Wilbury genesis.
"My Wilbury nickname was Charlie T. Near the end of the [Heartbreakers] tour in 1987, we were in London. While we were there, George [Harrison] and Jeff [Lynne] would come to see us every night and usually come backstage afterwards. I remember we were having such a good time after one of the shows we stayed back there for hours. It was one of those, 'You've got to leave, we are shutting the building down' nights. I felt really inspired by it all. I remember thinking, 'My God, this is great. I love these guys.'
"We went back to the hotel and a hurricane hit the middle of London the same night. They didn't even predict it, but it ripped huge oaks out of the ground. I got up the next day and thought, 'Holy cow, this is something.' I always thought the hurricane had something to do with something. My life was different after that.
Tom Petty and the Heartbreakers wallow in the blues on Mojo
By Ken Eisner
Georgia Straight - July 2, 2010
Tom Petty and the Heartbreakers | Mojo | (Reprise/Warner Brothers) |★★★★★
Tom Petty and his ever-lovin' Heartbreakers deserve credit for keeping that late-sixties, early-seventies vibe going while other radio rockers succumbed to fashion fits. And if TP's singles haven't all had the timeless appeal of "Free Fallin' ", he at least kept his Dylanesque boot heels a-jangling during many a synthetic season.
Like The Bob, our white-haired hero has never lost his taste for American roots music as a renewable resource. Which brings us to Mojo, the first Heartbreakin' effort to wallow in the blues. The fact that it does so convincingly, over fifteen tunes lasting more than an hour, is pretty damn impressive.
Ear of Newt: Tom Petty and the Heartbreakers get the Classic Albums treatment
By Steve Newton
Georgia Straight - August 10, 2010
When Tom Petty and the Heartbreakers played Vancouver in June they only played one song off their breakthrough Damn the Torpedoes album, which was quite a surprise (and disappointment). After viewing the new Eagle Vision Blu-Ray, Classic Albums: Damn the Torpedoes, and hearing Petty and his cohorts enthusiastically analyze each of that 1979 blockbuster's nine tracks, you'll also wonder what the hell they were thinking when they compiled their current setlist.
"That was the record where life was never gonna be the same again," says Petty, before he and his bandmates—lead guitarist Mike Campbell, keyboardist Benmont Tench, bassist Ron Blair, and drummer Stan Lynch—are joined by producer Jimmy Iovine and engineer Shelly Yakus in a track-by-track appraisal of what made the Heartbreakers' third disc so wonderful.
Crosby, Stills And Nash And Tom Petty Serenade Nashville
By Evan Schlansky
American Songwriter - August 13, 2010
Crosby, Stills and Nash and Tom Petty at Bridgestone Arena, Nashville, TN 8/12/10
If there was one thing I wanted to do before I kicked the bucket, it was to see Crosby, Stills and Nash. You can't see Jimi Hendrix anymore, and the same goes for Janis Joplin, Jerry Garcia, and the original Who lineup. But if you're a fan of the Woodstock era, you at least have CSN, who dust themselves off every couple of years to tour the country, and join their voices in three-part  harmony one more time.
You hear a lot of debate about whether CSN still have "it;" if they've lost their voices, and if they can still sing in tune so many years past their prime. I can honestly  say I've never heard them sound any better live, whether on YouTube, bootleg, or DVD, than they sounded last night in Nashville.
The band seemed to be in high spirits; they've got an upcoming album of covers, produced by Rick Rubin, in the can, which seems to have rejuvenated them. Stephen Stills in particular looked jubilant, like a kid in a candy store, smiling widely after every guitar solo. They took the audience on a journey into the past with "Déjà Vu," which was augmented by jammy keyboard and bass solos.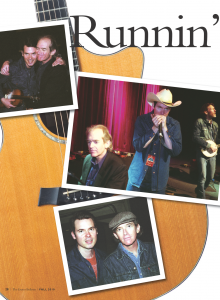 Runnin' Down a Dream
By Ketch Secor
The Exeter Bulletin - Fall 2010
How one Exonian became a Heartbreaker
In Indio, CA, in the dark of night, with strobe lights flashing and four stages of live music blasting, I trip over a pile of club kids with their glow sticks ablaze while I search for Benmont Tench '71. I am hoping to meet him here, in the wee hours of Coachella, the hip, annual California Desert music festival where my band, Old Crow Medicine Show, performed an afternoon set, but I lost track of Benmont earlier in the day. Now I am supposed to find him by a sign that says "AmEx VIP," but all I see are plumes of smoke rising from the sweaty throngs of spent music lovers. I check my phone again for messages. Nothing.
Up past the food vendors and the ATMS, the press area and the free cigarette kiosk, I think I see what I'm looking for: a plain, white tarpaulin tent with a placard out front that reads "AmEx VIP Charging Station." The tent radiates a purplish glow. I pull back the flap, startling Benmont, who smoothes the pleats of his fine tailored coat and reaches out to greeet me. His graying hair is tousled and his kind face warm, youthful. "Ketch!" he exclaims, smiling widely. "I was wondering if you'd ever find me in here. I just needed a place to recharge." Inside the iridescent tent and its icy blast of air conditioning stand a number of clear plastic towers where dozens of stacked cell phones chirp and whir. Ben checks his. "I need just a minute more. Shall we grab an ice cream?"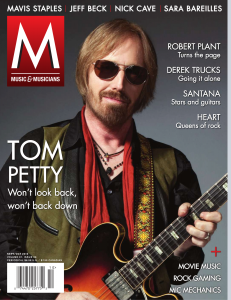 The Great Wide Open
By Chris Willman
M Music & Musicians - September-October 2010
After a few years of looking back, Tom Petty is fired up about facing the future.
"I was born a rebel," Tom Petty once sang, and he wasn't kidding. As a certifiable legend of rock music who has sold tens of millions of album and filled countless arenas, he still takes a passionate stand about the things he believes in.
Take the environment, for example. Standing at the plate glass window of his Malibu beach house, he points out a spot where several dolphins are about to appear. "You'll see 'em break water between those two boats," he says, and that's just what they do. He was horrified by this summer's enormous oil spill in the Gulf of Mexico. "Doesn't that piss you off?" he says. "It's beyond belief." And he puts his money where his mouth is -- this cozy, cabin-style beach residence runs completely on solar power. "There's no electric bill," Petty notes with pride.
Editor's Note: This is Classic Rock's list of 150 greatest debut album. The other 149 are included in the PDF, which is about 35 pages.
The 150 Greatest Debut Albums Of All Time
Classic Rock - October 2010
TOM PETTY & THE HEARTBREAKERS | TOM PETTY & THE HEARTBREAKERS | Shelter, 1976
Who leaves a song as enduring as American Girl to be the last track on their debut album? Well, Tom Petty & The Heartbreakers, for one. American Girl might be the album's best known song, but TP&HB is packed full of rootsy, anthemic numbers such as The Wild One, Forever and Breakdown. Unusually, considering how all-American this debut sounds, it was successful on this side of the Atlantic first.
Tom Petty and the Heartbreakers | Mojo | Warner Brothers
Review by Jeff Noller
SFL Music Magazine - October 2010
It seems from a creative standpoint, Tom Petty has been lying in the creative doldrums for the better part of a decade. Following his last solid album, 1999's Echo, he released the tepid and pretentious The Last DJ in 2002 with the Heartbreakers and 2006's weary and melancholy Highway Companion. When he revived his first group Mudcrotch in 2007 to release their self-titled album the following year, people welcomed the ragged and loose feel that had been absent from most of Petty's recent material. If there was hope that would translate to great record when he brought back the Heartbreakers for this year's Mojo, that is not the case.