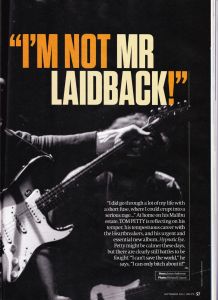 Editor's Note: Thanks to Sue Reaney for this scan.
"I'm Not Mr. Laidback!"
By Jason Anderson
Uncut - September 2014
"I did go through a lot of my life with a short fuse, where I could erupt into a serious rage..." At home on his Malibu estate, TOM PETTY is reflecting on his temper, his tempestous career with the Heartbreakers, and his urgent and essential new album, Hypnotic Eye. Petty might be calmer these days, but there are still clearly battles to be fought. "I can't save the world," he says, "I can only bitch about it!"
The troubles of the world seem a long way away from the home studio at Tom Petty's Malibu estate. The singer's favourite spot on the property, it lies at the furthest end of his spread, which consists of a long, connected set of red-roofed ranch houses. Modest by the neighbourhood's standards, the most eye-catching features near the main house are a small fountain and an oval-shaped pool that's hardly what you'd call Olympic-size.
Tom Petty awarded songwriting royalties for Sam Smith's Stay with Me
By Chris Coplan
Consequence of Sound - January 25, 2015
Source: http://consequenceofsound.net/2015/01/tom-petty-awarded-songwriting-royalties-for-sam-smiths-stay-with-me/
Upon the release of Sam Smith's "Stay With Me" in April 2014, a number of listeners were quick to note the distinct resemblance to Tom Petty and the Heartbreakers' 1989 classic "I Won't Back Down". As it turns out, Petty's lawyers also took notice, and the UK crooner has since agreed to pay songwriting royalties.
According to The Sun, Smith and Petty actually settled out of court back in October, but details only emerged just this weekend. The settlement reportedly included a 12.5% writing credit to both Petty and singer-composer Jeff Lynne (of ELO fame). The song's credit on ASCAP — that's the American Society of Composers, Authors, and Publishers — now lists Smith, Petty, Lynne, and Jimmy Napes as the chief songwriters. 
Top Five Rock Bands with the Best Music Videos
By Lucy Tonic
FDRMX - February 27, 2015
Source: http://fdrmx.com/top-five-rock-bands-with-the-best-music-videos/
Number One: Tom Petty (and the Heartbreakers). Tom Petty is a classic rock artist who's produced three solo studio albums and thirteen albums with the Heartbreakers. He is known for creating some of the most visually unique music videos. "Runnin' Down a Dream," off of Tom Petty's 1989 album Full Moon Fever, begins with Petty opening a book like he's about to tell a story- this would be a trademark in most of his videos. The video then goes on to show a black and white cartoon of Petty, surrounded by bizarre situations we would encounter in dreams.
"You Don't Know How it Feels," off of 1994's Wildflowers, features a close-up of Petty with guitar and harmonica on a spinning platform; in the background we see an array of circus performers, lovers robbing a bank, people watering live flowers, a shooting range and  an apparent transvestite. "You Got Lucky," off of 1982's Long After Dark, portrays Petty and the Heartbreakers dressed as primitive cowboys, who come across a warehouse filled with modern technology- similar to the Mad Max films.
"Don't Come Around Here No More," off of 1985's Southern Accents, was a collaboration between Tom Petty and Dave Stewart (Eurythmics); the video has a memorable Alice in Wonderland theme, with Alice being eaten as cake by the band at the end. "Into the Great Wide Open," off of the 1991 album of the same name, tells the story of Eddie (played by Johnny Depp,) a runaway-turned-rockstar who is ultimately "a rebel without a clue" (Faye Dunaway also stars in the video.) "Mary Jane's Last Dance," which first appeared on the band's 1993 album Greatest Hits, features Tom Petty taking a dead Kim Basinger out of the morgue, where he dances and has dinner with her before dropping her body in the ocean; at the end of the video, she opens her eyes.
Runnin' Down A Dream
By Jaan Uhelskzi
Uncut - September 2016
At the dawn of the 1970s, a young Florida band had plausible dreams of making it big. "We were better than anyone else," recalls their bassist, TOM PETTY, of his doomed first band, MUDCRUTCH. Now, though he has reunited this mix of Heartbreakers and guitar teachers for a long-awaited turn in the spotlight. Uncut meets a reborn Mudcrutch in New York, and explores with them the lost hinterland of a rock superstar.
Tom Petty came to success in a very roundabout way. During his induction into the Songwriters Hall Of Fame in New York in early June, Petty explains that, even today—having spent the best part of three decades refining back-to-basics American rock—he still considers himself to be an outsider. "I'm sorta the rock'n'roll white trash section of the show," he deadpans from the podium of the Marriott Marquis Ballroom. Tonight, Petty is in illustrious company. His fellow inductees include Lionel Richie, Elvis Costello, Nile Rodgers and posthumously, Marvin Gaye. Petty is suitably dressed for the occasion, sporting a military-cut black tuxedo, a black silk shirt and a thin purple cravat. He is inaugurated by his friend Roger McGuinn and although the tone of the event is light and celebratory, Petty's acceptance speech shares several hard truths about the nature of his craft. "Writing a song for a rock band—you'd better bring a really good song, because they don't take it well if it's not," he says in a slow, laconic drawl. "Many times I've gone back to the drawing board.
"If no-one ever wrote another song, we'd be fine," he continues. "There's plenty of songs. But I still do it. I love it, it's a gift. Everybody can do it, but everybody can't do it good."
Inside Tom Petty's Last Big Tour
By Stephen Rodrick
Rolling Stone #1291 - July 13, 2017
Behind the scenes as Petty and the Heartbreakers battle the elements, remember old times and celebrate a 40-year bond
It's about an hour before Tom Petty and the Heartbreakers play Colorado's Red Rocks Amphitheatre for what may be the last time. Backstage, Petty is in his dressing room putting on a frontier rebel's headdress to fight the chill. Keyboardist Benmont Tench is tweeting about the sad state of our country under Donald Trump. Bassist Ron Blair has battled stage fright for years since rejoining the Heartbreakers in 2002, after a 20-year sanity break. He wanders into Petty and cops to something you're not likely to admit to your bandleader unless you've known him for 40 years. "I'm kinda nervous, you know," says Blair in a quiet voice.
Petty rarely describes himself as the leader of his band, but as "the older brother they sometimes have to listen to." Tonight, he gives Blair some fatherly advice and a toothy Southern smile: "Let me be nervous for you."
Tom Petty Was Rock 'n' Roll's Ambassador to the World
By Warren Zanes
Slate - October 3, 2017 
Source: https://slate.com/arts/2017/10/tom-petty-dead-at-66-remembered-by-his-biographer.html
Even if he would have been the last one to admit it.
One of my favorite parts of a work trip to Tom Petty's Malibu house would come at the end of a visit, when he'd walk me out to my rental car. He didn't actually walk down the driveway so much as he ambled, leaning into it a little. Sometimes he leaned a bit too much and had to catch himself, like he was always slightly off balance but never going to go down. Our interview sessions typically lasted more than four hours, with a meal in the middle, and we'd both be a little wiped by the time we wrapped. But work would be over, and there was an openness to the conversation, even if it remained focused on music. The subject might be Randy Newman or the Lovin' Spoonful or Elvis or Ann Peebles. But no one, no one, was happier we'd stopped talking about Tom Petty than Tom Petty. This was a man who wanted to glory in the music that had raised him, not the music he'd made. Other people could talk about that.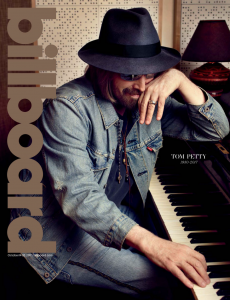 The Sanctity of Music
Billboard - October 14, 2017
On July 2, 2016, Billboard editors wrote an open letter to congress, in response to the mass shooting at the Pulse nightclub in Orlando, Fla., on June 12, 2016, and the killing of singer Christina Grimmie by a gun-wielding stalker two days earlier. The letter, which was signed by over 200 top music artists and executives, asked Congress to close the deadly loopholes around gun regulation that put so many lives at risk.
Fifteen months later, we awoke on the morning of Oct. 2 to news of another mass shooting in a space where music fans had gathered. Fifty-nine people are dead and over 500 injured as the result of an attack on concertgoers at the Route 91 Harvest festival in Las Vegas. Using a semiautomatic rifle he had legally modified to fire at a faster rate, the shooter targeted a crowd watching Jason Alean's Sunday night performance. Because the shooter was positioned outside of the festival ground, this tragedy was not a venue security issue—this was a gun safety issue.
It is unacceptable that so little in our country has changed since the Pulse tragedy. It is unacceptable that our nation must continue to search for a sane and safe end to gun violence.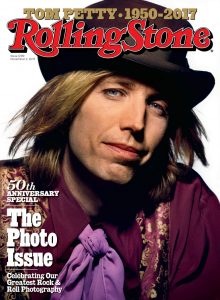 Tom Petty 1950-2017
By David Fricke
Rolling Stone #1299 - November 2, 2017
He was a genius craftsman with a dark side—and he never stopped believing in the power of rock & roll
On September 25th, Tom Petty and the Heartbreakers performed the final concert of a three-night run at the Hollywood Bowl in Los Angeles. It was the climax of their 40th Anniversary Tour, a 53-show celebration of the singer-guitarist's unbroken lifetime with his band as one of rock & roll's biggest, best and most committed live acts.
Thirty minutes before he walked onstage, Petty welcomed singer-songwriter Lucinda Williams into his dressing room. "He had a big smile, and he was putting a cough drop into his mouth," says Williams, an old friend who had just finished her opening set. "I didn't want to stay too long. It was getting close to showtime. I said, 'Tom, the audience is rockin'. They're good to go. I've warmed them up for you.' He looked at me and goes, 'I bet you did,' with those twinkly eyes and that beautiful face. They hugged; a photo was taken. It was, she says, "the last time I saw him."
Six days later, on the evening of October 1st, Petty suffered cardiac arrest at his home in Malibu, and was rushed to UCLA Medical Center in Santa Monica. He died at 8:40 p.m. the next night, after a daylong vigil by his family, friends and bandmates. Petty was less than three weeks from his 67th birthday.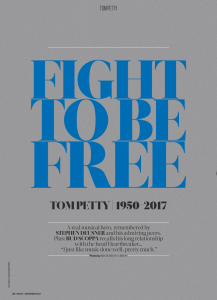 Fight To Be Free: Tom Petty
By Stephen Deusner
Uncut - December 2017
A real musical hero, remembered by STEPHEN DEUSNER and his admiring peers. Plus: BUD SCOPPA recalls his long relationship with the head Heartbreaker... "I just like music done well, pretty much."
Tom Petty made his finest album under incredible duress. During the sessions for 1979's Damn the Torpedoes, he was suing Shelter Records and his friend/mentor/producer Denny Cordell to secure a better contract and to obtain the publishing rights to his own songs. Some days he was in the studio with the Heartbreakers, laying down vocal tracks; other days he was in the courtroom with his lawyers, testifying to the conditions of his record deal.