Editor's Note: Many thanks to Robert Barry Francos for allowing me to post this.
Tom Petty: A Petty Interview
by Robert Barry Francos
FFanzeen -- July 7, 1977
Although Tom Petty and the Heartbreakers are considered a West Coast band, they have been fairly well accepted by the rockers on both coasts. They've played on the same bill with such groups as Blondie and the Runaways. When I interviewed them last March 8, 1977, they were playing the Bottom Line with Roger McGuinn. They had played at CBGB a few months past. They have a definite rock'n'roll sound that, to some, may take some getting into (remember the first time you heard Television?).
While doing this interview, I kept getting the feeling that, at times, Petty wasn't listening to what either I, or he himself, was saying. You may catch this on some of the answers. Despite this, I feel that, in most cases, Petty answered to the best of his ability.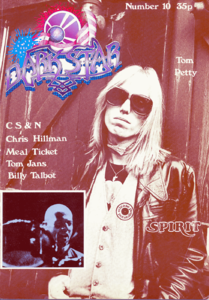 Tom Petty
By Rod McShane
Dark Star -- August 1977
Tom Petty and the Heartbreakers' debut album on Shelter released early this year is quite simply the most impressive first outing for any American band that I've heard in years. Their Gainesville, Florida origins and the extensive coverage they've recieved in the music press here do not disqualify them as candidates for a major feature in DARK STAR. Hopefully, this article will attempt to do three things: First of all it will attempt to provide an extensive chronicle of the band's history; secondly, in setting out the band's history I hope it will become clear the extent to which the band falls within the sphere of Dark Star's declared West Coast interests; and finally, the lavish praise heaped on the band by the music press and the intrinsic qualities of the album aside, I want to try and give some indication of why, with such a comparitively brief track record, Tom Petty and the Heartbreakers are a force-to-be-reckoned-with.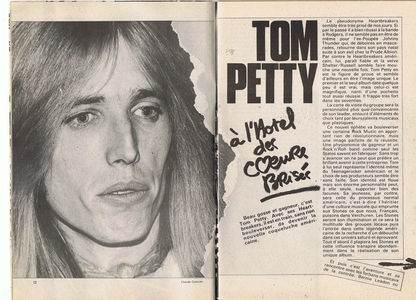 Editor's Note: Thanks to French-Canadian Robert Lefebvre for translating this (Spring 2018).
Tom Petty at the Heartbreak Hotel
By Gérard Manlu
Unknown French Publication - ca. Fall 1977
Tom Petty at the Heartbreak Hotel
A handsome kid, and a winner, this is Tom Petty. With his Heartbreakers, he's in the process, without upsetting much of the musical landscape, of becoming rock and roll's newest American darling.
The "Heartbreaker" moniker seems to be everywhere these days. It served Paul Rodgers well, as the title of the last Free album a few years back. It's also the name of Johnny Thunders' post New York Dolls' punk outfit, recently disgraced on French soil and sent packing back to the States after some performances best described as setbacks. And now, there is the Heartbreakers, an America band. They seem destined to be more lasting, with the Shelter Records / Leon Russell tandem having an apparent hit on their hands. Tom Petty is the group's leader, their image built around his charismatic good looks. Their first and only album is now almost a year old, but the record boasts an evocative cover that is pure nineteen-seventies.
Tom Petty
Cashbox - October 22, 1977
For 10 months the first album from Tom Petty And The Heartbreakers languished in record stores across the land seemingly destined for the worst of all reactions to any artist whether new or established—indifference. But the energy that Tom Petty had stored up in his 10 years as a frustrated rocker was not about to be stifled. His band and he took to the road, and all of a sudden, nearly a year later, Tom Petty exploded.
Wherever they went they were warmly received by admiring members of the press. In fact, Petty gives the press much credit for his success. "I think the press played an important part in keeping the band alive for most of this year," he explains, "They sort of stirred up the original interest that made people check us out. They were there from the beginning and it's great when they can use their influence in a positive way like that."
But the press could only arouse the interest; it was up to Petty to sustain it in concert. As it turned out, skeptics only had to see the shows to drop their cynicism and become fans. So, Petty and Co. did show after show and things gradually began to turn around. "Touring has really done it for us," says Petty. "Wherever we played we would have an immediate response on the record and so it became the old story, go out and play and take it to the people."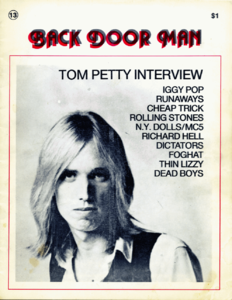 Tom Petty: "Call Me A Punk And I'll Fucking Cut You!"
By Thom Gardner
Back Door Man -- November/December 1977
Just what the fuck is going on here, anyway? I, for one, would like to know what happened to scandal? Where are the reincarnations of Louella Parsons and Hedda Hopper now that we need them most? What we need is rock & roll Rona Barrett to fill us in on the gossip, the real behind-the-scenes dirt. (Say, Lisa, are you available?) The National Enquirer meets Rolling Stone -- The new Hollywood Confidential.
What is this world coming to when pop stars wait until the tape runs out to speak their alleged minds? In my day, pop stars raised a few eyebrows -- they were either bigger than Jesus or they pissed on walls -- now all one has to do is call these same stars old farts and they get press.
Tom Petty, a native of Florida who now resides in Los Angeles' own San Fernando Valley (where they make lots of soap and lampshades) pulled this on BDM. After close to one full hour spent discussing today's music scene he waited until the tape supply ran out to say: "Now that the tape is gone..." and proceeded to talk over everything from the Aerosmith/Nugent/Kiss stadium rock events to the recent rash of Van Morrison imitators (Springsteen, Willy DeVille, Graham Parker, Phil Lynott). Ah, well, one must learn to live with the fact that one may never know what Tom Petty really thinks of Gene Simmons' codpiece, Steven Tyler's scarves, or Bruce Springsteen's jersey.
New On The Charts: Tom Petty and the Heartbreakers
Billboard — December 3, 1977

"Breakdown" — 100
Petty played in local rock bands in Florida from the mid-1960s until 1973, when his group Mudcrutch moved to L.A. That band included Mike Campbell and Benmont Tench, the guitarist and keyboard player for the present day Heartbreakers.
Denny Cordell's Tulsa-based Shelter Records signed Mudcrutch, but the group dissolved before finishing its first album, leaving Petty as a solo Shelter artist.
Two years later, Tom regrouped with two of his Mudcrutch cohorts as well as fellow Floridians Ron Blair on electric bass and Stan Lynch on drums. This is the lineup of the Heartbreakers, whose debut album was released last winter.
Petty cites his main influences Elvis Presley, the Beatles, the Stones, and especially the late '60s West Coast folk-rock of the Byrds. Petty's tribute to the Byrds, "American Girl," was covered by Roger McGuinn on his "Thunderbyrd" album and the Heartbreakers have also been opening for McGuinn on the road.
The 24-year-old guitarist has been tagged a punk, but his music is simply classic rock 'n' roll, free of the calculation and pretense of contemporary pop, and characterized instead by a sense of urgency and defiance.
The group is managed by Tony Dimitriades of L.A. (213) 876-7822. Its agent is Peter Russo of Premier Talent in New York, (212) 758-4900.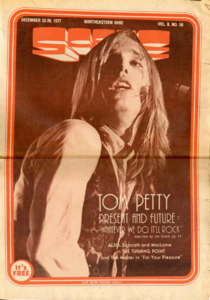 Tom Petty present and future: "Whatever we do, it'll rock."
By Jim Girard
Cleveland Scene -- December 22-28, 1977
Although Tom Petty & The Heartbreakers recorded their first album, TOM PETTY AND THE HEARTBREAKERS, on Shelter Records in the summer of '76, the band is just beginning to cut tracks for a second album. It wasn't that they didn't have any material, but rather that the fivesome couldn't stay off the road long enough to think about recording.
To say the least, it's been a strange year and a half for Petty and band. The album took off slowly, but built momentum, as the group toured the endless stream of showcases, rock clubs and small concert halls. By the time their album had officially dropped off of the music charts, everyone knew about the band and, suddenly, the album re-appeared on the charts when Petty's record company released a single from the album, the dynamic "Breakdown."
The rock press gave Petty great reviews, and Roger McGuinn even recorded a version of Petty's "American Girl." Like it or not, Tom Petty wasn't through promoting or giving interviews for his debut album. However, the 26 year-old blond rocker from Gainesville, Florida is taking it all in his stride.
Tom Petty and the Heartbreakers | Riveria Theater, Chicago | December 2nd, 1977
By John Milward
Rolling Stone #257 -- January 26, 1978
Before their set, Tom Petty and the Heartbreakers treated their audience to a tape of unreleased Rolling Stones songs culled from the Stones' early years. The choice was appropiate, as the Heartbreakers owe much to the unruly rock & rollers of the first wave. Although the quality of Petty's songs prevents him from being labeled a throwback, it is his commitment to a Sixties goal, to take the big beat and make it bigger, that really defines his music.
Headlining a show opened by Elvis Costello, Petty and the Heartbreakers performed with the calculated polish that marked late-Sixties rock. The band is anchored around Stan Lynch's steady drumming and Mike Campbell's wrought lead guitar work. Campbell's polished lead lines almost charged ahead of cuts like "Breakdown" and gave the band a sense of electric foreboding.
Tom Petty and the Heartbreakers – It's Only Rock 'N' Roll (And That's The Point)
By Blair Jackson
BAM - April 7, 1978
Los Angeles - Cruising down Hollywood Boulevard at a hair-raising 55 m.p.h., Albert Ruiz, a 53-year-old cab driver from East Los Angeles, was having the time of his life, weaving from one lane to another like a crazed young punk unleashed on an amusement park's bumper cars for the first time. As he barely averted one potentially cataclysmic accident after another, his smile widened under his bushy mustache revealing a set of jagged, rotting teeth. His demonic glare was a far cry from the grim countenance that stared, like a convict's mugshot, from the license posted on the dashboard in front of me. The car radio, blaring KHJ at an obnoxiously loud and distorted volume, belched out a string of mediocre hits. Player gave way to Andy Gibb, who was in turn followed by the latest abomination from Kiss.
And then it happened. The opening guitar riff of "Breakdown" came on and Ruiz went nuts.
"Tom Petty! Tom Petty!" he shouted in a thick Spanish accent.