Top Single Picks: Pop
Billboard -- November 17, 1979
TOM PETTY AND THE HEARTBREAKERS -- Don't Do Me Like That (2:40); producers: Tom Petty, Jimmy Iovine; writer: Tom Petty; publisher: Skyhill BMI, Backstreet MCA41138 (MCA). The first single from Petty's fast-climbing LP has a strong lyrical hook backed up by some solid mid to fast rock instrumentation. The vocal is urgent and the single and LP may just be the ticket to this artist's potential superstardom.
Editor's Note: In the 'Heartbreakers Beach Party' documentary from 1983, Tom mentioned that he found this magazine cover to be very strange.
Cashbox -- November 17, 1979
Few artists living or dead have ever put as much wild boy abandon and rock 'n' roll vigor into their music as Backstreet/MCA artist Tom Petty, infusing his music with a touch of Byrds, a dash of Stones and a lot of his own 4/4 rhythmic ingenuity, Petty stands as a rockin' original.
At the crux of Petty's lyrical and vocal stance is the snarling, avenging lover who cries out "That's right you hurt me, baby" in "Hurt" and "I didn't know I was no number two" in "Fooled Again." While a lesser performer would shuffle the lines off in a cheap emotional fashion, Petty acts as though he means it. Only Costello's angry urbanite and Springsteen's boardwalk leathered poet can match Petty's frustrated "Wild One" persona on today's rock 'n' roll scene.
Live Wave
By Dave Voelker
Cleveland Scene -- November 21 - 26, 1979
Tom Petty and the Heartbreakers | The Fabulous Poodles | Palace Theatre | Nov. 17
It was the weekend of great showings under duress. First Tom Petty overcame the effects of a sore throat to turn in a vocal performance of rare luster on Saturday; then Brian Sipe rallied from the flu to do it to the Dolphins on Sunday. Germs, anyone?
The only thing that kept me from liking last year's Tom Petty show as the band's cool stand-offish stage presence -- they acted supremely bored and distant. This time, they behaved like recent Dale Carnegie graduates; moving nimbly across the stage, interacting with the audience and each other, cracking jokes. Guitarist Mike Campbell actually smiled -- not once, but many times. It's obvious that T.P. and the boys are a lot more confident and loose since they started touring, and that's all their shows needed to move a step beyond skillful playing and create real empathy and excitement -- as this one unquestionably did.
Talent in Action
Review by Rovan Kozak
Billboard -- December 8, 1979
Tom Petty | Fabulous Poodles | Palladium, New York
The overwhelming response of rock radio to the new Tom Petty "Damn the Torpedoes" LP which shot up to 30 from 114 on the LP chart in one week, indicates a strong demand for his music. But on the first night of his current tour, a rainy Sunday (11), the Palladium was only 3/4 full.
Which was a shame, because the no-shows missed a fine performance. Though Petty is by no means the great white hope of rock'n'roll, as some of his fans would have one believe, nevertheless he showed in his 90-minute set a distinctive style that was still well grounded in rock and country rock traditions.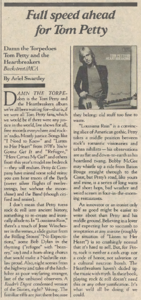 Full speed ahead for Tom Petty
By Ariel Swartley
Rolling Stone #306 -- December 13, 1979
Damn the Torpedoes | Tom Petty and the Heartbreakers | Backstreet/MCA
Damn the Torpedoes is the Tom Petty and the Heartbreakers album we've all been waiting for -- that is, if we were all Tom Petty fans, which we would be if there was any justice in the world, live shows for all, free records everywhere and rockin' radio. Mostly justice. Songs like "I Need to Know" and "Listen to Her Heart" from 1978's You're Gonna Get It and "Refugee," "Here Comes My Girl" and others from this year's model are bedrock -- they will endure. Petty & Company have mined some solid veins; you can hear traces of the Byrds (sweet silver flights of the twelve-strings, but without the moonshine) and the Band (though citified and sexier).
I don't mean that Petty turns rock & roll into ancient history, something to re-create and ironically allude to. In "Lousiana Rain," there's a touch of Jesse Winchester in the verses, a slide guitar from the Rolling Stones' "No Expectations," some Bob Dylan in the rhyming ("refugee" with "beanery," say) and a hum-along chorus that would make a Nashville outlaw proud. Also, night scenes from the highway and tales of the hitchhiker as poor wayfaring stranger, last of the unbiaseed observers. A Reader's Digest condensed version of the Sixties, right? Wrong. The familiar riffs are just there because they belong: old stuff too fine to waste.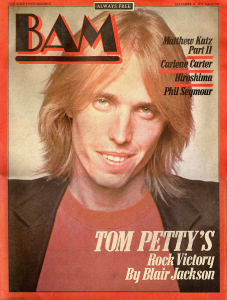 Tom Petty's Rock Victory
Blair Jackson
BAM - December 1979
In the spring of 1961, there were two very hot rumors that every person under the page of 18 in my original hometown of Pelham, New York seemed to be buzzing about. The first was that Bob Denver, better known at that time as Maynard G. Krebs on Dobie Gillis, had been electrocuted in his bathtub in Hollywood. That was big stuff, to be sure, but the rumor that really had us all jumping was that Del Shannon, whose song "Runaway" was at the top of the pop music charts, had been a student at Pelham Memorial High the previous year. You would occasionally run into people who claimed to have actually seen Del wandering the halls of the school. Most people believed, or, at the very least, desperately wanted to believe that Del Shannon was one of us. There was nobody cooler than Del Shannon in 1961, and the proof was that everywhere you went that spring, kids of all ages were bopping down the street imitating that great "I wa-wa-wa-wa wonder" falsetto from "Runaway." Del Shannon had a voice that made people shiver, and that kind of singer was a rare bird in the post-Elvism pre-Beatles era of rock and roll.
Billboard -- December 22, 1979
PETTY FAN -- A young fan joins Tom Petty onstage at the Palladium Theatre in New York recently. After kissing Petty, left, she was escorted offstage by the security man in the background.