Details

Written by

Webmaster Aimee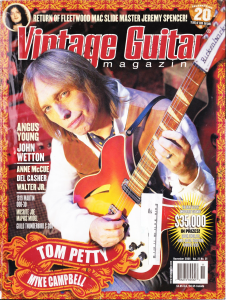 Hey, Petty people,
If you've not already noticed, I'm posting an article from each decade, from the 1970s to the 2010s. Today's is from 2006, in Vintage Guitar. You get two interviews, with Tom Petty and Mike Campbell. If you like guitars, you'll likely enjoy this.
"Yeah, it's about time, you know? You look up after 30 years of being on the road, and you've never done anything else. So I'd like the opportunity to live a somewhat normal life for a while; out life has really been either on the road or in the studio, and very little else. We grew up doing this! And again, we have a lot of songs to record."
I'll be posting the last article tomorrow, then it's back to typing.
- Aimee
Details

Written by

Webmaster Aimee
Hey Petty people,
As promised yesterday, here's another of my all-time favourite interviews! Following on the footsteps of Full Moon Fever, this one's a 1990 article appearing in Musician magazine.
"The fire was such a vast thing that it scares me when I start thinking about it. But your life is not like what comes out in the press. They only get the really tragic or really great things. They don't get all the middle stuff. But I'll tell ya, it's been pretty wild."
Have fun reading it - I know I did. Anyways, in store for tomorrow's interview: I hope you like guitars!
- Aimee
Details

Written by

Webmaster Aimee
Hey Petty people,
Here's your second interview for this week, and one of my all-time favorites. From Musician magazine, it was published in 1983, at the heyday of the Heartbreakers' popularity. 
"I enjoy girls immensely, and I think they're part of what a rock concert should be. Whenever I go to a punk show and it's all boys on the dance floor, I think, 'Hey, there's something missing here. Where's the sex?'"
As always, enjoy. And in store for tomorrow: another of my all-time favorite articles...
- Aimee
Details

Written by

Webmaster Aimee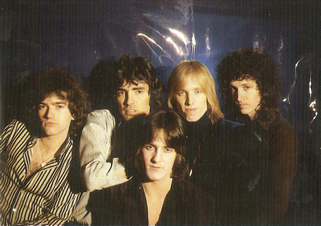 Hey Petty people,
I've gotten together another bunch of magazine interviews. So it's that time again. From Monday - Friday this week, I'll be posting an article a day.
Today's interview is an early one, all the way back from 1977, and appearing in British music magazine Sounds:
"I know the punk thing is very big in England but in the States we checked out CBGB's when we played New York and it seems to me that it's eighty percent image and twenty percent music. And we're not against image—that's why none of us are weighing two hundred pounds and wearing straw hats—but it seems to me that it's the music that should be more important."
Hope you enjoy! I'll have another one for you tomorrow.
- Aimee
P.S. I'd like to give my regards to the cool people over on Mudcrutch Farm. I'm not going to list any names lest I forget somebody, but you know who you are.
Details

Written by

Webmaster Aimee
Hey Petty people,
Here's another concert review for you.
If ever there has been a date worth the tribulation, this was it. Petty and his Floridian cohorts, the Heartbreakers, were immense. Needing to recoup from a tattered image, they played like gangbusters during an extra-long set lasting just under two hours. Petty may have still been bucking a virus, but there was no stopping him. You only wondered what a truly healthy Petty might have done.
As well as that, we've added a "Did You Know?" feature to the front page, with some fun bits of trivia. There's only a few for the time being, but we plan to add more!
- Aimee