Tom Petty -- Highway Companion ★★
Review by Chuck Eddy
SPIN - September 2006
Well-traveled rocker never really gets rolling.
The eternally squirrely dad-rocker's road-trip album opens with its most explicit car rhythm, a ZZ-riffed boogie ride past exurbia's ranch homes. And though the disc never works up comparable energy again, the tune about heading South to sell family headstones ("Down South") and the one about dropping in on small-town buddies for a beer ("Big Weekend") do okay. Moodier moments respectably imitate Dylan and Neil Young, but often fall asleep at the wheel.
Tom Petty Breaks No Hearts
By Steve McLean
CHARTattack - September 11, 2006
DATE: September 8, 2006 | CITY: Toronto, ON | VENUE: Molson Amphitheatre | RATING: 4 / 5
Tom Petty's face looked a bit ghostly and his black velvet pants, brown suit jacket and scarf made him look like a funky '60s funeral director when he walked on stage, but his Friday night performance with The Heartbreakers brimmed with life.
The Rock And Roll Hall Of Famer opened the show with "Listen To Her Heart," which set the tone for a night of songs that could be placed loosely in three categories: those from his new Highway Companion album; a handful of classic covers; and hits. And since the group are celebrating their 30th anniversary this year, there was no shortage of the latter.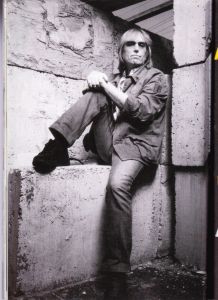 Editor's Note: Thanks to Sue Reaney for the scan. Also, this article's got a number of strange errors.
Rock of Ages
By Sylvie Simmons
MOJO - October 2006
Hard-headed master of the American rock song, soft-hearted support system to superannuated superstars, Tom Petty crowns 30 years making albums with his best since Wildflowers. So why does he feel so undervalued? And did he really punch out Bob Dylan? "I just do what I do," he tells Sylvie Simmons.
It's a gloomy Los Angeles day and the anorexic palms lining the long, straight road are cowering under the threat of rain. When Tom Petty first drove down these streets 32 years ago, in a Volkswagen bus crammed with instruments, his band Mudcrutch and a roadie, he thought he'd reached the Promised Land. As you might after driving 2,120 miles from Gainesville, the half-college, half-redneck Florida town where Petty grew up and Mudcrutch outgrew its audience. He'd been lured west by Bernie Leadon of The Eagles—a Gainesvillean who'd left and sent back stories of streets paved with record company gold. Bernie's younger brother, Tom, played guitar in Mudcrutch—Petty played bass—until, depending which story you believe, Leadon was ousted for losing them a gig at a topless bar or wanting to play country rock. In Gainesville, which, being in the north of Florida was oddly more Southern than the south, Bernie would take the Toms to bluegrass parties in the woods—weird gatherings where farmers and game hunters would gather round tractors and, as Petty recalls, play mandolins and banjos brilliantly. But Mudcrutch was a rock 'n' roll band, which is why they drove to LA.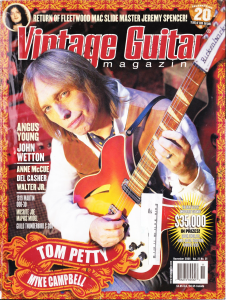 Editor's Note: Thanks to Sue Reaney for the scan!
Download the PDF! (big file)
Tom Petty | Mike Campbell: Guitars At Heart For 30 Years
By Ward Meeker
Vintage Guitar - November 2006
Remember the first time you strummed a D chord or fumbled your way oh-so-slowly through "Walk Don't Run"? Chances are you wanted to be in the Beatles, or you wanted to be Elvis, with the flattop and the hips. Tom Petty was that kid, too.
Today, nearly 50 years beyond "Love Me Tender" and "Love Me Do," he is the personification of the rock star "created" by the Beatles' appearance on "The Ed Sullivan Show." and 30 years after his band, the Heartbreakers, formed in Gainesville, Florida, he is still making an impact, still being a force in a medium famous for devouring all but the biggest of its "stars." The laconic raconteur of rock very much appreciates that his style never goes out of style, and in selling some 50 million albums he has pandered to nobody—not fans, not managers, not record labels.
TOM PETTY: Flirting With Time (3:14)
Review by SP
Billboard - November 4, 2006
Producers: Jeff Lynne, Tom Petty, Mike Campbell | Writer: T. Petty | Publisher: Wixen, ASCAP American/Warner Bros.
One of the more uptempo tracks on Tom Petty's soulfully sparse "Highway Companion," the acoustic-led "Flirting With Time" has a catchy California sunset chorus but remains vulnerable at its core. Here is a rock icon contemplating the fragility of his own existence, unafraid to ask the deeper questions that lurk beneath the surface of a good hook. "This could well be your last stand/Hold the sunlight in your hand," Petty sings wearily, sounding utterly alone and yet filled with inner piece. Like most of the "Higway" songs, "Flirting" lacks the crisp energy and sonic sparkle of 1994 masterpiece "Wildflowers," but offers a poignant road anthem that feels classic and deeply human, a perfect fit for triple-A.
Staff Picks: Tom Petty's Breakthrough
By Enrico
The Matador Online - December 2006
After 27 years, Damn the Torpedoes continues to be an enduring classic.
It was 1979. Jimmy Carter was struggling with his foreign policy, gas prices were soaring, and Tom Petty and the Heartbreakers released their second rock 'n' roll album to combat the disco revolution. In 2006, Damn the Torpedoes is still revered as one of modern music's classic albums while the likes of Aretha Franklin and the Beegees have been reduced to karaoke bar fame.
SHAKE, RATTLE & ROLL
By Thomas K. Arnold
San Diego Magazine - January 2007
Ike Turner may have moved to San Marcos, but Carlsbad is now home to another rock 'n' roll great -- San Diego native Ron Blair. The original bassist for Tom Petty and the Heartbreakers, Blair played on the celebrated rock band's first four albums before departing in 1982. He rejoined the group in 2002 in time for Petty's Rock and Roll Hall of Fame induction ceremony and has been touring and recording with them ever since.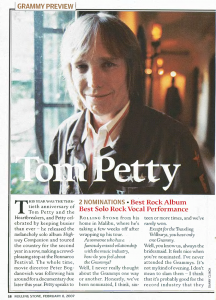 Grammy Preview: Tom Petty
By Brian Hiatt
Rolling Stone #1019 - February 8, 2007
This year was the thirtieth anniversary of Tom Petty and the Heartbreakers, and Petty celebrated by keeping busier than ever -- he released the melancholy solo album Highway Companion and toured the country for the second year in a row, making a crowd-pleasing stop at the Bonnaroo Festival. The whole time, movie director Peter Bogdanovich was following him around for a documentary due later this year. Petty speaks to ROLLING STONE from his home in Malibu, where he's taking a few weeks off after wrapping up his tour.
Reissues: Traveling Wilburys: Two From the Vault
By Steve Knopper
Rolling Stone #1024 - April 19, 2007
The Traveling Wilburys, the supergroup starring George Harrison, Roy Orbison, Bob Dylan, Tom Petty and ex-ELO frontman Jeff Lynne, will finally reissue their two long-out-of-print CDs on June 12th with a twenty-four-minute studio documentary and various bonus tracks such as the Harrison-sung "Maxine," the group effort "Like a Ship" and alternate takes of "Not Alone Any More" by Orbison (on the vinyl release only). "It's quite exciting to find new phrases by Roy that haven't been heard in nineteen years," says Lynne. "[The bonus tracks] are just like the Wilburys, exactly the same as the other ones. We just didn't have room for them. Mixing them was very nostalgic."