Venue Views: He Won't Back Down
By Ray Waddell
Billboard - June 15, 2002
As Tom Petty gears up for his 32-date summer tour of arenas and amphitheaters, the artist will stick with his previously stated intention to eschew gold-circle/VIP seating, along with the hefty prices that typically accompany them. Long-time Petty manager Tony Dimitriades of East End Management defines gold-circle tickets as "a few select seats, normally in the first area near the stage, with [fans] charged an exorbitant amount of money for the privilege of being treated differently from others. That smacks of segregation in Tom Petty's mind and it totally against what rock'n'roll is all about."
The Last DJ (2002)
By Marc Weingarten
Entertainment Weekly #677 - October 11, 2002
Apparently, Tom Petty needed to work himself into an indignant lather to produce his most consequential songs in years. The Last DJ is basically an album-length rant about greed and corruption in the music biz. Okay, so that's not exactly a news flash, but Petty's droll wit and the Heartbreakers' empathetic playing make tracks like "Money Becomes King" and "Can't Stop the Sun" about as entertaining as polemical pop music can be. And the expansive arrangements give "The Last DJ" a pleasant, Beatles-flavored kick. A-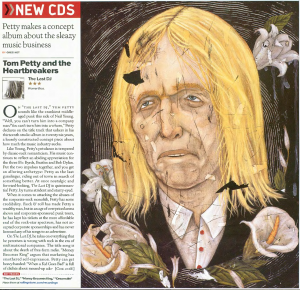 Review: Petty makes a concept album about the sleazy music business
Review by Greg Kot
Rolling Stone #907 - October 17, 2002
Tom Petty and the Heartbreakers | The Last DJ | Warner Bros. | ★★★
On "The Last DJ," Tom Petty sounds like the crankiest middle-aged punk this side of Neil Young. "Well, you can turn him into a company man/You can't turn him into a whore," Petty declares on the title track that ushers in his thirteenth studio album in twenty-six years, a loosely constructed concept piece about how much the music industry sucks.
Like Young, Petty's petulance is tempered by classic-rock romanticism. His music continues to reflect an abiding appreciation for the three B's: Byrds, Beatles and Bob Dylan. Put the two impulses together, and yo get an alluring archetype: Petty as the last gunslinger, riding out of town in search of something better. At once nostalgic and forward-looking, The Last DJ is quintessential Petty, by turns strident and starry-eyed.
Reviews & Previews: Albums
Review by Wes Orshoski
Billboard - October 19, 2002
Tom Petty | The Last DJ | PRODUCERS: George Drakouilas, Tom Petty, Mike Campbell | Warner Bros 9 47955
It's always sort of tough to rally behind an artist dissin' the music industry -- I mean, how do you support someone who's living a rock star's life but still complaining, right? But Tom Petty makes it all too easy here, slyly balancing bitter references to modern-day payola, shifty execs, and even the struggles of artists over 40 with wistful imagery of rock'n'roll dreams. Walking that line beautifully is "Money Becomes King," a strummy midtempo featuring a brilliantly sarcastic lyric about chatty VIPs, waiters, and wine in the gold-circle seats. More venomous is the mean "Joe" (a slam on major-label CEOs) and the title cut. Thankfully, the pretty ballad "Blue Sunday" and the sweet, piano-dusted "You and Me," among others, give us a break from the music biz. One would like to think that these would be the most timeless of the 12 songs here; but, sadly, the state of the music biz seems to suggest that songs like "The Last DJ: will still be relevant decades from now.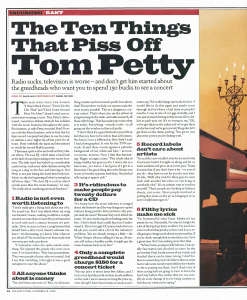 The Ten Things That Piss Off Tom Petty
By David Wild
Rolling Stone #909 - November 14, 2002
Radio sucks, television is worse -- and don't get him started about the greedheads who want you to spend 150 bucks to see a concert
The man who told the world "I Won't Back Down," "Don't Do Me Like That" and "Don't Come Around Here No More" doesn't need any assertiveness-training course. Tom Petty's determined, sometimes defiant attitude has collided with the music business throughout the years. For instance, in 1982 Petty recorded Hard Promises with the Heartbreakers, only to find that his then-record company had plans to use his name to initiate a new, higher $9.98 list price for albums. Petty withheld the tapes and threatened to retitle his record $8.98 in protest.
That same spirit is alive and well on Petty's latest album, The Last DJ, which takes a hard look at the lack of moral grounding in the music business. The title track has kicked up considerable controversy, with some radio stations seeing the song as a slap in the face and banning it. But Petty is not just biting the hand that feeds him. Music is only the beginning of what's pissing him off these days. "The Last DJ is a story about morals more than the music business," he says. "It's really about vanishing personal freedoms."
Decades later, Tom Petty, Jackson Browne make music that matters
By Jeffrey B. Remz
Country Standard Time - December 2002
Fleet Center, Boston, Dec. 15, 2002
BOSTON - There's no telling if Tom Petty & The Heartbreakers saved for the best for last, but that could be arguably stared as they closed out their 2003 tour behind their "The Last DJ" release in an outing that easily demonstrated that Petty and his ace backing band are not about settling comfortably into middle age musically.
The show started with the title track, which takes aim at the increasing corporate takeover of radio in this country with a DJ playing what he wants "as we celebrate mediocrity all the boys upstairs want to see."
Retail
Section by Christopher R. Weingarten
CMJ New Music Report - December 9, 2002
Patron saint of long, stringy hair Tom Petty is on tour with the Heartbreakers! Bonus Music Geek Joke: Of the Heartbreakers, no ones more excited about the tour than Richard Hell, but getting Thunders to go has been fairly difficult. Catch the Heartbreakers when they bring their music-industry slap-fest The Last DJ to a city near you. Philadelphia (12/3), Columbus, OH (12/4), Lexington (12/5), Detroit (12/7), St. Paul (12/9), Chicago (12/11), New York (12/13), Boston (12/14), Gainesville (...we're still waiting, pal!)
10 Songs We Hope We'll Never Hear Again
By Christian Hoard
Rolling Stone #912 - December 26, 2002
3. Tom Petty "The Last DJ"
Petty's tunes have always been pretty solid, so fans have forgiven his flavorless voice and slightly creepy looks. But he's a hopeless curmudgeon here -- that jaded uncle you avoid at family gatherings.
Random Notes: Smoking Petty
By Austin Scaggs and Rob Sheffield
Rolling Stone #914 - January 23, 2003
Tom Petty took time out from tearing the roof off Madison Square Garden to encourage the crowd to smoke some weed. So were Petty and the Heartbreakers stoned? "Stone-cold sober," he says, "not even a drink. That's how warped we are." Whatever the inspiration, the show was a killer. Kids, roll up some fat hoobies! In the spring, Petty's coming to a college year you.