Rock & Roll Daily: Tom Petty Speaks Out About the Year's Least-Requested Reunion: Mudcrutch
By Andy Greene
Rolling Stone - December 5, 2007
Jimmy Page has said that strangers often stop him on the street and beg him to reunite Led Zeppelin. It's possible not a single person alive has ever asked Tom Petty to reunite his pre-Heartbreakers band Mudcrutch, but he's doing it anyway. The group -- which included future Heartbreakers Benmont Tench and Mike Campbell, along with drummer Randall Marsh and guitarist Tom Leadon -- broke up in the mid-Seventies and hadn't played together until earlier this year when Petty called them all to his Malibu house to cut a new album. He's even mulling a tour next year. Keep reading for a Q&A where Petty explains why he got the old crew together again.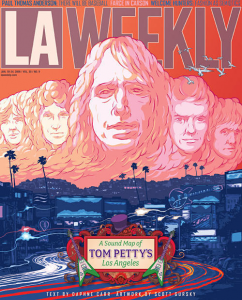 Tom Petty's Los Angeles
By Daphne Carr
LA Weekly - January 17, 2008
There exists in sound a map of Los Angeles, filled with song-lyric street names, neighborhoods, beaches, bars, empty spaces and spaces between spaces. It's a chart that follows more than 30 years in the life and work of Tom Petty, a longtime resident of the city and an undercelebrated rock & roll icon who finally appears to be getting his due.
In 1974, Petty drove cross-country from Gainesville, Florida, to Los Angeles to get a record contract. Knocking on doors along Sunset, he played demos and eventually got a deal for his first band, Mudcrutch, then moved the group to L.A. "We fell in love with L.A. within an hour of being there," Petty told author Paul Zollo in the 2005 book Conversations With Tom Petty (CWTP). "We just thought this is heaven. We said, 'Look — everywhere there's people making a living playing music. This is the place.'" In 1976, the first Tom Petty and the Heartbreakers album hit, and aside from touring with the band, he's never left town. His songs are indelibly linked with the cityscape, sometimes explicitly but more often in hints — that rare ability of a gifted lyricist to generalize the intimate.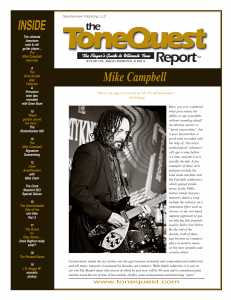 Mike Campbell
by Tom Guerra
ToneQuest Report - March 2008
Have you ever wondered what gives music the ability to age gracefully without sounding dated? An obvious answer is "good songwriting," but it goes beyond that. A good song recorded with the help of the latest technology 'advances' will age a song before its time, and pin it to a specific decade. A few examples of these technologies include the Linn drum machine and the Fairlight synthesizer, which gained prominence in the 1980s. Guitar trends that prematurely dated a song include the reliance on a prominent effect such as chorus, or the two-hand approach to guitar playing first popularized by Eddie Van Halen. By the end of the decade, both of these had become as commonplace in modern music as big hair, spandex, and cocaine abuse.
Certain music stands the test of time because of melody and composition and within rock and roll music, longevity is measured by decades, not centuries. While highly subjective, it is easy to see why The Beatles music (the newest of which by next year will be 40 years old) is considered great and has stood the test of time. It has melody, rhythm, great arrangement and interesting "parts," played mostly within the context of a three minute song.
Meet Tom Petty's 'New' Old Band
Entertainment Weekly - April 17, 2008
Mudcrutch, the '70s group that eventually evolved into the Heartbreakers, are back with an album and mini-tour
"This is a trip, isn't it?" Tom Petty rhetorically asked a smallish Malibu audience last Saturday night, pointing out that he and the musicians on stage with him were playing "our first show together in 35 years." If you've guessed that Petty couldn't have been talking about the Heartbreakers — based on your vague memories of seeing the halftime show before you passed out at your last Super Bowl party — then you'd be right: The group making this live comeback was Mudcrutch, the Gainesville, Fla., band that existed in various permutations from 1970-75 before evolving into the Heartbreakers.
Music Reviews
Hi-Fi News & Record Review - May 2008
Tom Petty & The Heartbreakers | Runnin' Down A Dream | Warner Bros SPV 98717 3DVDs + CD (355m approx) | Recording: 4/5 | Performance: 4/5
If, like me, you adore Tom Petty and his guitar-driven, truly American rock, this massive DVD set will blow you away. The main biographical film was directed by the legendary Peter Bogdanovich and that appears here in a two-disc, four-hour cut! While some might argue that only artists of Dylan/Sinatra/Presley/Beatles level warrant such attention, this set stands up as a work of unparalleled scholastic achievement. It simply tells the whole story, thanks to rare material, a concert DVD and a music-only CD too.
The Traveling Wilburys | The Traveling Wilburys Collection | Rhino RHI 1 224516 3LP 180g vinyl | Recording: 4/5 Performance: 5/5
The greatest supergroup ever -- are you gonna challenge the line-up of a Beatle and Bob Dylan? -- the Wilburys didn't just combine the talents of true greats, they excelled in every genre they employed: balladry, folk-rock, early alt-country, even 1950s retro. Short-lived due to the passing of Roy Orbison, they left two albums and a smattering of tracks unissued until last year's magnificent CD set. This superbly packaged triple-LP box replaces the bonus DVD with a 12in single of tracks not in the CD set.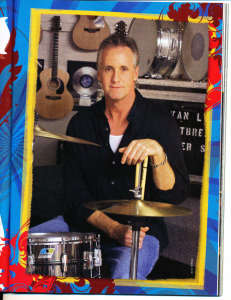 A Heartbreaker's Work of Staggering Genius: Stan Lynch
By Patrick Berkery
Modern Drummer - May 2008
When Tom Petty was asked to describe original Heartbreakers drummer Stan Lynch in the 2005 book Conversations With Tom Petty, the bandleader responded with, "Stan. Now there's a book in itself."
Any book about the fifty-two-year-old Lynch would surely be an entertaining, fairly hilarious read. The Rock And Roll Hall Of fame drummer-turned-successful songwriter/producer (for Don Henley, The Eagles, The Mavericks, Ringo Starr, and Tim McGraw, among others) and tree farmer (a gig he describes as part Zen, part holding on for dear life, and not unlike playing with Bob Dylan) is an opinionated, intelligent guy who doesn't mince words or sugarcoat memories.
For now, though, this feature on one of rock's most tasteful timekeepers—a true player of "the song"—will do, for there's plenty to discuss with Lynch.
Tom Petty Reunites Mudcrutch
By Gavin Edwards
Rolling Stone - May 1, 2008
Pre-Heartbreakers band cuts killer comeback album and tours California
"It seemed like such a crazy idea that I figured something good would come out of it," says Tom Petty. He's talking about the reunion of his old band Mudcrutch -- which broke up back in 1975. Two of Mudcrutch's members, guitarist Mike Campbell and keyboardist Benmont Tench, went on to be linchpins of the Heartbreakers; the other two, guitarist Tom Leadon and drummer Randall Marsh, had been out of the business for decades. "I just really wanted to hang out with these guys," Petty says.
Today, he's doing exactly that. The five men of Mudcrutch are milling around Petty's rehearsal space in the San Fernando Valley of Los Angeles, gearing up for a minitour of California. On the outside, the room is an anonymous white cinder block, but inside, the walls are lined with dozens and dozens of guitars of every variety, and the room is decorated with oriental rugs and pictures of musicians from Robert Johnson to Foghat.
As teenagers in Gainesville, Florida, Petty and Leadon were the best of friends; Petty's dad called the duo "Tom Tom." Leadon recalls, "When he had a girlfriend, which he usually did -- I was so shy I hardly ever had one -- he took me on all his dates. The three of us would go to the movies."
Mudcrutch (2008) | Mudcrutch
Review by Clark Collis
Entertainment Weekly #990 - May 2, 2008
Tom Petty has described re-forming his pre-fame, early-'70s outfit Mudcrutch as..."crazy." To which we say, "Piffle!" As last year's rock doc Runnin' Down a Dream: Tom Petty and the Heartbreakers showed, the group was pretty good. Indeed, keyboardist Benmont Tench and guitarist Mike Campbell went on to play in Petty's band the Heartbreakers. They are joined on this debut release — which comes three decades after their split — by guitarist Tom Leadon, who later backed Linda Ronstadt, and drummer Randall Marsh, a music teacher. Mudcrutch, on which Petty handles bass and most vocals, also largely features new tunes from the star, who's been in fine creative form of late. As a result, it sounds like a pretty good Tom Petty record.
Some tracks are surprisingly loose, such as the jammy "Crystal River." But midtempo rockers "The Wrong Thing to Do" and "Scare Easy" could have appeared on Petty's great last CD, Highway Companion. And his vocals have rarely sounded more quaveringly beautiful than they do on honky-tonk lament "Orphan of the Storm." There are a few low points — for instance, folky instrumental "June Apple" was probably more fun to play than it is to hear — yet mostly, Mudcrutch works for everyone: fans, the members who were left behind fame-wise, and Petty himself, who gets to look like a good guy for giving them a taste of what they missed. Crazy? Like a you-know-what. B+
The Original Heartbreakers
Review by Will Hermes
Rolling Stone - May 14, 2008
Tom Petty's first band reunites for a country-rock instant classic
Mudcrutch | ★★★★ | Mudcrutch | Warner Bros.
Even a dude with a track record as golden as Tom Petty's needs to reflect on paths not taken. Mudcrutch, Petty's pre-Heartbreakers band, released a single and little else in the mid-Seventies. And that's too bad, since they reunite here for a hot country-rock set that clearly aspires to, and gets within spitting distance of, genre classics like Sweetheart of the Rodeo, The Gilded Palace of Sin and American Beauty. If the Heartbreakers had never happened, this band would have worked out just fine.