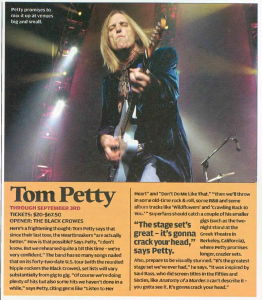 Summer Concert Report: Tom Petty
Rolling Stone #977 - June 30, 2005
Through September 3rd | Tickets: $20-$67.50 | Opener: The Black Crowes
Here's a frightening thought: Tom Petty says that since their last tour, the Heartbreakers "are actually better." How is that possible? Says Petty, "I don't know. But we rehearsed quite a bit this time -- we're very confident." The band has so many songs nailed that on its forty-two-date U.S. tour (with the reunited hippie rockers the Black Crowes), set lists will vary substantially from gig to gig. "Of course we're doing plenty of hits but also some hits we haven't done in a while," says Petty, citing gems like "Listen to Her Heart" and "Don't Do Me Like That." "Then we'll throw in some old-time rock & roll, some R&B and some album tracks like 'Wildflowers' and 'Crawling Back to You.'" Superfans should catch a couple of his smaller gigs (such as the two-night stand at the Greek Theatre in Berkeley, California), where Petty promises longer, crazier sets. Also, prepare to be visually stunned. "It's the greatest stage set we've ever had," he says. "It was inspired by Saul Bass, who did screen titles in the Fifties and Sixties, like Anatomy of a Murder. I can't describe it -- you gotta see it. It's gonna crack your head."
Tom Petty and the Heartbreakers
Indianapolis Monthly - July 2005
July 28 ● Tom Petty has a bucketful of hits, but save for "The Last DJ," a perhaps ill-timed dig at today's formlaic radio programming, he hasn't enjoyed much airtime of late. What's a rich rock star to do? America's answer to Oasis and the brothers Gallagher, Chris and Rich Robinson have kissed and made up long enough to reassemble The Black Crowes, who open the show; catch them while you can. 7 p.m., $45 to $58 pavilion; $28 lawn. Verizon Wireless Music Center. 239-5151
Petty packs punch with feel-good favorites
By Josh Hertzog
On Milwaukee - July 2, 2005
Determined to show what rock and roll was really about, Tom Petty and the Heartbreakers with opening act The Black Crowes thundered onto the Marcus Amphitheater stage July 1.
If you like it loud, this was the show for you. Although some fans arrived with earplugs so they wouldn't go deaf by the show's end, the true rockers came without them.
Candles adorning the stage provided the psychedelic ambience as The Black Crowes started their Summerfest set list. The screen behind the band added to the feel with groovy colors and patterns.
It was loud lovin' throughout, and if you enjoy any of The Black Crowes songs, you'd have enjoyed this show, as all the songs seemed like a large rock and roll collage.
On The Road: TP on TP
By Ray Waddell
Billboard - July 9, 2005
The upcoming Tom Petty bio "Conversations with Tom Petty," due in November on Omnibus Press, holds some intriguing insights into the artist's view toward touring. Compiled from a series of interviews with Petty by songwriter/journalist Paul Zollo, Petty asserts first and foremost that he and the Heartbreakers have always been a touring band, not just Petty and his sidemen.
The book reveals some fascinating facts for Petty heads. For example, he despises meet-and-greets at concerts. "Record companies hate it because I don't great people," Petty tells Zollo. "I've heard I'm aloof or arrogant. But I'm not. My brain won't deal with that. I can't deal with people before the show or after."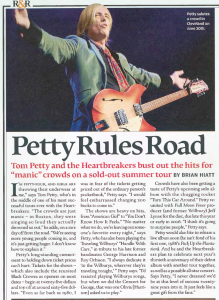 Petty Rules Road
By Brian Hiatt
Rolling Stone #980 - August 11, 2005
Tom Petty and the Heartbreakers bust out the hits for "manic" crowds on a sold-our summer tour.
"I'm fifty-four, and girls are throwing their underwear at me," says Tom Petty, who's in the middle of one of his most successful tours ever with the Heartbreakers. "The crowds are just manic -- in Boston, they were singing so loud they actually drowned us out," he adds, on a rare day off from the road. "We're seeing more young people coming in, and it's just getting huger. I don't know how to explain it."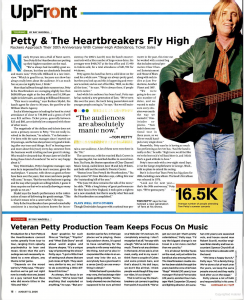 Petty & the Heartbreakers Fly High
By Ray Waddell
Billboard - August 13, 2005
Rockers Approach Their 30th Anniversary With Career-High Attendance, Ticket Sales
Nearly 30 years into a Hall of Fame career, Tom Petty & the Heartbreakers are putting up their highest numbers on the road.
"We've always had incredibly good audiences, but they are absolutely frenzied and manic now," Petty tells Billboard in a rare interview. "Which is good for us, because our show has always really been about the audience. It's as much fun as you can legally have, I think."
Review: Live
By Peter Relic
Rolling Stone #982 - August 14, 2005
Tom Petty and the Heartbreakers | ★★★★ | Verizon Wireless Amphitheater, Irvine, California | August 14, 2005
Petty and the world's greatest bar band make the hits come alive.
Just a few months shy of their thirtieth anniversary, Tom Petty and the Heartbreakers found themselves at home in Southern California near the end of a summer tour for what could have been a valedictory stroll through hitsville Instead, starting with 1978's "Listen to Her Heart" and "You Don't Know How It Feels" off 1994's Wildflowers, Petty burned through his songbook and made a powerful claim to be at a career performance peak.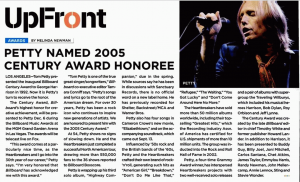 UpFront: Petty Named 2005 Century Award Honoree
By Melinda Newman
Billboard - October 22, 2005
LOS ANGELES -- Tom Petty presented the inaugural Billboard Century Award to George Harrison in 1992. Now it is Petty's turn to receive the honor.
The Century Award, Billboard's highest honor for creative achievement, will be presented to Petty Dec. 6 during the Billboard Music Awards at the MGM Grand Garden Arena in Las Vegas. The awards will be telecast live on Fox.
"This award comes at a particularly nice time, as the Heartbreakers and I go into the 30th year of our career," Petty says. "I'm very honored that Billboard has acknowledged me with his award."
TOM PETTY: Purity and Passion
By Paul Zollo
American Songwriter - November 2005
If the old proverb "God loves the happy man" is true, Tom Petty is definitely divinely beloved. He's a happy man for a number of reasons, as I learned while interviewing him in a succession of Saturday afternoons through interviews connected and preserved in our book, Conversations with Tom Petty (Omnibus Books). Petty is happily married to the ebullient Dana Petty, happy being the father of three children and happily making new music (as well as playing old favorites on the road with The Heartbreakers, one of the greatest rock and roll bands of all time). The new music was made differently than in the past: It's a solo album called Highway Companion and is the product of only three musicians-Tom (who plays guitar, keyboards and, remarkably, drums on the album), Jeff Lynne (who was a Travelin' Wilbury with Petty, and also the producer of the magical Full Moon Fever album) and Heartbreaker Mike Campbell (who plays fluid slide guitar throughout the album).
Petty proudly played the album for me during one of these joyful Saturdays, at very loud volume (because "I'm partially deaf," he said with a smile) in his home studio in Malibu, Calif. It's a great album, matching and maybe even surpassing the level of Petty's previous work. "I think it might be the best thing I've ever done," he said, later asking me to change the sentence to read in the book, "I think it might be one of the best things I've ever done." It starts with the slinky funk of "Turn This Car Around" and proceeds through a string of strong song, including "Down South," a masterful return to Petty's past in Florida, and "Square One," which is tenderly painted by two acoustic guitars and is one of the most sweetly haunting songs Petty has written in years.