CDs: The Boys Are Back In Town
Parade - June 10, 2007
Let Dad cut loose with a musical gift from some of the best male musicians of all time. The Traveling Wilburys Collection (Rhino; $30) captures the all-star rock group -- including George Harrison, Jeff Lynne, Roy Orbison, Tom Petty and Bob Dylan -- that accidentally formed in 1988 and recorded such iconic songs as "Handle With Care" under aliases like Lefty Wilbury and Lucky Wilbury. A two-CD set with bonus tracks and video footage, it's the perfect soundtrack for celebrating.
Dad-Rock Debut: Wilburys Travel To Top Of Charts Around The World
By Mark Sutherland
Billboard - June 30, 2007
LONDON -- Dads across the globe have united to return the Traveling Wilburys to chart success on the back of huge Father's Day sales.
"The Traveling Wilburys Collection" (Rhino), which compiles the two albums by the supergroup featuring Bob Dylan, Jeff Lynne, Tom Petty and the late George Harrison and Roy Orbison, scored five No. 1 debuts around the world. The package, which also includes bonus tracks and a DVD, hit the top spot in the United Kingdom, Ireland, Australia, New Zealand and Norway, and debuted in the top 10 in the United States, Denmark, Germany and Spain and on Billboard's European Top 100 Albums chart.
In the United Kingdom the compilation moved more than 110,000 copies in week one, according to the Official U.K. Charts Co., knocking Rihanna from the top and eclipsing first-week sales for Bon Jovi's "Lost Highway."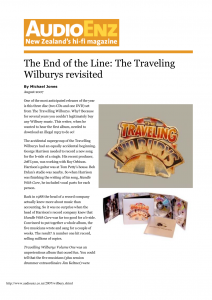 The End of the Line: The Traveling Wilburys revisited
By Michael Jones
AudioEnz - August 2007
One of the most anticipated releases of the year is the three disc (two CDs and one DVD) set from The Travelling Wilburys. Why? Because for several years you couldn't legitimately buy any Wilbury music. This writer, when he wanted to hear the first album, needed to download an illegal MP3 to do so!
The accidental supergroup of the Travelling Wilburys had an equally accidental beginning. George Harrison needed to record a new song for the b-side of a single. His recent producer, Jeff Lynne, was working with Roy Orbison. Harrison's guitar was at Tom Petty's house. Bob Dylan's studio was nearby. So when Harrison was finished the writing of is song, Handle With Care, he included vocal parts for each person.
Back in 1988 the head of a record company actually knew more about music than accounting. So it was no surprise when the head of Harrison's record company knew that Handle With Care was far too good for a b-side. Convinced to put together a whole album, the five musicians wrote and sang for a couple of weeks. The result? A number one hit record, selling millions of copies.
The Traveling Wilburys: The Traveling Wilburys Collection
Review by Neil Gader
The Absolute Sound - August 2007
 Jeff Lynne and George Harrison, producers. Rhino Records 79982 (two CDs, one DVD; also available on LP).
In the grand scheme of things, the Traveling Wilburys, the fictitious "band" that George Harrison formed with a little help from his friends -- Bob Dylan, Tom Petty, Roy Orbison, and Jeff Lynne -- was little more than a musical detour for a quintet of rock icons caught in the lull of midlife careers.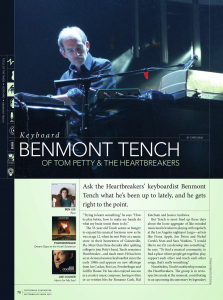 Keyboardist Benmont Tench of Tom Petty and the Heartbreakers
By Chris Neal
Performing Songwriter - September/October 2007
Ask the Heartbreakers' keyboardist Benmont Tench what he's been up to lately, and he gets right to the point.
"Trying to learn something," he says. "How to play better, how to make my hands do what my brain wants them to do."
The 53-year-old Tench seems as hungry to expand his musical horizons now as he was at age 12, when he met Petty at a music store in their hometown of Gainesville, Fla. More than three decades after quitting college to join Petty's band, Tench remains a Heartbreaker -- and much more. He has been an in-demand session keyboardist since the early 1980s and appears on new offerings from Joe Cocker, Ben Lee, Powderfinger and Griffin House. He has also enjoyed success as a country music composer, having written or co-written hits for Rosanne Cash, Hal Ketchum and Jessica Andrews.
But Tench is most fired up these days about the loose aggregate of like-minded musicians he's taken to playing with regularly at the Los Angeles nightspot Largo -- artists like Fiona Apple, Jon Brion and Nickel Creek's Sean and Sara Watkins. "I would like to see if it can develop into something," he says. "To find a musical community, to find a place where people get together, play, support each other, and teach each other songs, that's really something."
Runnin' Down A Dream: Tom Petty and the Heartbreakers | Edited by Warren Zanes | Chronicle
Review by Ron Hart
CMJ New Music Monthly - October 2007
Tom Petty already knew that Johnny Thunders had a band called the Heartbreakers before he went ahead and christened his own group with the moniker, which, arguably, is a New York Dolls-worthy punk-rock gesture. This is just one of the insights detailed in Runnin' Down A Dream, a beautifully bound, photo-heavy coffee table book edited by former Rock And Roll Hall Of Fame VP Del Fuego Warren Zanes as a companion piece to the forthcoming documentary of the same name, which is directed by acclaimed filmmaker Peter Bogdanovich (better known to you youngsters at Dr. Melfi's shrink on The Sopranos). Loaded with tons of great rare photography and memorabilia, killer old magazine covers, handwritten lyrics and other knick-knacks chronicling Petty's 40-year career as a professional musician (starting with his late-'60s group the Epics), Dream is indeed just that for anyone who holds one of the man's classic albums close to their heart.
Runnin' Down a Dream: Tom Petty and the Heartbreakers | ★★★
By Nick Schager
Slant Magazine - October 13, 2007
At a massive 253 minutes, Peter Bogdanovich's Runnin' Down a Dream: Tom Petty and the Heartbreakers certainly doesn't lack for detail, recounting via standard nonfiction means (interviews, photos, home movies, music videos, and tons of classic and obscure album cuts) the entirety of the iconic rocker's career. Bogdanovich employs a warm and leisurely, though never sluggish, pace that's upfront about the director's intention to take his sweet time tackling every topic of relevant interest. And as it turns out, there are plenty to tackle, with this admiring but far from sycophantic tribute—set to be released on DVD shortly after a one-night theatrical run—meticulously laying out Petty's three-decade professional saga: his tough childhood and hippie-rocker teenage years in Gainesville, Florida, his early success in Los Angeles, his momentous legal battles with record labels, his ascension to superstardom with 1979's Damn the Torpedoes, his subsequent tour with Bob Dylan and participation in The Traveling Wilburys, and his abiding bond—30 years and a couple of major line-up changes later—with his constant companions, the Heartbreakers.
Rock: No Waiting Necessary
By Ed Christman
Billboard - November 10, 2007
Simultaneous DVD, Theatrical Release Power Petty Film
With the American music marketplace in its current depressed state, East End Management principal Tony Dimitriades knew a different kind of marketing plan was in order for Tom Petty & the Heartbreakers' four-disc CD/DVD boxed set, "Runnin' Down a Dream."
So he went to Warner Bros. with a triple-pronged plan to boost sales of the project, which encompasses Peter Bogdanovich's band documentary; a 30th-anniversary show in Gainesville, Fla.; and a disc of rare and unreleased tracks.
First, he harnessed the marketing might of Best Buy by giving the merchant an exclusive period that began Oct. 16 and runs into 2008.
Rock & Roll Daily: Tom Petty Talks Super Bowl, "Long-Overdue Heartbreakers Record," Corporate Rock
By Andy Greene
Rolling Stone - December 4, 2007
Hey, Petty fans, don't expect to hear "You Don't Know How It Feels" during this year's Super Bowl halftime show. Apparently the NFL wasn't too keen on the whole "let's roll another joint" refrain. In an exclusive interview with Rolling Stone, Petty chatted about his forthcoming February 3rd halftime gig, informing fans not to expect a medley or dancers -- he will, however, stick closely to his greatest hits. Keep reading to check out the full Q&A, where Petty talks about his first Super Bowl ("This is the only way I could get tickets"), a potential spring tour, staying away from corporations and "the long-overdue Heartbreakers record."