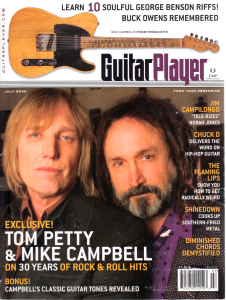 Editor's Note: Thanks to Susan Molls for lending me the magazine and scanning a page that I stupidly missed.
30 Years & Counting
By Art Thompson
Guitar Player - July 2006
The Heartbreakers Hit the Big Three-O and Tom Petty Goes Solo on Highway Companion
"We were just listening to Buck Owens on the way over here," says Tom Petty as he setltes into an easy chair at the Heartbreakers' rehearsal studio after spending most of the day stuck in L.A. traffic. "I was in this band called the Epics when I was 16, and we used to go out on road trips on the weekends. A lot of times, we'd be driving back from the gig, and we'd pull into these truck stops where I'd hear Buck Owens on the jukebox. I thought he was terrific."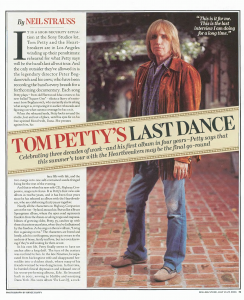 Tom Petty's Last Dance
By Neil Strauss
Rolling Stone #1004 - July 13, 2006
Celebrating three decades of work -- and his first album in four years -- Petty says that this summer's tour with the Heartbreakers may be the final go-around
It is a high-security situation at the Sony Studios lot. Tom Petty and the Heartbreakers are in Los Angeles winding up their penultimate rehearsal for what Petty says will be the band's last all-out tour. And the only outsider they've allowed in is the legendary director Peter Bogdanovich and his crew, who have been recording the band's every breath for a forthcoming documentary. Each song Petty plays -- from old Fleetwood Mac covers to his new ballad "Square One" -- elicits a flurry of excitement from Bogdanovich, who instantly starts asking what song it is, comparing it to earlier rehearsals and figuring out what camera coverage he has on it.
When the rehearsal ends, Petty looks around the studio, lost and out of place, until his eyes fix on his free-spirited blond wife, Dana. She presses against him, his face fills with life, and the two merge into one self-contained suede-fringed being for the rest of the evening.
And that is when his new solo CD, Highway Companion, snaps into focus. It is Petty's first new solo album in twelve years, and it has been four years since he has released an album with the Heartbreakers, who are celebrating thirty years together.
TOM PETTY: Saving Grace (3:46)
Review by SP
Billboard - July 15, 2006
Producers: Jeff Lynne, Tom Petty, Mike Campbell | Writer: T. Petty | Publisher: Wixen American Recordings/Warner Bros.
Currently on tour with the Heartbreakers, Tom Petty is finally ready to share some new material. "Saving Grace" begins with a spare, Bo Diddley-style blues that builds to a roadhouse shuffle. The guitars are kept deliciously gritty, giving the song a fresh garage-like feel, and Petty's stoner vocals are as laid-back and nostalgic as ever. A classic-sounding ode to restlessness, "Saving Grace" is the perfect prelude to "Highway Companion," Petty's first solo album since 1994's Rick Rubin-produced "Wildflowers," and his first for Rubin's American Recordings label. The cut is off to a kick-start at triple-A radio; more important, it proves that Petty still knows how to rock.
Editor's Note: Although this was in a print magazine, I have no scans - and I'm not even sure if the date is correct. If anyone has scans or confirmation I'd appreciate it if you contacted me.
Tom Petty: Anatomy of a Rockstar
By Jaan Uhelszki
Harp - July 25, 2006
Almost everyone that knows Tom Petty for any length of time calls him Tommy. Except, that is, for his rather stern looking housekeeper who's bent over the gleaming stainless steel sink in his Malibu home's state of the art kitchen, all dark oak, and imposing marble, with perfectly aligned canisters. "I wasn't "Tom" until they put it on the records. People who have known me longer than that call me Tommy,  but I decided to go with Tom because Tommy didn't look right on the record," Petty says with a funny little shake of his head, like even he can't figure out his real identity. But that in itself is very telling. Spend any amount of time with him and you realize that three very different people co-exist underneath his still-blonde head. First there's the affable good ole' southern boy who wants to put everyone at ease, the perpetual Traveling Wilbury who finds humor and irony in every situation. Then there's the charismatic and flinty rock star. When he trains those silvery blue eyes on  you, it's like he's looking clear through to your backbone. Full of ambition and resolve, this is the persona that impelled him to stand up to his abusive father and  leave high school during his junior year because the world beckoned. The third persona is the most complicated, and the one that people seem to most connect with. Altruistic, uncompromising and filled with the need to make the world a better place, the big star stand in for the rest of us. Even Bob Dylan doesn't know what to make of him, saying once: "I've got a lot of respect for Tom—he's a deep soulful cat. Tom is a heroic character in his own kind of way."
The housekeeper calls him Mr. Petty, but then he pays her to show deference, and even—when necessary—to remind people that the master doesn't like it when people call his tasteful Moroccan homestead a mansion. And even worse, a "mini mansion."
Tom Petty | Highway Companion | ★★★★ | Label: Warner Bros | Street Date: 2006
By Preston Jones
Slant Magazine - July 25, 2006
The ache of years wraps itself around Highway Companion, an introspective, dimly lit collection that marks Tom Petty's first effort since 2002's The Last DJ. Autumnal and quietly resigned, it's an album crafted by a man whose hourglass seems to be draining of sand much faster than he'd like: "You're flirting with time, baby/And maybe time baby, is catching up with you," sings Petty not long into the album. It's a knowing backward glance echoed elsewhere; even the booklet photo of Petty resembles a man who's already gone. Teaming again with producer Jeff Lynne and creative partner Mike Campbell, these 12 often-elegiac tracks are machine-shop sleek, effortlessly buffed to a precision gloss that buoys Petty's irresistible harmonies and layered compositions. While the lyrical material tends toward the downcast, you'd be hard pressed to find any dirges or minor key rambles here—cuts like "Down South," "Jack," and "Big Weekend" speed the listener along the edge of some sun-dappled ocean, carefree and spiced with fresh air. It's a bracing blast of California country-rock, a twilight rumination upon a life lived with precious few compromises. Taken as a whole (a practice seemingly lost in the iPod age), Highway Companion suggests that Petty is winding things down, slowing his already glacial pace to step away completely from music. Consider it a delicious bit of cosmic irony that despite intimations to the contrary, the aging Petty hasn't sounded this vital in more than a decade.
Highway Companion (2006) | Tom Petty
Review by Clark Collis
Entertainment Weekly #889 - August 4, 2006

Such a variety of transportation devices are name-checked on Highway Companion, Tom Petty's third solo album, that you half expect the final track to be about Jet Skiing. (Almost: The song, a beautiful lament named "The Golden Rose," actually concerns a boat trip.) A plane, a horse, a helicopter, a train, and enough cars to fill a small parking lot are all featured as Petty's various protagonists journey in search of things they think they need (love, sex, beer), often to end up back where they started. As Petty croons on the aptly titled "Square One": "It took a world of trouble, took a world of tears/Yeah, it took a long time to get back here."
Highway Companion itself marks a return for the singer-songwriter. As with Petty's first album without longtime backing band the Heartbreakers, 1989's Full Moon Fever, Highway was co-produced by ELO chief (and Petty's fellow Traveling Wilbury) Jeff Lynne, who again keeps his more baroque knob-twiddling tendencies in check. The result is a close sonic sibling to Full Moon, though it contains fewer out-and-out rockers. It is also a huge improvement on 2002's Heartbreakers-assisted The Last DJ, a cantankerous critique of the record industry that seemed to reflect a broader dissatisfaction with life on Petty's part.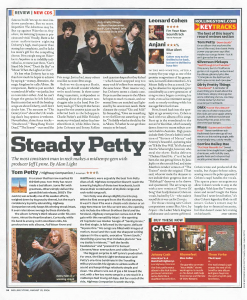 Hot List
Rolling Stone #1006 - August 10, 2006
Rolling Stone Editors' Favorite Albums, Singles and Videos
3. Tom Petty | Saving Grace
A "Spirit in the Sky" riff powers this groovy, elegantly produced slab of prime Petty from his new disc, Highway Companion. It's his best driving song since "Runnin' Down a Dream."
Tom Petty | ★★★★ | Clark Country Amphitheater | Ridgefield, Washington | July 29, 2006
Review by Chesley Johnson
Rolling Stone #1007 - August 24, 2006
The Heartbreakers tear through hits and future classics.
Tom Petty took the stage looking a little tired, his shirt hanging loose on his scrawny frame and deep lines scoring his face. But when the Heartbreakers launched into "Listen to Her Heart," it was hard to believe that the band was celebrating its thirtieth anniversary and what may be its last major tour. Exhibiting offhand grace, Petty ambled around the stage, tossing out the occasional arm thrust, Christ post and stray kick. Yet even when simply strumming rhythm guitar or shaking maracas, he utterly owned the amphitheater outside Portland, Oregon.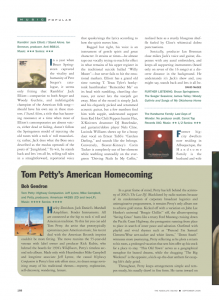 Tom Petty's American Homecoming
By Bob Gendron
The Absolute Sound - September 2006
Tom Petty: Highway Companion. Jeff Lynne, Mike Campbell, and Petty, producers. American 44285 (CD and two-LP). | Music: ★★★★ Sonics: ★★★★
Harley-Davidson. Jack Daniel's. Marshall Amplifiers. Fender Instruments. All are connected at the hip to rock 'n' roll and American tradition. To this list you can add Tom Petty. An artist that prototypically epitomizes pure American music, his recent deal with the American Records imprint couldn't be more fitting. The move reunites the 55-year-old veteran with label owner and producer Rick Rubin, who helmed the boards for 1994's Wildflowers, Petty's timeless second solo album. Made only with Heartbreaker Mike Campbell and longtime associate Jeff Lynne, the casual Highway Companion is Petty's first solo effort since, its dozen songs revisiting many of his traditional themes -- mystery, exploration, self-discovery, wandering, leisure.