Book Review: Conversations With Tom Petty | By Paul Zollo | Omnibus Press
Review by Monica Cady
R.A.G. Magazine - November 2005
Conversations With Tom Petty is the first authorized book about one of the greatest singer/songwriters of American rock'n'roll. Through extensive interviews with Petty from 2004 to 2005, Paul Zollo captures the velvet underworld of the man beneath the mysterious round sunglasses and outrageous hats.
Petty reveals details about his childhood in Gainesville Florida, being a rock fashion plate in high school, his difficult relationship with his father and meeting Elvis Presley. He explains how he always felt more like an L.A. musician than a southern rocker. His story also provides insights into the changing music industry -- from the days when bands could simply walk into Hollywood record companies and have their music heard, to a time when Full Moon Fever was initially rejected by MCA (only to have the exact album be accepted when the company's upper management changed). He talks about the struggles with labels over pricing albums and other pivotal moments in music history, including the introduction of MTV and its effect on the scene. Petty discusses fame and the emotions felt by he and his family when a stalker burned down their home.
Grapevine: Tom Petty takes it home
By Dave Schlenker
Gainesville Magazine - December 2005
It's late September and Tom Petty and the Heartbreakers have just completed their most successful tour ever; the bandleader is shaking off the remains of pneumonia and savoring time at home before the Rock 'n' Roll Hall of Famers hit the road again next year to celebrate their 30th anniversary.
The soften-spoken Petty, who turned 55 in October, seems quite relaxed -- even nostalgic -- when discussing his career, life and longevity in a finicky business.
"When I started doing this, there weren't any 50-year-old rock stars, you know? I  had no design on doing it this long," says the Gainesville native from his California home. "Now I find myself really enjoying it at this age. I'm very grateful, and I don't take it for granted."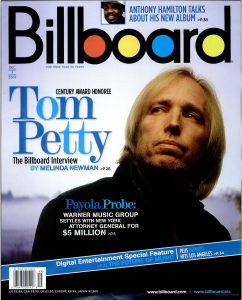 Tom Petty: A Portrait Of The Artist
By Melinda Newman
Billboard - December 3, 2005
Billboard's 2005 Century Award Honoree
Tom Petty just laughs and shakes his head when he looks at the 26-year-old smirking back at him from the cover of Tom Petty & the Heartbreakers' 1976 self-titled debut.
They "were just boys," he says. "It was just too much fun."
And thankfully, he adds, it still is.
Since then, Petty has racked up worldwide sales of more than 50 million albums, with the Heartbreakers and as a solo artist. He has won four Grammy Awards; been part of the Traveling Wilburys with his heroes George Harrison, Bob Dylan and Roy Orbison; and journeyed on too many sold-out tours to count.
For those accomplishments and more, Petty is this year's recipient of the Billboard Century Award. The honor acknowledges the creative achievements of an artist whose musical contributions are ongoing.
And for all this, we have Elvis to thank. As an 11-year-old growing up in Gainesville, Fla., Petty briefly met the King in an encounter that changed his life.
"Everything became pretty clear at that moment," Petty says Being a rock star "looked like a great job."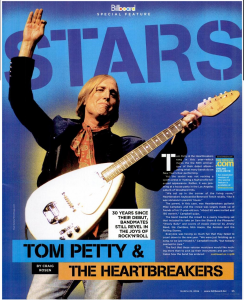 Billboard Special Feature: STARS: Tom Petty & The Heartbreakers
By Craig Rosen
Billboard - March 27, 2006
30 years since their debut, bandmates still revel in the joys of rock'n'roll.
Tom Petty & the Heartbreakers rang in this year -- which marks the 30th anniversary of their debut album -- doing what many bands do on New Year's Eve: performing.
Yet the sextet was not rocking a sports arena or making a high-profile televised appearance. Rather, it was jamming at a house party in the Los Angeles suburb of Woodland Hills.
"We set up in the corner of the living room," Heartbreakers keyboardist Benmont Tench recalls, "like it was someones' parents' house."
The parent, in this case, was Heartbreakers guitarist Mike Campbell, and the crowd was largely made up of friends of his 17-year-old son. "About 50 were invited and 150 weren't," Campbell quips.
The band treated the crowd to a nearly hourlong set that included its take on Sam the Sham & The Pharaohs' "Wooly Bully" and covered of classic material by Jimmy Reed, the Zombies, Slim Harpo, the Animals and the Rolling Stones.
Everyone was having so much fun that they failed to count down to the new year. "We were just finishing a song, so we just missed it," Campbell recalls, "but nobody seemed to care."
Petty's Last Summer Tour?
By Austin Scaggs
Rolling Stone #998 - April 20, 2006
The Heartbreakers turn thirty with a blowout tour, movie.
In 1976, Tom Petty and the Heartbreakers released their debut album, and this summer Petty plans to celebrate the thirtieth anniversary in grand style. He and the Heartbreakers will hit the road in June on a tour that Petty says might be the band's last major summer outing; there's an ambitious documentary in the works; and Petty is finishing Highway Companion, a solo album tentatively due on Rick Rubin's American Recordings label this summer. "It's a quieter album that I've done before," Petty says, sitting behind the sound desk in his home studio in Malibu. "I don't think I wasted any lines on this album. I think the songs are all there."
Petty exudes genuine pride as he debuts for Rolling Stone nine of the songs slated for Highway Companion, including "Square One" and "Turn This Car Around." He began recording the album last year with Heartbreakers guitarist Mike Campbell and fellow Traveling Wilbury Jeff Lynne. Each contributes guitar parts, Lynne plays keys and a Hofner bass, Campbell plays a hefty amount of slide guitar ("He's never been better," says Petty) and, for the first time on record, Petty plays drums. Though they all but finished recording in February, Petty says, "The only thing keeping me from wrapping things up is just going, 'Well, I wonder if there's one more in me?'"
Rolling Stone 1000: Petty on the Edge
By Austin Scaggs
Rolling Stone #1000 - May 18, 2006
In the summer of 1968, when Tom Petty was seventeen, he saw his first issue of ROLLING STONE. "It was on a newspaper rack in the back of an over-incensed head shop," Petty recollects, sitting in his Malibu home studio. "I thought, 'This is great!' Until then, 16 magazine was probably the only place you could see photos of rock & roll acts." Years later, when he headed to Los Angeles in search of a record deal, he used RS as a guide: "We made our first rounds in L.A. from the addresses of record companies we'd written down from ads in Rolling Stone."
When the time came for his first cover, as Damn the Torpedoes swept the nation, Petty was at ease with photographer Annie Leibovitz. "It was so easy to trust her," he says. But he wasn't as trusting with his life story. He had just spent two years in a record-label lawsuit that nearly broke apart the Heartbreakers and led him to file for bankruptcy. "He was feeling exhausted and dispirited," recalls writer Mikal Gilmore. To make matters worse, Petty blew out his voice in Philadelphia that night and canceled the interview.
Alumni Books
Review by Patrick L. Kennedy
Bostonia - Summer 2006
Paul Zollo (Cas'80) | Conversations with Tom Petty | Omnibus Press
Since the 1970s, singer-songwriter Tom Petty has continually churned out some of classic rock's best-loved and most enduring anthems. Conversations with Tom Petty is a compilation of interviews that Zollo, himself a singer-songwriter as well as a music journalist, conducted with Petty in 2004 and 2005. The discussion ranges from Petty's youth to life on the road (with the Heartbreakers as well as the Traveling Wilburys) to the nitty-gritty of putting together a song or an album. This is a must read for any Petty fan and a great read for any musician.
Editor's Note: This is a German translation. If you actually know German and would like to improve upon it, please contact us.
Original German:
Tom Petty: Heartbreaker? Chartbreaker!!!
GoodTimes - June 2006
Von einem "Herzensbreacher" hatte her nie sooo viel, obwohl seine Band unter diesem Namen loslegte.
Vielmehr brach er schnell die Verkrustungen der US-Rock-Szene der Mittsiebziger auf und knackte die Hitlisten -- wie heute noch. Jetzt wird mit einer US-Tournee 30. Geburtstag gefeiert, das abgespeckte Album HIGHWAY COMPANION im Gepäck.
English Translation:
Tom Petty: Heartbreaker? Chartbreaker!!!
GoodTimes - June 2006
He has never been much of a Heartbreaker, even though his band recites that name. Rather, he quickly broke the rigidities of the U.S. rock scene in the mid-seventies and cracked the chart -- like today. Now, with a 30th anniversary U.S. tour, the album HIGHWAY COMPANION is in tow.
Smoking Section
By Austin Scaggs
Rolling Stone #1002 - June 15, 2006
It's been a while since the last Smoking Section, so let's rewind to March 27th -- that's when we set foot in the L.A. home studio of Tom Petty. On the wall was a self-portrait by Bob Dylan, which, Petty explains, was "my production fee" for Dylan's 1986 disc Knocked Out Loaded. Petty led us into his control room, where we sat behind the console and he played us tracks from his upcoming summer album, Highway Companion, which he made solely with Heartbreaker Mike Campbell ("Mike is just ridiculous," says Petty) and fellow Wilbury Jeff Lynne. After absorbing tunes like 'Saving Grace" and the beautiful "Took a Long Time to Get Back Here," we are ready to be the first to declare Highway a classic in the ranks of Petty's Full Moon Fever and Wildflowers. Just wait till you hear him sing, "So if I come to your door, let me sleep on your floor/I'll give you all I have, and a little more." After that song, Petty leans back in his chair. "That's pretty good, huh?" he asks. "I dig it." Us, too. We'll see y'all and Petty down at Bonnaroo -- and don't even try to sell us that bunk acid.