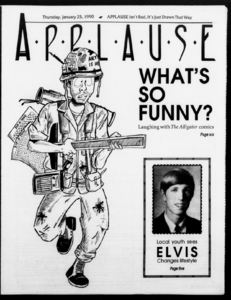 Legends of Tom Petty: Uncle Earl's Tale
By Tom Nordlle
Applause - January 25, 1990
Maybe you've heard the apocryphal tale of 10-year-old Tom Petty seeing Elvis on a movie set in Ocala -- as Tom tells it, an exposure to rock 'n' roll cool of sufficient magnitude to focus his entire being on musical pursuits.
The story's true. In the summer of 1961, Gainesville filmmaker Earl Jernigan worked as a prop man on Elvis Presley's ninth film, Follow that Dream, which was shot entirely in Florida. Jernigan's wife Evelyn is Tom's aunt, on his mother's side. Mrs. Jernigan thought Tom and his kid brother Bruce (about four years ago) might enjoy the spectacle as the crew filmed Elvis "robbing" the Commercial Bank and Trust at 203 East Silver Springs Boulevard in Ocala, 40 miles south of Gainesville.
Earl Jernigan was only too happy to grant APPLAUSE an exclusive interview, which will commence momentarily. First, a little background on Follow that Dream: It was Elvis' first comedy, released by United Artists in March, 1962. The film was directed by Gordon Douglas, written by St. Petersburg resident Richard Powell, and starred Elvis, Arthur O'Connell, Anne Helm, Joanna Moore, Jack Kruschen and Simon Oakland. The title was changed several times, from Pioneer, Go Home to Here Come The Kwimpers (which Elvis hated) to What a Wonderful Life to Follow That Dream. Unlike many Elvis pictures, there was no soundtrack album, although one song, "Sound Advice," appears on the 1965 LP Elvis for Everybody.
Random Notes
By Sheila Rogers
Rolling Stone #570 - January 25, 1990
"The last tour was Strange Behavior, and this one's called More Strange Behavior," says Tom Petty, who this month is going back on tour for five weeks before heading into the studio with the Heartbreakers. "We'll be playing even more from the Full Moon Fever album than the last time we were out."
Petty also plans to go into the studio with Roger McGuinn. "He's going to record a song that we wrote during the Bob Dylan tour in '87 called 'King of the Hill,'" says Petty. "We're both really excited about it."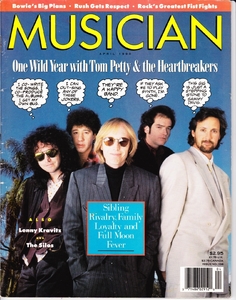 Editor's Note: Thanks to Sue Reaney for this scan!
The Heartbreakers Highway: Four Seasons of Full Moon Fever
By Bill Flanagan
Musician - April 1990
Gilda Radner died today. The mood around "Saturday Night Live" is somber. Those who knew Gilda, the old-timers, are working along quietly. "SNL" bandleader G.E. Smith, her ex-husband, wears a black armband as he leads the house musicians through their charts. The new generation of actors and comedians who did not work with Radner run through their skits, maybe watching to see what they can read on the faces of producer Lorne Michaels and guest host Steve Martin. It's the last show of the 1988/1989 season, so the atmosphere of subdued mourning is competing with a last-day-of-school giddiness. When they go on the air at 11:30 Steve Martin is close to tears. The dressing rooms, though, are filling up with celebrity guests for the big post-show end-of-season part. There's Paulina and Ric Osasek, Bruce Willis, Anjelica Huston. And off by themselves, preparing for their first public performance in two-and-a-half years, are Tom Petty & the Heartbreakers.
Random Notes
Rolling Stone #576 - April 19, 1990
There were plenty of famous faces in the crowd for Tom Petty's show at the L.A. Forum last month, so it was no surprise that a few of them joined him onstage. You had a couple of Wilburys (Bob Dylan and Jeff Lynne), a pair of Gunners (Slash and Duff McKagan), the ubiquitous Bruce Springsteen and even a Byrd (Roger McGuinn). Dylan was the first to take the stage, to sing "Rainy Day Women #12 & 35." Springsteen then joined Dylan, Petty and the Heartbreakers to sing "I'm Crying" and Creedence Clearwater's "Travelin' Band." Springsteen has no doubt gotten close to the band, since Heartbreaker Mike Campbell is producing tracks to Patti Scialfa's upcoming solo album.
Random Notes
Rolling Stone #578 - May 17, 1990
"I was so dad-gum nervous backstage, I swear I wished for a Valium the size of a half dollar," says Tammy Wynette, who played at the Roxy, in Los Angeles, in front of an audience that included Tom Petty, Jeff Lynne, Burt Reynolds and Randy Travis. But the woman who helped pen the classic "Stand by Your Man" did fine without the downer.
Wynette is now back in the studio, starting her next album. Lynne has just finished a solo album, Armchair Theater, due later this month, featuring pals Petty and George Harrison, Word is that Lynne, Petty, Harrison, and fellow Traveling Wilbury Bob Dylan will be going out on tour, with no one replacing the late Roy Orbison.
Random Notes
Rolling Stone #589 - October 18, 1990
"People are getting overly inundated with causes because the world is really fucked up," says Tom Petty. Nonetheless, Petty and his wife, Jane, joined a protest outside of a now-defunct nuclear power plant near their San Fernando, California, home. "It drives me crazy, too," says Petty, "but out of conscience I have to sometimes at least speak out."
Rockwell International, which owns the plant, promised to clean up the site but is keeping mum. "They're being very secretive up there," says Petty. "We need more answers."
Music Review: Traveling Wilburys Vol. 3 (1990)
Review by Ken Tucker
Entertainment Weekly #38 - November 2, 1990
At first, Traveling Wilburys Vol. 3 seems hopeless, annoying. The sweet little jokes of the group's first album — the false names taken by Bob Dylan, Roy Orbison, Tom Petty, George Harrison, and Jeff Lynne, as well as the whimsical history for the band that they cooked up — have turned sour on this new release, becoming corny and irritating. Why the dumb joke of the title, calling their second release Vol. 3? Why a whole new set of silly pseudonyms (Dylan, once "Lucky," is now "Boo")? Why the aural spectacle of aging pros doing something called "Wilbury Twist," for heaven's sake? The first album was easygoing and frequently humorous, but it was also bracingly direct and, beneath its careful casualness, unironically passionate..It's as if, when Orbison died, he somehow took with him many of the group's best qualities.
Notable News
Rolling Stone #592 - November 29, 1990
Tom Petty's fortieth-birthday bash turned into an all-star jam when the birthday boy and guests Bruce Springsteen, Roger McGuinn, Jeff Lynne, Jim Keltner and the Heartbreakers played a set covering "Little Red Rooster," "Mr. Tambourine Man," "Great Balls of Fire," "Wipeout" and "Pipeline."
Sounds: A Good Time Was Had By All
By Elizabeth Wurtzel
New York Magazine - December 3, 1990
Even rock stars need a break sometimes. And indeed, more and more albums seem to be the rock-and-roll equivalents of bowling night. Two years ago, Roy Orbison, Tom Petty, Bob Dylan, Jeff Lynne, and George Harrison were just goofing around in the studio together when -- presto! -- there appeared the Traveling Wilburys' first album, one of 1988's most critically acclaimed hits.
Since then, Mark Knopfler of Dire Straits has used his vacation time to gather Brendan Croker and some other less-renowned friends to form the Notting Hillbillies. The band's 1989 debut album had the lazy, laid-back, guys-just-hanging-out title Missing ... Presumed Having a Good Time. And now Warren Zevon and some other members of R.E.M. have gotten together as the Hindu Love Gods -- yet another case of the boys just being boys and having a good time.