Billboard -- August 17, 1996
Tom Petty, left, receives ASCAP's Golden Note Award for his "enduring place in contemporary American music" from producer/Interscope president Jimmy Iovine, center, and Marilyn Bergman, ASCAP president/chairman of the board.
She's The One | Tom Petty and the Heartbreakers | Warner Bros | ★★★
Review by Parke Puterbaugh
Rolling Stone #742 - September 5, 1996
This is more than your average rock & roll soundtrack album. A cohesive set of newly written songs with only minimal film-score padding, She's the One -- the musical complement to the new movie by Edward Burns (the writer-director-star of The Brothers McMullen) -- is a legitimate follow-up to Petty's last solo album, Wildflowers. Credits to Petty and his stalwart group the Heartbreakers, it is a fine mix of brainy pop and brawny rock that finds Petty synthesizing rather than compartmentalizing these two aspects of his musical persona.
Whatever: Quickies
By Eric Weisbard
SPIN - October 1996
Tom Petty's half-score, half-song soundtrack to She's the One (Warner Bros.) includes a cover of Beck's "Asshole" -- what, Petty can't write his own woman-baiting tunes anymore?
Editor's Note: Thanks to Sue Reaney for the scan!
TP2...This Time It's Personal
By Bill Crandall
BAM - February 7, 1997 
Twilight, a hotel room, shades drawn, Japantown, San Francisco. Two guys, one couch, one chair, one coffee table, one tape recorder, a cup of coffee, an unlit cigarette, and one copy of 50,000,000 Elvis Fans Can't Be Wrong.
The guy sitting in the chair drinking coffee and fiddling with the unlit cigarette rocked the Fillmore the previous night with the Heartbreakers and Carl Perkins. The guy on the couch just kinda stood there and bobbed his head.
Random Notes
Rolling Stone #756 - March 20, 1997
Evidently, Tom Petty and the Heartbreakers aren't afraid of commitment. Staging 20 shows in 30 days at San Francisco's Fillmore, they treated fans to an extended free-for-all: different sets every night, kooky covers ("Goldfinger," from the James Bond movie), and special guests like Carl Perkins and John Lee Hooker. "I wanted to get away from the land of videos and records for a while," says Petty. "We've made so many over the last five years, the best thing to do is just go out and play."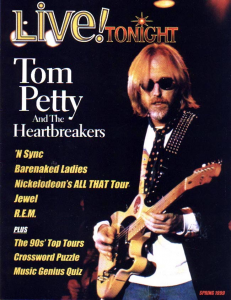 Tom Petty and the Heartbreakers: Built to Last
By Melissa Brazek
Live! Tonight - Spring 1999
April 1 marked the 25th anniversary of the day Tom Petty and a ragged band of young musicians departed Gainesville, Florida, in a caravan headed for the mythical lights of Hollywood in search of fun, fame, and a record deal.
It took a few years, but they found all three.
Crow Learns To Fly
Billboard - February 13, 1999
Rockers Tom Petty and Sheryl Crow crossed paths recently while working on separate projects at the Village in Los Angeles. Petty was working on an upcoming solo project co-produced by him, Rick Rubin, and Mike Campbell of Petty's Heartbreakers. Crow, meanwhile, was producing a solo album for Stevie Nicks. Shown, from left, are keyboardist Benmont Tench, Petty, and Crow.
Editor's Note: This came from the Rolling Stone website.
San Francisco Concert Pleases Fans with Hits, Covers
By Marlene Goldman
Rolling Stone - March 12, 1999
The Fillmore | San Francisco | March 8, 1999
For his second sold-out night in a seven-night stand at the legendary Fillmore (a limited engagement compared to his twenty-night stint in 1997), Tom Petty kept his stage patter to a minimum and let his music do the talking.
With his Heartbreakers in tow, Petty previewed material from his forthcoming album, Echo, and ran through two decades of his own music as well as a ragged, wide-reaching batch of covers.
The entourage kicked in with a charged version of the Fifties track "Rip It Up," and slipped into gear with "Jammin' Me," a song co-written with Bob Dylan from 1987's Let Me Up (I've Had Enough). Though Petty noticeably ignored his hit-laden album Damn the Torpedoes, he dipped several times into his 1976 self-titled debut, turning in a few of the evening's most rousing moments: "Breakdown," "American Girl" and "Listen to Her Heart." By contrast, a solo acoustic version of "Angel Dream" from 1996's She's the One soundtrack proved listless, though the  new track "I Don't Wanna Fight" from Echo held more promise.
Sites + Sounds: Tom Petty track on MP3
By Brett Atwood
Billboard - March 20, 1999
Tom Petty is the latest major-label artist to pre-release a track directly to the internet via MP3. However, Petty's label, Warner Bros. Records, removed the track only two days after it was posted on Web site MP3.com.
The single "Free Girl Now" was downloadable in its entirety a full month before its debut on Petty's new album, "Echo," due April 13.
"This is about serving the artist and giving consumers what they want," says MP3.com CEO Robin Richards, who expects consumers to download 500,000 copies of the track for the duration of the promotion. "I can't think of a more robust manner to bring attention to a new single or album than the viral nature of the Internet. It has great promotional power."
Permission to offer the track was granted directly by the artist and his management, rather than the label, according to Richards.
A spokesman for Warner Bros. Records declined to comment on the availability of the track. Petty's manager, John Diaz, did not return a call seeking comment for this sorry.