Tom Petty Keeps It Real In The Studio
By Rick Clark
MIX - June 1999
When Tom Petty & The Heartbreakers released their self-titled Shelter Records debut in 1976, few would have predicted that we would still be talking about the group nearly a quarter-century later. The album languished on the shelves for a full year before one track, "Breakdown," became a hit and began a winning streak that has continued unabated to this day. Both with The Heartbreakers and on his solo albums, Petty has proven to be one of rock 'n' roll's most consistent and enduring artists, with a knack for churning out timeless songs loaded with bright hooks and memorable riffs. The Heartbreakers have rarely strayed far from the sound of that first record, which deftly melded influences such as The Byrds, The Beatles, the Rolling Stones, Bob Dylan and Chuck Berry with Petty's unerring songwriting instincts to craft a truly original group sound. The band's approach to recording has been quite straightforward; Petty's solo albums, such as 1996's multi-Platinum, Grammy-winning Wildflower, take more chances in terms of arrangements and unusual sonics.
For The Heartbreakers' latest endeavor, Echo, their first since She's the One, Petty sought to keep the recording as simple as possible to capture the group's powerhouse rock sound in all its glory. This is classic TP & The Heartbreakers all the way.
"From the beginning, we were kind of conscious that we didn't want to do many overdubs on this record," says Petty. "We pretty much tried to arrange everything down to where the group itself covered all the bases, and that was fun, really."
Tom Petty and the Heartbreakers | Echo | Warner Bros
Review by Chris Molanphy
CMJ New Music Monthly - July 1999
Unfairly labeled a staunch traditionalist by baby-boom critics, Tom Petty keeps selling records to young folks because, like Neil Young, Petty can play in front of people half his age without condescending. Petty's story in the '90s encompasses remarkable highs (the sly single "Mary Jane's Last Dance, the adventurous Wildflowers, the underrated She's The One) and forgivable lows (Into the Great Wide Open). File Echo somewhere between Great Wide Open and 1985's Southern Accents -- a fine addition to the catalog that will be better summarized by a hits compilation someday. Petty doesn't sound as spry as usual here; with crotchety vocals and an abundance of mild tunes, Echo sounds like Petty's writing for the Wilbury crowd. Fans wonder why Petty bothers with "solo" albums (Full Moon Fever, Wildflowers) since half the Heartbreakers -- particularly ace Mike Campbell -- play on them. But for the past decade, Petty's ability to be undemocratic on the solo albums has made them his best, while "and the Heartbreakers" albums like this one come out a bit muddy. Still, Echo manages a few keepers -- the Beatlesque "This One's For Me," the howling "Won't Last Long" -- and Petty's lyrics, wry as ever, celebrate the losers with empathy: "You need elephant balls/If you're not gonna crawl/On your hands through this world."
OUT: April 13
FILE UNDER: Pure American Rock
RECOMMENDED IF YOU LIKE: Neil Young, Byrds, Wilco, Jack Logan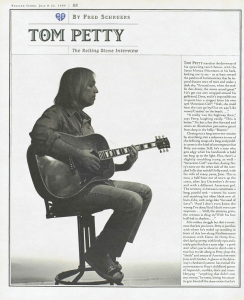 Tom Petty: The Rolling Stone Interview
By Fred Schruers
Rolling Stone #816 - July 8, 1999
Tom Petty stands in the driveway of his sprawling ranch house, with the Santa Monica Mountains at his back, looking out to sea -- or at least toward the patches of luminescence that lie beyond distant rows of trees and under a dark sky. "Around now, when the traffic dies down, the waves sound great." He's got one arm wrapped around his girlfriend, Dana, and it's impossible not to quote him a snippet from his own 1976 "American Girl": "Yeah, she could hear the cars go by/Out on 441/Like waves/Crashin' on the beach..."
"It really was the highway then," says Petty, laughing easily. "This is better." He lets a fist dive forward and utters an illustrative percussive grunt from deep in the belly: "Boooom."
Closing out a long interview session by stumbling into a reference to one of the defining songs of a long and prolific career is the kind of convergence that Petty can enjoy. Still, he's a man who gets edgy when his handiwork is held too long up to the light. Plus, there's a slightly troubling irony, as well -- American girl was then, during Petty's time on the other side of the rumpled hills that enfold Hollywood, with his wife of many years, Jane. This is now, a half-hour out of town up the coast, after last December's divorce, with a different American girl. The territory in between constitutes a long, painful trek -- witness his warm and searching but often bleak new album, Echo, with songs like "Accused of Love": "And I don't even know the wrong I've done/And I don't even care anymore...Well the attorney grins, the witness is drug in/With his face half-hid in shadow..."
A New Beginning
By John Metzger
The Music Box - September 1999
Tom Petty may have arrived on the music scene in the '70s and risen to stardom in the '80s on the back of his many MTV-fueled hits, but it was in the '90s that he truly ruled. Over the past decade, he has matured as a songwriter and produced his finest efforts to date -- Wildflowers and the soundtrack from She's the One. Both albums were produced by Petty, guitarist Mike Campbell and mastermind Rick Rubin, and found Petty exploring new musical terrain albeit with his typically strong leanings toward classic rock. His latest effort Echo is another solid affair that musically sums up his career, while dealing with the emotional scars of his recent divorce. Yet, it also offers rays of light and hope in the midst of its tales of sorrow.
On July 31, Petty and his longtime cohorts The Heartbreakers took to the stage of Tinley Park's New World Music Theatre for a set that paraded through a treasure trove of rock anthems. At first glance, the set list might have looked like a greatest hits showcase, and on a certain level it was since only four songs from Echo were made it into the evening's repertoire. However, digging a little deeper into the emotions behind the performance clearly indicate that through his recent personal-life trauma, Petty was able to reconnect with much of the music of his past.
Picture This: Van Halen, Petty, McLachlan Release DVDs
By Eileen Fitzpatrick
Billboard - October 30, 1999
HOME CONCERTS: A new concert film from Tom Petty and bonus track from Van Halen highlight Warner Reprise's November DVD schedule.
"Van Halen Video Hits: Volume 1" will be released on Nov. 2, with the bonus track "Without You," only available on DVD. A VHS version without the track was previously released.
The 67-minute program, priced at $24.99, features the classic Van Halen tracks "Jump," "Hot for Teacher," and "Right Now." It is the companion piece to the group's double-platinum greatest-hits album, "Best Of."
On Nov. 9, the label will release "Tom Petty & The Heartbreakers: High Grass Dogs -- Live From The Fillmore."
Reviews & Previews: Home Video
By Catherine Applefeld Olson
Billboard - November 6, 1999
Tom Petty and the Heartbreakers: High Grass Dogs | Warner Reprise Video | 90 minutes, $19.98 VHS, $24.99 DVD
Filmed during a seven-night stint at San Francisco's Fillmore in March, this concert video ably walks the line between greatest-hits package and vehicle for several rare, magical live-music moments. The 19 songs span the act's career, from early hits like "Breakdown" through "Runnin' Down A Dream," "Even The Losers," "Free Fallin'," and "Free Girl Now," from their current set, "Echo." Always a masterful live performer, Petty is in excellent form, as are the ever-sure-footed Heartbreakers, who keep the energy level sufficiently cranked. Standouts include a hypnotizing "Mary Jane's Last Dance" and the rarely performed "Mona," featuring a guest spot by Bo Diddley.
Tom Petty | Neil Zlozower | 1978
Rolling Stone #828 - December 16, 1999
"Funny, I don't remember anything about the shoot," Tom Petty says of this homey portrait from 1978. But photographer Neil Zlozower does: "I remember going to his house in the Valley. It was just me and him -- no publicist, no nothing. Everything you see, from the Marantz amplifier to the old Garrad turntable to the good old shag carpet, was all there. We didn't set it up for the photo. He was pretty cool."