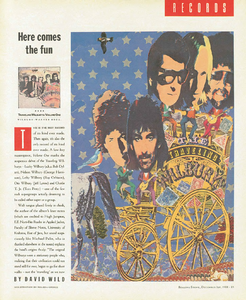 Here comes the fun
By David Wild
Rolling Stone #540 -- December 1, 1988
★★★★ | Traveling Wilburys: Volume One (Wilbury/Warner Bros.)
This is the best record of its kind ever made. Then again, it's also the only record of its kind ever made. A low-key masterpiece, Volume One marks the auspicious debut of the Traveling Wilburys -- Lucky Wilbury (a.k.a. Bob Dylan), Nelson Wilbury (George Harrison), Lefty Wilbury (Roy Orbison), Otis Wilbury (Jeff Lynne), and Charlie T. Jr. (Tom Petty) -- one of the few rock supergroups actually deserving to be called either super or a group.
With tongue placed firmly in cheek, the author of the album's liner notes (which are credited to Hugh Jampton, E.F. Norti-Bitz Reader in Applied Jacket, Faculty of Sleeve Notes, University of Krakatoa, East of Java, but sound suspiciously like Michael Palin, who is thanked elsewhere in the notes) explains the band's origins thusly: "The original Wilburys were a stationary people who, realizing that their civilization could not stand still for ever, began to go for short walks -- not the 'traveling' as we now know it, but certainly as far as the corner and back."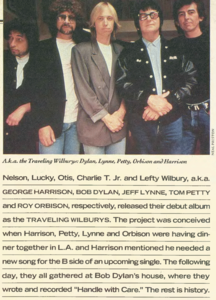 October
Rolling Stone #541 -- December 15, 1988
Nelson, Lucky, Otis, Charlie T. Jr. and Lefty Wilbury, a.k.a. George Harrison. Bob Dylan, Tom Petty and Roy Orbison, respectively, released their debut album as the Traveling Wilburys. The project was conceived when Harrison, Petty, Lynne and Orbison were having dinner together in L.A. and Harrison mentioned he needed a new song for the B side of an upcoming single. The following day, they all gathered at Bob Dylan's house, where they wrote and recorded "Handle with Care." The rest is history.
The Traveling Wilburys | TRAVELING WILBURYS VOL. 1 | Warner Brothers
SPIN -- January 1989
Review by Rich Stim
TRAVELING WILBURYS VOL 1 poses three threshold questions: (1) Who are the Wilburys? (2) Where are they traveling to? and (3) What is the meaning of "VOL 1"?
According to their biography, the Wilburys are a remarkably sophisticated musical culture. As they began to go further and further in their search for inspiration they found themselves the object of interest among less developed species such as club owners, record executives, and booking agents. This contact with the commercial world was a blow from which many of them have never recovered.
Random Notes
By Sheila Rogers
Rolling Stone #545 -- February 9, 1989
Being neighborly occasionally has its rewards, at least for Tom Petty. Last year, in the days before the Traveling Wilburys, Petty was driving his car in L.A. and came to a red light. "I looked over, and there was Jeff Lynne at the same red light," he says, "So I waved him down, and it turned out he just lived up the street from me." Lynne began dropping by the Petty house, and the pair wrote a couple of songs together. They then put them on tape at Heartbreaker Mike Campbell's house. "I liked [the songs] a lot," says Petty, "and I realized that it wasn't Heartbreakers stuff, so I just thought I'd bang out an album real fast, just for the fun of it." The result is Petty's forthcoming album, Full Moon Fever. Though it's a solo effort, Petty says he's recruiting members of the Heartbreakers to appear on the album. Other musicians include Petty's Traveling Wilbury brothers Lynne, George Harrison and the late Roy Orbison, plus the Bangles and Jim Keltner.
Tom Petty Goes It Alone
By Jeffrey Ressner
Rolling Stone #550 -- April 20, 1989
'Full Moon Fever' marks the chief Heartbreaker's solo debut
"It's just a little term I use when I'm doing things and I don't know why," says Tom Petty about the title of the new Full Moon Fever, his first album without the Heartbreakers. "I thought the phrase pretty well fit the circumstances behind this album."
Petty stills shakes his head in disbelief at the twists and turns it took to complete his solo debut, originally conceived in late 1987. The album had its genesis in a chance meeting with George Harrison's producer Jeff Lynne at a traffic light that Thanksgiving. Petty and Lynne met again soon afterward at a restaurant, and then they hooked up to kick around some sketchy song ideas during the Christmas holidays.
Lynne and Petty became fast buddies, and even faster collaborators, whipping through the writing and recording of a pair of tunes -- "Yer So Bad" and "Free Fallin'" -- in just two days. "I wasn't really planning on doing a record," Petty says. "But the Heartbreakers were spread out all over the globe, and I thought, 'Shoot, we done these in a day each -- we'll just go back and write nine more and put out a solo album." Like so many other attempts at doing an instant record, however, the project eventually took more than a full year to complete.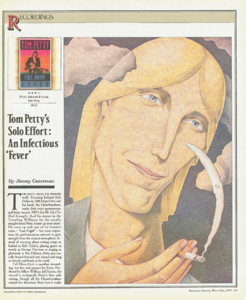 Tom Petty's Solo Effort: An Infectious 'Fever'
By Jimmy Guterman
Rolling Stone #551 -- May 4, 1989
★★★ ½ | Full Moon Fever | Tom Petty | MCA
Tom Petty picks his friends well. Touring behind Bob Dylan in 1986 helped him and his band, the Heartbreakers, make their most spontaneous and feisty record, 1987's Let Me Up (I've Had Enough). And his tenure in the Traveling Wilburys let the usually straight-faced Petty loosen up even more: He came up with one of his funniest tunes -- "Last Night" -- but more important, his performances seemed to gain strength from the relaxed atmosphere. Instead of worrying about writing songs as barbed as Bob Dylan's, playing guitar as tersely as George Harrison or singing as gloriously as Roy Orbison, Petty just casually leaned forward and played and sang as directly and freely as he could.
Full Moon Fever is another rewarding, low-key side project for Petty. Produced by fellow Wilbury Jeff Lynne, the record is technically Petty's first solo outing, though all the Heartbreakers except for drummer Stan Lynch make an appearance. What's more, all the Wilburys save one (Bob Dylan) also show up: Full Moon Fever has the same restless charm and barbed wit as the Wilburys' LP.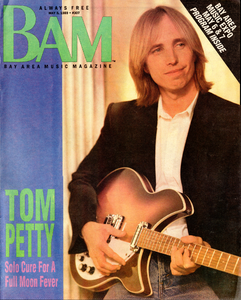 Once in a Full Moon
By Dave Zimmer
BAM -- May 5, 1989
Tom Petty's Solo Orbit Without The Heartbreakers
By the time Tom Petty became a Traveling Wilbury last year, he had every reason to stand shoulder to shoulder with the likes of Roy Orbison, Bob Dylan, George Harrison, and Jeff Lynne. Listen to "American Girl," "Breakdown," "Refugee," "Even The Losers," "The Waiting," or his current single, "I Won't Back Down," and tell me he doesn't belong in that company. But try to praise him and Petty looks down, cracks a nervous grin and humbly shakes his head. "Just one of the guys." That's how he's always seen himself and why, even in the wake of the release of his first solo album, Full Moon Fever, he keeps reiterating the fact that he and the Heartbreakers are still a band.
Much of Petty's new music combines a distinctive, acoustic guitar-based, rhythm-rock feel with flashes of electric muscle. It's a powerful combination. Both Wilbury and Heartbreaker echoes waver through the mix, which is understandable once you learn Full Moon Fever was produced by Wilbury/ELO stalwart Jeff Lynne, along with Heartbreaker Mike Campbell, George Harrison, flailing his acoustic guitar and providing some background vocals, also tosses in a bit of his signature style. Then there are cameos by Roy Orbison and Del Shannon, as well as Heartbreakers Howie Epstein and Benmont Tench. The single most significant element on the LP, however, is Petty's voice -- which has never exhibited such subtle strength and character. The ol' nasally McGuinn-like quiver sounds both relaxed and dynamic, detailing such topics of interest as life in the San Fernando Valley ("Free Fallin'"), matters of the heart ("Love Is A Long Road," "Depending on You," and "Alright For Now") and the backside of yuppiedom ("Yer So Bad"). Nestled next to a cover of the Byrds' "Feel A Whole Lot Better," most of these new Petty tunes (seven co-written by Jeff Lynne and two with Mike Campbell) rank with his finest.
Spins: Platter Du Jour
Review by John Leland
SPIN -- June 1989
John Cougar Mellencamp | Big Daddy | PolyGram
Tom Petty | Full Moon Fever | MCA
Tom Petty: An American boy raised on promises becomes an angry old man.
When Johnny Cougar changed his name back to Mellencamp in 1983, it was an act of rebellion akin to Tom Petty's 1981 refusal to raise the cover price of Hard Promises, or to change the word "cocaine" to "champagne" on "Listen to Her Heart" in 1978. It was the same -- really the same -- as Petty refusing to call Declan MacManus Elvis.
These are adult acts of adolescent rebellion: adult because Petty and Mellencamp rebel against their own choices and professions rather than a world heaped upon them from above, and because they rebel from positions of power. Adolescent because these men act like the world really is heaped upon them; they promise that innocence is possible, integrity just a public gesture away -- that rock 'n' roll can be what romantics believe it once was. The adult character of these acts makes them tolerable as more than rich kids' squawking, and their adolescent edge makes them fun (otherwise, what do we care what JCM calls himself -- let's hear the guitar). Both men are old enough to recognize nihilism as irresponsible, and willful enough to flirt with it. This contradiction -- ungainly, petty -- is what allows them to keep on, staying rough and viable, getting better, while so many of their peers just keep on.
Random Notes
By Sheila Rogers
Rolling Stone #553 -- June 1, 1989
Axl Rose says he's been a fan of the raunchy comic Andrew Dice Clay since seeing him on HBO. "He's a lot of fun," says Axl, who's attended Clay's postperformance party at L.A.'s Wiltern Theater, along with fellow Gunners Dugg McKagen and Steven Adler. Dice says he'd like the band to write "the Dice theme song."
Across town at the Universal Studios lot, MCA Records was celebrating the release of Tom Petty's new album, Full Moon Fever. Petty sat in Ensign Chekov's chair on a ride called Star Trek Adventure while he did a radio call-in show. On hand at the Fever party were George Harrison, Stevie Nicks, the Beastie Boys and (fresh from the Clay bash) McKagen and Adler. Harrison says that while he's uncertain about the future of the Traveling Wilburys, he'd love to record with the band again. "It's so hard doing a solo album -- all that ego gets involved," he says. "It's much easier being a Wilbury."