Raised On Promises
By Michael Corcoran
SPIN - August 1989
Tom Petty has been a rebel and a Traveling Wilbury, a kid who saw Elvis at 7 and grew up to fight the record company on principle alone. He may be one of the great talents of his generation or just another creep from the Valley. He may be both.
Tom Petty drives a black Corvette Stingray. He could afford a much more expensive car, like a Ferrari, Rolls-Royce or Lamborghini, but as far as he's concerned, a black 'Vette is the ultimate set of wheels. It's the car he wanted when he was a 15-year-old in Gainesville, Florida.
We are driving down Ventura Boulevard, me and Tom Petty, in his black 'Vette. He apologizes for the car phone. "My manager said I should have one," he says, "but I don't know. I'd be so embarrassed if someone I knew saw me talking on it. I mean, what am I gonna do, call my wife and tell her I'll be home as soon as the light turns green?"
Notable News
Rolling Stone #558 -- August 10, 1989
Tom Petty and his band are doing their bit for the environment. A rider in their contract with concert promoters provides that no styrofoam or plastic eating utensils be used in catering the band's meals.
---
Video Reviews: A Bunch of Videos and Some Other Stuff | Tom Petty and the Heartbreakers | MPI Video, $24.95
By Jim Farber
Rolling Stone #558 -- August 10, 1989
A program featuring fifteen concept clips and performance pieces connected by especially lame comedy bits. Jeff Stein's video for "Don't Come Around Here No More," based on Alice in Wonderland, has enough imagination to make up for the offensively isolationist clip for "Jammin' Me." The other concept pieces are fairly routine; the concert segments (previously available on Pack Up the Plantation, released by MCA Video) are flaccid.
Orange Coast Magazine -- August 1989
Full Moon Fever, Tom Petty (MCA) -- Tom Petty, now there's a contemporary pop artist. And, his LP -- his first solo offering -- could be a favorite for years. Petty gets able assistance from members of his band, the Heartbreakers, and Traveling Wilbury buddies Jeff Lynne, George Harrison, and the late Roy Orbison. The songs are refreshing, the production solid. Along the best tunes are "Free Fallin'," "I Won't Back Down," "A Face in the Crowd" and "Alright for Now."
Tom Petty on Roger McGuinn
Rolling Stone #561 -- September 21, 1989
"We were awestruck when we met Roger. I was in L.A., and somebody told me that Roger wanted to see me. I came in, and he said, 'Pick up that guitar and play.' Scared the shit out of me. Then he said, 'I really did think it was me when I heard "American Girl."'"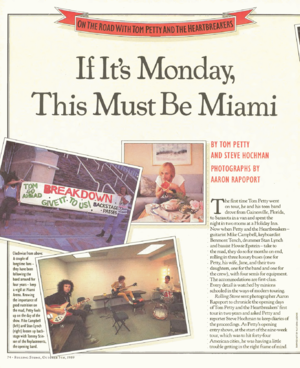 If It's Monday, This Must Be Miami
By Tom Petty and Steve Hochman
Rolling Stone #562 -- October 5, 1989
On The Road With Tom Petty and the Heartbreakers
The first time Tom Petty went on tour, he and his teen band drove from Gainesville, Florida, to Sarasota in a van and spent the night in two rooms at a Holiday Inn. Now when Petty and the Heartbreakers -- guitarist Mike Campbell, keyboardist Benmont Tench, drummer Stan Lynch and bassist Howie Epstein -- take to the road, they do so for months on end, rolling in three luxury buses (one for Petty, his wife, Jane, and their two daughters, one for the band and one for the crew), with four semis for equipment. The accommodations are first-class. Every detail is watched by minions schooled in the ways of modern touring.
Rolling Stone sent photographer Aaron Rapoport to chronicle the opening days of Tom Petty and the Heartbreakers' first tour in two years and asked Petty and reporter Steve Hochman to keep diaries of the proceedings. As Petty's opening entry shows, at the start of the nine-week tour, which was to hit forty-four American cities, he was having a little trouble getting in the right frame of mind.
The 100 Best Albums of the Eighties
Rolling Stone #565 -- November 16, 1989
70. Traveling Wilburys Volume 1 | The Traveling Wilburys | Wilbury/Warner Bros.
"This is the best record of its kind ever made," wrote David Wild in Rolling Stone's review of the Traveling Wilburys' Volume One. "Then again," he added, "it's also the only record of its kind ever made."
The Traveling Wilburys' album was one of those happy accidents that was almost waiting to happen. Starting with a throwaway song quickly recorded by George Harrison, Bob Dylan, Tom Petty, Roy Orbison and Jeff Lynne for the B side of a Harrison single, the project soon took on a life of its own. After completing the track and deciding it was too good to waste on a flip side, the veteran rockers cooked up a full-length album that not only included some of each member's strongest material in years but also became one of the decade's genuinely unique musical achievements.