Closing Night
Billboard -- October 23, 1982
Tom Petty joins the Plimsouls at the closing night show at the Whisky in Los Angeles. The venue has closed its doors, at least temporarily.
Whisky a Go Go, legendary L.A. rock club, closes
Rolling Stone #381 -- October 28, 1982
"I think you know this guy," said Plimsouls bassist Dave Pahoa as Tom Petty ambled onstage to join the L.A. band on closing night at the Whisky a Go Go, the seminal Sunset Strip club that spawned bands from the Doors and Buffalo Springfield to the Go-Go's and X. Petty and trhe Heartbreakers' keyboardist Ben Tench pumped the Plimsouls through "Route 66," "She's About a Mover," and Gary U.S. Bonds' "New Orleans." The venue is slated to reopen as a dance club; spokesmen assert that the live rock & roll can't make money in the Whisky's smallish 300-seat configuration.
Top Single Picks: Pop
Billboard -- November 6, 1982
TOM PETTY AND THE HEARTBREAKERS -- You Got Lucky (3:37); producer, Jimmy Iovine; writers: Tom Petty, Mike Campbell; publsher: Gone Gator/Wild Gator, ASCAP; Backsteet 52144 (MCA). Petty previews his "Long After Dark" LP with this midtempo ballad which has the moody intensity of "A Woman In Love," a chart hit from Petty'a last album.
LeRoi's Cool Reviews
By LeRoi
KC Pitch - December 1982
★★★★ | Tom Petty and the Heartbreakers | Long After Dark | Backstreet 5360 | $8.98 list | Produced by Jimmy Iovine and Tom Petty
This is not as raw as previous Petty efforts. It takes a more ethereal approach that will prove to be a big plus in the long run. That heavy rocking Byrds sound was getting a little old, and this may be the shot in the arm Petty needed. 
---
Rock
Review by Vicki Atkins
KC Pitch - December 1982
★★★ | Tom Petty & the Heartbreakers | Long After Dark | Backstreet 5360 | $8.98 list
How can one man tap the same fountain and keep coming up with so many good songs about turgid love? Tom Petty & the Heartbreakers' Long After Dark is another compilation of love songs with all the trimmings -- pain, pining and some optimistic hopes thrown in for good measure.
The album is typically Tom except for the final cut, "A Wasted Life," which includes some laid back island sounds and Petty chirruping "uh uh owww" while convincing a friend not to give up on life.
Editor's Note: I only have a cover scan and the full-text for this. If anyone has the article scan it would be greatly appreciated.
Tom Petty
By Cynthia Rose
City Limits -- December 3, 1982

With his 1976 debut album, Tom Petty became a rock star. It seemed he was cast in the classic mould – a hip young American gunslinger (this time from Gainesville, Florida) who authored sparse, often sparklingly hard songs about love, letting loose and exposed nerves.
Yet Petty' first hit single – 'American Girl' – revealed something new: an understanding of the opposite sex based on common dreams, background and friendship. "The 'American Girl," says Petty today, "is just one example of this character I write about a lot – the small-town kid who knows there's more out there for them but gets fucked up trying to find it. Like the song says, she was raised on promises. I've always felt sympathetic towards her."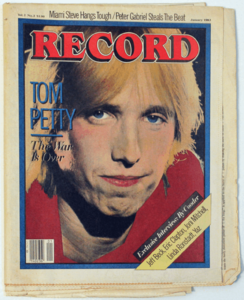 Petty: The War Is Over
By David Gans
Record - January 1983
LOS ANGELES—The war is over. After fighting with record companies, aborting a major tour when tonsilitis blew his voice out, changing bass players and enduring ther assorted setbacks and distractions, Tom Petty has strung enough quality time together to break free of his troubles and concentrate on one imprtant task: Making rock 'n' roll music. Long After Dark, the fifth Tom Petty and the Heartbreakers album, is in the stores and on the charts, and the band is now in the midst of a lengthy tour in which Petty has been looking forward to as eagerly as his fans have.
"I want to go on a tour, and so I want to have a lot of rock 'n' roll songs to play," says Petty of the material on Long After Dark. He got the ballads out of his system on Hard Promises, and that record also exorcised his record industry anxiety. "I don't think about the music business much now that my legal things have been settled," he says, adding that the songs on Long After Dark are "just about living life. It's a good rock 'n' roll album, not neccessarily a party record but something you can just put on and bop to."
Long After Dark | Tom Petty and the Heartbreakers | Backstreet | ★★★★
By Fred Schruers
Rolling Stone #387 -- January 20, 1983
Tom Petty and the Heartbreakers play a finely crafted band of meat-and-potatoes rock. They shudder to a stop for the occasional ballad or showy guitar figure, but the next surging chorus is never dar away. They've been honing that sound for five albums now, and Petty has gradually hoisted himself into the company of such masterful travelers of Route 66 as Seger and Springsteen.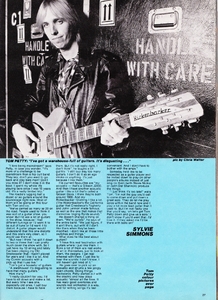 Editor's Note: Thanks to Sue Reaney for the scan.
Petty he ain't!
By Sylvie Simmons
Guitar Heroes - February 1983
The female guard at the sound-stage door is becoming a nervous wreck. Some rock star is coming in to rehearse—Tom something, never heard of him, now Al Pacino she's heard of and he's filming in the sound-stage next door—and he's a big deal, they tell her, so she's going to have to check my name off her list.
Last time this rockstar was here, someone sneaked in and stole all his equipment and it isn't going to happen again. She peers at a small handwritten list. Bugs the Roadie gives me the nod, brings me in, shows me where the beers are and gets back to work.
No-one else has arrived yet, and the rehearsal room on the Universal Studios lot in Hollywood, next door to Tom Petty's record company, is as cold and big and echoing as an aircraft hangar in winter.
A skinny, good-looking blond bloke slowly ambles through the door. The guard looks up from her Cosmopolitan and looks down on him, this little man in the scruffy jeans and black leather jacket with his shirt hanging out underneath. Can't come in here, she says, unless his name's on the list. Tom looks around him shyly. His name isn't on the list and he's not exactly Dave Lee Roth, he's not going to shout and wave his arms and make a fuss.
Bugs to the rescue again, and Petty is allowed in to his own rehearsal. That's him? the guard whispers and he heads off for a Coke. She looks a little disappointed. Maybe they'll let her next door later and she can guard a real star.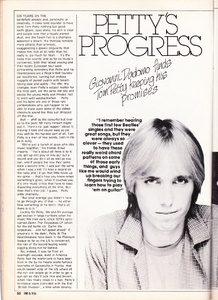 Editor's Note: Thanks to Sue Reaney for the scan!
Petty's Progress
By Giovanni Dadamo
International Musician and Recording World - February 1983
Giovanni Dadamo finds Tom Petty keeping his promises
Six years on the battlefield already and, personally or creatively, it looks (and sounds) to have done Tom Petty nothing but good: teeth gleam, eyes shine, his skin is clear and supple over that uniquely planed skull, and the flaxen hair is a shampoo salesman's dream. His thinness remains more athletic than anorexic, exaggerating a gawky angularity that makes him look a lot taller than he really is. So much for flesh—it's the noise that counts, and as far as music's concerned, both their latest waxing and their recent European tour were exhilarating reminders that Petty and his Heartbreakers are a Rock'n'Roll foundry par excellence, turning out endless nuggets of purest quality with breathtaking ease and agility. The riffs, the changes, even Petty's subject matter for the most part, are the same old bits and pieces the young Holly and Presley had to work with waybackwhen—Petty and his band are one of those rare combinations who just happen to be able to make even some of the oldest chestnuts sound like they just dropped off the tree.
Read more: International Musician and Recording World - February 1983