Tom Petty: 12 essential albums
By Ed Masley
The Arizona Republic - September 23, 2010
There aren't a lot of classic rockers out there who could pack a set full of radio staples and invest their most overplayed hits with the same sense of youthful abandon they brought to the table in their prime the way Tom Petty does every time he goes out with the Heartbreakers.
He's in the Hall of Fame but still releasing vital new additions to the catalog, including the recent reunion of Mudcrutch, his pre-fame garage band, and the Heartbreakers' rowdiest effort in ages, "Mojo."
Here's one critic's take on the essential Petty.
Concert review: Tom Petty, ZZ Top rock the house at Superpages.com Center
By Mario Tarradell
Dallas Morning News - September 23, 2010
Tom Petty lifted his arms, guitar draped over his torso, and did a quick hip-shaking dance. He then laughed. Later he vamped with the most free-spirited look on his face.
My concert buddy Robb Peterson turned to me and said: "He's quite a showman. I didn't see that coming, since he's so laid-back."
Petty and his stellar band, the Heartbreakers, commanded the Superpages.com Center on Tuesday night for 100 minutes of classic rock songs old and new. Eight video screens flanked the stage, and a series of light strips hung from the ceiling. When all were illuminated and the screens projected the players, the montage was engulfing. The audience of 15,000 loved every colorful image.
Tulsa crowd loves Tom Petty and the Heartbreakers
By Jennifer Chancellor
Tulsa World - Thursday, September 23, 2010
Tom Petty and his Heartbreakers shook a near-capacity crowd Thursday night at the BOK Center, which was celebrating its second anniversary.
Six high-definition screens hovered in a semicircle over the band and added depth and drama to Petty's musical prowess. The six smaller screens gave way to enormous LED screens, stories high, up close and personal on Petty.
"This is our very first show in Tulsa, Oklahoma," he said as the crowd reciprocated with nearly a full minute of cheers. "I love it here!"
Tom Petty's First Tulsa Appearance a Winner
By Ernie Osborn
Tulsa Today - Friday, September 24, 2010
A night of legends, with amazingly long careers played to a sold out crowd at BOK Center Thursday.  ZZ Top, "that little ole band from Texas," opened the show with "Under Pressure" and didn't look back.
Say what you will about the Tres Hombres, they bring their A-game every time and will leave you happy and satisfied.  Billy Gibbons, "We have been coming here for four decades.  Same three guys."  In that time they have been to the top of the mountain, trekked back down and have climbed it again.  A sure crowd pleaser, be it opening or headlining with no signs of slowing down.
With a double handful of hits they set the stage perfectly for what would be an epic night and a fitting 2nd Anniversary for the BOK Center.  Songs included "Just Got Paid," "Tush," LaGrange," and MTV hits "Gimme All Your Lovin'," Legs," and "Sharp Dressed Man."  As well as paying tribute to Jimi Hendrix, with whom they played in the very early days of the band.  "This guy came in and scooped us up and taught us half...three-quarters, well he taught us everything we know." stated Gibbons before doing a fantastic cover of "Hey Joe."
 After a 40 minute intermission, the lights go out and it is time for the main event.  Tom Petty and The Heartbreakers slowly make their way onstage and launch into "Listen to Her Heart," and the night of unmistakeably good time music begins, yet again.
Petty has seemed to have gotten better through the years, although at times he seems to disappear from the scene only to come back better and stronger.  With 40 years in the industry he continues to churn out, at ease it seems, hit after hit.  Petty greeted the capacity crowd with, "How is are you people doing?  This is the first time we have played in Tulsa."  With that statement there was a thunderous cheer and ovation that could have easily lasted a minute or two.  Later adding, "I love it here!"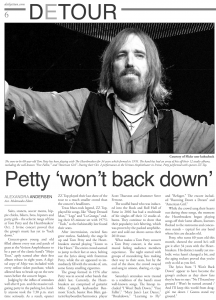 Detour: Petty 'won't back down'
By Alexandra Andersen
The Daily Titan - October 7, 2010
Suits, stoners, soccer moms, hippie chicks, bikers, bros, hipsters and party girls -- the eclectic range of fans at Tom Petty and the Heartbreakers' Oct. 2 Irvine concert proved that the group's music as yet to "back down."
Concert-goers young and old filled almost every seat and patch of grass at the Verizon Amphitheater to be a part of the classic band's "Mojo Tour," aptly named after their first album release in eight years. A digital copy of Mojo was included with every online ticket purchase, which allowed fans to brush up on the new tunes before the concert began.
Judging by the influx of attendees well after 8 p.m. and the massive tailgating party in the parking lot, hardly anyone took the 7:30 start time seriously. As the result, opener ZZ Top played their last show of the tour to a much smaller crowd than the concert's headliners.
Texas blues-rock legend, ZZ Top, played hit songs, like "Sharp Dressed Man," "Legs" and "La Grange," ending their 65-minute set with 1975's "Tush," as the fashionably late found their seats.
After intermission, excited fans grew restless. Suddenly, the stage lit up and Tom Petty and the Heartbreakers started playing "Listen to Her Heart." The entire crowd seemed to jump to their feet at once, belting out the lyrics with frontman Petty, while the air appeared to immediately fill with the smoke of, um, some funny smelling cigarettes.
Liner Notes: Petty's 3rd album gets a 2nd look
By Curtis Ross
The Tampa Tribune - October 22, 2010
Before "Damn the Torpedoes," Tom Petty & the Heartbreakers were a secret shared by fans who loved his American take on British Invasion rock.
The secret was out once the album, his third, reached the shelves on Oct. 19, 1979, the day before Petty's 29th birthday.
A DVD from Eagle Vision's "Classic Albums" series looks at the making of "Damn the Torpedoes," while the album itself will be re-released Nov. 9 in a deluxe edition with a bonus disc of outtakes, B-sides and live cuts.
"That was the record where the dam broke," Petty says at the beginning of the "Classic Albums" DVD.
"That was the record where life was never going to be the same again."
Album: Tom Petty, Damn the Torpedoes (Deluxe Edition) (Geffen)
Review by Nick Coleman
London Independent - Sunday, November 7, 2010
Petty's "breakthrough" album, his third, from 1979, the big-sounding, hi-gloss, monster-drumming Jimmy Iovine production which blasted the 'breakers out of their UK-only taste corner and propelled their leader towards American superstardom on the back of "Refugee".
It's good stuff, but for all its anguish it does lack the skinned-back punch and hipness of the debut, which will always resonate more deeply in British hearts. Now that was a record. This "Deluxe Edition" comes with the obligatory bonus studio material and live cuts.
Tom Petty and the Heartbreakers | Damn the Torpedoes - Deluxe Edition | Geffen | A
Review by Larry Katz
The Boston Herald - Monday, November 8, 2010
Let's be clear: the grade is for the music, not the costly new presentation. According to consensus, 1979's "Damn the Torpedoes" rates as Petty's best album. No argument; it still sounds damn good. But the new remastering for this Deluxe Edition doesn't make it sound any better than before. The attraction is a second disc with nine tracks, including two previously unreleased songs from the "Torpedoes" sessions, and three previously unreleased live recordings. But Petty afficionados - who, really, are the only ones who need these rarities - will pay to get them. The  double-CD set lists for close to $30 and the audiophile double-vinyl version tops $40; the relative bargain is the Blu-Ray version, which adds two videos to the haul. Download: "Casa Dega," the largely overlooked B-side to "Don't Do Me Like That."
Tom Petty and the Heartbreakers' Damn the Torpedoes Gets Deluxe Edition Treatment
By Thomas Bond
Phoenix New Times - Thursday, November 11, 2010
You can't get more classic rock than Tom Petty and there's no Tom Petty album more classic than 1979's Damn the Torpedoes, which has just been reissued in a two-disc deluxe edition.
The very foundation of a career that would lead Petty and his band, The Heartbreakers, into the Rock and Roll Hall of Fame, the group's breakthrough album sounds as timeless today as it did 31 years ago. What's changed, of course, is perspective, as the passage of time is wont to do.