Sonny Garrett's Odds & Ends: Nothing clears the head like a road trip, Tom Petty
By Sonny Garrett
The Baxter Bulletin - April 27, 2012
Sometimes, you just need a road trip, and that was the case last weekend when I headed down to Little Rock to see Tom Petty in concert.
It had been months since my last actual, honest-to-goodness road trip, and I was ready for something more than the drive to and from work. The opportunity came when Kim's sister, Mickey, called and said she'd won tickets to the Tom Petty concert at Verizon Arena. No one else could go with her, and she wondered if I'd be interested. A road trip and a free concert by a music legend? Sure.
Review: Tom Petty triumphs in a two-hour-plus show at Germain
By Harriet Howard Heithatus, Jay Schlichter
Naples Daily News - May 2, 2012
Tom Petty, troubadour of the turning points in American life, kept a capacity-crowd at Germain Arena on its feet Tuesday with a heaping setlist of favorite anthems.
Where Bruce Springsteen has always waded into urban grit, Petty has profiled small-town identity crises ("Learning to Fly"),  heartbreak ("Don't Do Me Like That") and determination ("I Won't Back Down") with razor-sharp clarity. His ability to musically frame our vulnerabilities are what has cemented his enduring popularity with generations of fans like a father-daughter pair, Steve and Rachael McDonnell, from Cape Coral. They were in the front row hoping to nab one of the Heartbreakers' tossed guitar picks (they did) and hear "Don't Do Me Like That" (they didn't, but still scored most of their favorites).
Another young fan, Kurt Robinson, 27, of northern Indiana, was actually following this tour for multiple dates. Robinson said he cut his musical teeth on hip hop, but after attending a "mind blowing" Petty concert in 2008 with his father, has been a follower, getting tickets to see at least two to three shows whenever the band announces its tour.
Tom Petty and the Heartbreakers do their home state proud with blistering show in Estero
By Andrew Nathanson
The Palm Beach Post - May 2, 2012
ESTERO -- A scant two days after playing to over 50,000 at New Orleans Jazzfest, Florida's golden child Tom Petty and his Heartbreakers took a the trip to Estero and cooked up a first-rate show for his birth state. Mixing hits, blues, acoustic, and even some headbanging as he described it, the show had the feel of a hometown barbecue at the Florida Everblades' Germain Arena, a few hours from the band's Gainesville hometown.
The show was a polished gem in a medium arena of about 8,000, packed to the rafters full of screaming fans. It was big enough to provide the proper adulation for a star and band on stratospheric par with a Dylan and Springsteen, and small enough for a cozy ambiance. Mr. Petty might not be the pure poet like Dylan but his songs create visceral images as well as anyone out there.
An Encore Performance: Tom Petty and the Heartbreakers put on dynamic local show
Melissa Schneider
Fort Myers Beach Bulletin - May 9, 2012
Southwest Florida Tom Petty fans were wowed when the legendary story-teller paired back up with the very talented Heartbreakers (Steve Ferrone, Mike Campbell, Scott Thurston, Ron Blair and Benmont Tench) for a dynamic show Tuesday night at Germain Arena.
Opening the show was sweet little Regina Spector from New York, performing on her grand piano, accompanied by her band, consisting of a cellist, keyboardist and drummer.
Regina's voice is very sweet, she can really hit the high notes, and her skills on the piano are fantastic. Her music is very lively, soft and upbeat, and the rising star regularly thanked the audience and showed her appreciation for the grand applause after every song.
Following Regina's opening set, Tom Petty and the Heartbreakers took the stage, with the crowd roaring to its feet in great delight and anticipation.
Tom Petty delights Wichita crowd with tour of hits through the years
By Denise Neil
The Wichita Eagle - Friday, April 27, 2012
Tom Petty promised the crowd of about 10,000 gathered to see him at Intrust Bank Arena on Thursday that he would travel deep into his song library.
And Petty, along with his band The Heartbreakers, kept the promise, delivering many of their most popular radio hits - and there are a lot of those - as well as several more obscure songs that span Petty's 25-plus-year career.
"It's about time we got to Wichita, Kansas, I'll tell you," Petty said as he took the stage.
Wearing a blue suit with skinny trousers, his signature long blonde hair and a bushy beard, Petty took the stage to loud applause. The 61-year-old singer seemed to revel in it, at one point standing alone under a blinding spotlight, holding his hands straight up in the air and turning in circles as the crowd screamed.
Tom Petty fills Fair Grounds with classic songs at Jazz Fest
By John Wirt
Baton Rouge Advocate - April 30, 2012
One of the largest audiences ever seen in front of the New Orleans Jazz and Heritage Festival's Acura Stage gathered to see and hear Tom Petty and the Heartbreakers, Saturday's headlining act.
Three songs into a two-hour-plus show, classic-rocker Petty echoed the words of the many stars who've played in the same racetrack field through the decades.
"For years and years we've wanted to come here to the Jazz Fest," he said. "We've got a lot of songs to play for you, so we're gonna get right on it."
Concert review: Tom Petty and the Heartbreakers at Amway Center
By Jim Abbott
Orlando Sentinel - May 3, 2012
As any Tom Petty fan knows, the waiting is the hardest part, but this is ridiculous.
Petty and the Heartbreakers haven't played an arena show in Orlando since 1995, although the Rock and Roll Hall of Famers have made numerous road-trip worthy stops on the I-4 corridor in Tampa and Daytona Beach since the Clinton years.
So it was worth wondering if the band would pull out any surprises on Thursday at Amway Center. You know, to make the night memorable enough to last another decade or so?
"We're pretty excited to be back in Florida," Petty told the sold-out crowd in the opening moments of a 2-hour show. "We've got all our friends and relatives and ex-wives backstage."
Arts in Brief: Blind Boys of Alabama have joined Tom Petty bill
Halifax Chronicle-Herald - May 26, 2012
Gospel blues legends the Blind Boys of Alabama will be appearing as the special guest of Tom Petty and the Heartbreakers at the Halifax Metro Centre on Thursday, after scheduling conflicts required Jimmy Cliff to drop out of the band's Atlantic Canadian dates.
The Grammy Award-winning sextet was last in Halifax in 2008, and have appeared with acts like Prince, Lou Reed, Peter Gabriel, Bonnie Raitt and Kanye West.
Their latest album, Take The High Road, is a traditional take on country-gospel, their first exploration of the genre in their 70-year career.
A limited number of tickets for Tom Petty and the Heartbreakers, with special guest the Blind Boys of Alabama, are still available at the Metro Centre's Ticket Atlantic box office (451-1221 or ticketatlantic.com) and Atlantic Superstore outlets.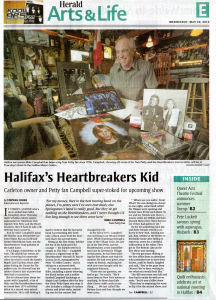 Halifax's Heartbreakers Kid
By Stephen Cooke
Halifax Chronicle-Herald -- Wednesday, May 30, 2012
Carleton owner and Petty fan Campbell super-stoked for upcoming show
If there's anyone who's more stoked than Mike Campbell about Thursday night's Halifax Metro Centre appearance by American rock legends Tom Petty and the Heartbreakers, they'll have to take a lie detector test to prove it.
And by Mike Campbell I mean the Halifax man behind the Carleton Music Bar and Grill and former MuchMusic host, not the Heartbreakers' lead guitarist of the same name.
It's a happy coincidence, to be sure. The affable bar owner admits to meeting his namesake when he tried to crash the band's Maple Leaf Gardens show after-party during the Damn the Torpedoes tour. He showed him his driver's license just to prove that they had a connection.
But it's always been about the music with Campbell, a fan of Petty and the Heartbreakers since he found their 1976 self-titled debut in a record store miscellaneous bin. He is still finding it hard to believe that his favourite band is performing this week only a block away from the business that's his second home.