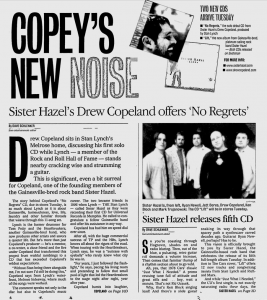 Copey's new noise
By Dave Schlenker
Gainesville Sun - Sunday, August 22, 2004
Sister Hazel's Drew Copeland offers 'No Regrets'
Drew Copeland sits in Stan Lynch's Melrose home, discussing his first solo CD while Lynch - a member of the Rock and Roll Hall of Fame - stands nearby cracking wise and strumming a guitar.
This is significant, even a bit surreal for Copeland, one of the founding members of the Gainesville-bred rock band Sister Hazel.
The story behind Copeland's "No Regrets" CD, due in stores Tuesday, is as much about Lynch as it is about Gainesville, homesickness, love, life, laundry and other familiar threads that weave through this 11-song set.
Lynch is the former drummer for Tom Petty and the Heartbreakers, another Gainesville-bred band, who now produces other artists and savors a quieter life. But he's more than just Copeland's producer - he's a mentor, a co-writer, a close friend and the fire under Copeland that transformed this project from wishful ramblings to a CD that has exceeded Copeland's wildest expectations.
"Without Stan being there alongside me, I'm not sure I'd still be doing this," Copeland says from Lynch's waterfront, Melrose hideaway, where much of the songs were worked.
Former rock and roll star lives the quiet life on the beach, finds success as hit song writer
By Madelyn Troyanek
St. Augustine Record - Sunday, April 10, 2005
There was a snake in the kitchen and she scoured her home in Nashville for a tool to kill it.
She turned to her visitor, Stan Lynch, the former drummer of Tom Petty and the Heartbreakers, and asked him to grab a hoe from outside her backyard.
"There's a hoe out back?" he asked songwriter Stephony Smith, beginning to chuckle.
"You're old enough to remember back when a hoe was a hoe," she told Lynch.
And a country song was born.
Lynch co-wrote the song "Back When" with Smith, and Tim McGraw agreed to sing it, after turning it down once before.
The song with its catchy lines, "When a hoe was a hoe, and a screw was a screw," topped the Billboard charts in December and stayed in the top 10 for a few months.
Lynch wrote some of the verses in his St. Johns County beach house, where he's lived since 2000.
"I saw (McGraw) singing it on the Today show and I realized I wrote the verses in my bedroom, and it was like it was beamed onto the TV," he said.
"It's a miracle, a freak of nature to write a song that goes No. 1."
Scorching spring and summer tours
By Jon Waldbauer
The Duquesne Duke - April 14, 2005
Tom Petty and the Heartbreakers
Seasoned veteran Tom Petty will resume touring this summer after a two-year break. Stops in Florida, Georgia and Ohio will give Petty a chance to get comfortable with the Heartbreakers again before their June 15 show at the Post Gazette Pavilion. Old and young hippies alike can count on a strong show from Petty, whose concerts will most likely provide a musical synopsis of the band's 28 year history. Opening act the Black Crowes will have no trouble igniting the crowd and setting the pace for the show.
10-Day Forecast
By Ted Geltner
Gainesville Sun - Thursday, June 9, 2005
The best bits of culture and flat-out fun in the days ahead
June 10: TOM TERRIFIC: The legendary rocker Tom Petty grew up right here in Gainesville. In fact, we were best friends. He always used to say, "I want to be a rock star." And I would say, "Shut up, Tom. You should be a dentist." The rest is history. My buddy and the Heartbreakers play the Ford Amphitheatre at the Florida State Fairgrounds in Tampa.
Fans aren't heartbroken by Petty show
By Jim Abbott
Orlando Sentinel - June 14, 2005
Tom Petty could stick to the hits and play all night, but the Rock and Roll Hall of Famer did better than that Friday at the Ford Amphitheatre in Tampa.
Petty and the Heartbreakers offered a few well-chosen surprises from their vast catalogue in a two-hour show that went on despite the threat of showers. It was one of two notable concerts in Central Florida this weekend, which also featured R&B singer John Legend in a sold-out performance Sunday at House of Blues.
Although Petty has been doing many of his songs for decades, he still delivers them with enough sincere energy to lift the music above mere nostalgia.
Petty still's got the hook on hits
By Rick Massimo
The Providence Journal - Sunday, June 19, 2005
MANSFIELD -- Tom Petty isn't the greatest singer, and he's not much of a guitar player. But he's had nearly 30 years of hits because he knows a hook. His best stuff is instantly and permanently memorable -- come to think of it, so is his less-than-best stuff. Last night at the Tweeter Center, Petty and The Heartbreakers went through a good selection of their hits and Petty's solo successes, though they took a while to get warmed up.
The set started off slowly, with the early single "Listen to Her Heart," followed by "You Don't Know How It Feels," "Breakdown" and Petty's solo hit "Free Fallin'." While the renditions were impeccable, the pace was languid, not that the packed house seemed to mind.
Petty ends up pushing all the right buttons
Boston Globe - June 20, 2005
MANSFIELD -- Tom Petty no longer rocks as consistently as he used to -- his shows were once famed for being front-to-back barnburners -- but he still has enough left to get the job done on a Saturday night.
A sold-out crowd of 19,900 fans saw Petty & the Heartbreakers pace themselves early in this two-hour performance, before erupting with the Petty euphoria of old. The flashing of strobe lights on "Don't Come Around Here No More" seemed to ignite the whole show from that point forward. The band then blistered into vintage hits "Refugee" and "Runnin' Down a Dream" (with guitarist Mike Campbell in overdrive), leading to encores of "You Wreck Me" (with fans pogoing wildly) and a free-spirited cover of Bob Dylan's "Rainy Day Women #12 & 35," with its immortal line, "Everybody must get stoned."
Summerfest Special: Petty delivers the genuine goods
By Gemma Tarlach
Milwaukee Journal-Sentinel - Saturday, July 2, 2005
Old pro gives a show with a glint in his eyes
Tom Petty didn't back down.
Petty and the Heartbreakers kept a promise to deliver a "genuine American rock 'n' roll show" to a sold-out crowd Friday night at the Marcus Amphitheater.
Petty's hour-plus set was short on innovation; even new songs from an upcoming CD, such as "Turn This Car Around," felt like comfortable old favorites. But who would want Petty to change his signature style of Southern-flavored rock, full of buttery guitars, sturdy beats and giant singalong choruses?
Black Crowes Soar as Tom Petty Simmers
By Dave McKenna
The Washington Post - Friday, July 29, 2005
The Black Crowes just aren't an opening act. The group founded and fronted by the recently reunited Robinson brothers dominated Wednesday's bill at Merriweather Post Pavilion.
The Crowes, who are using a slot as an opener for Tom Petty's current tour to end a four-year hiatus, appear to be leaving their boogie past behind and turning into a jam band. Singer Chris Robinson, whose stringy hair and bushy beard give him the Dirtball Jesus look that generations of rockers have desired, still has a fabulous, Steve Marriott-style blues shriek and all the stage moves an arena bandleader could want.
But on lengthy, Allman Brothers-style arrangements of deep album cuts such as "P.25 London" and "Wiser Time," the elder Robinson had little to do but dance barefoot as little brother-guitarist Rich Robinson and others in the eight-piece lineup worked the crowd into a state of rock-and-roll delirium.