Petty's Return Recalls Legacy Of Del Shannon
By Roger Catlin
Hartford Courant - September 19, 1991
The song was "Runnin' Down a Dream," a nod to Del Shannon, and Tom Petty and the Heartbreakers were performing it the last time they were at the Hartford Civic Center, Feb. 8, 1990.
It was the same night Del Shannon took his life.
Tom Petty Tour A Treat
By Roger Catlin
Hartford Courant - September 20, 1991
If there was any tension the last time Tom Petty and the Heartbreakers went out on tour, it was because Petty was enjoying the greatest success of his career due to his first solo album recorded without his band, which was nonetheless hired to help him out live.
Compared to that, this year's tour, which stopped at the Hartford Civic Center Thursday, is an absolute love-in. That was fitting with the trappings of '60s psychedelia, from the light show in the background to the thick headband on Petty's noggin.
Music Review: Petty pleases with grab bag of old, new
By Oria Swift
Meriden Record-Journal - September 20, 1991
HARTFORD -- "I think if you're gonna do this night after night," Tom Petty told the ravenous crowd at the Hartford Civic Center Thursday, "you've gotta have all the fun you can handle."
He wasn't kidding. With his goofy hat and childlike stage antics, the 40-year-old rocker has always displayed a penchant for theatrics. But the spectacle he presented Thursday surpassed many.
Sure, Bowie's got a big glass spider, and Neil Young had those human-sized barn rats. But Petty's stage boasted a bulging, creeping inflatable tree in which lived (among other monsters) a "psychedelic dragon" who dutifully brought him his harmonica on a silver tray. ("Just act normal," Petty advised. "He'll go away.")
Tom Petty Concert Relies on Gimmicks
By John Holzwarth
The Colgate Maroon - Tuesday, September 24, 1991
The psychedelic dragon, a gnarled old tree, and perhaps the coolest hat box I've ever seen made Tom Petty's performance in Albany Saturday night thoroughly enjoyable. Unfortunately, at times it seemed that it was the gimmicks that succeeded in spite of the performance, rather than the other way around.
Between a successful reunion album with the Heartbreakers -- Petty's bandmates since debuting in the mid-seventies -- and a massively popular solo album roughly two years ago, Petty should be riding high. Perhaps the success of these efforts raised expectations of the show beyond reason. But the band that took the stage at the Knickerbocker Arena could hardly pass for the band that has been thrilling rock fans with its studio work for so long.
After 15 years, rocker Tom Petty still his own man
By Gary Graff
The Baltimore Sun - September 25, 1991
Toward the end of their new album, "Into the Great Wide Open," Tom Petty and the Heartbreakers crank into the uppity, rockabilly beat of "Makin' Some Noise," a song that may be the closest to a declaration of purpose Mr. Petty has made:
"I had to rock the boat, I had to shake the tree/ To see what'd fall down on me/ I thought, Maybe I can make it if I never give in/ I been down before, I ain't going down again."
During 15 years of recording, Mr. Petty has never given in.
The 40-year-old rocker, who was scheduled to perform last night at the Capital Centre, has relentlessly created his own brand of rock, ignoring marketing and musical trends and personal travails.
"If you're not careful," Mr. Petty says, the music industry "can convince you that this is a career opportunity, like being a professional person. That's not the reason I came into it."
Tommy at the War Memorial
by Jack Hunter
The Oswegonian - September 26, 1991
Last Wednesday's concert at the War Memorial in Syracuse was my fourth time seeing Tom Petty and the Heartbreakers. Recalling the most recent show I saw, which was on the Full Moon Fever tour, I wasn't anticipating much. On that tour they played what were once unique arrangements of their songs but had long since lost any spontaneity and I saw the band simply going through the motions.
One of the unique aspects of a great rock 'n' roll band is that the whole is greater than the individual parks and if the chemistry is right, any given night can be a mystical experience. This in mine, I started the 45 minute drive south.
Naturally, the radio had a special which featured interviews and songs -- the type of thing to put you over the edge if you're still thinking about picking up a ticket. On the broadcast the band was saying that they were really going to be pushing the songs from their new release Into The Great Wide Open. This, of course, is something we've heard too many times and gives us premonitions of a boring show. Fortunately, though, exactly the opposite was true.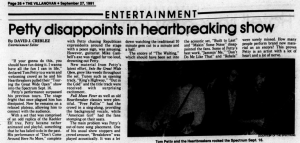 Editor's Note: The title of the article doesn't really fit. It's not really a negative review.
Petty disappoints in heartbreaking show
By David J. Criblez
The Villanovan - September 27, 1991
"If you're gonna do this, you should have fun doing it. I wanna have all the fun I can in life," declared Tom Petty to a warm and welcoming crowd as he and his Heartbreakers pulled their "Touring the Great Wide Open" show into the Spectrum Sept. 16.
Petty's performance surpassed his previous tours. The stage fright that once plagued him has dissipated. Now he remains on a relaxed plateau, allowing him to connect with the audience.
With a set that was comprised of an odd replica of the Keebler Elf tree, Petty became rather animated and playful, something that he has failed to do in the past. His performance of "Don't Come Around Here No More," complete with Petty chasing Republican expresidents around the stage with a peace sign, was amusing. However, guitarist Mike Campbell's axe was rigged far too loud, drowning out Petty.
Tom Petty | Brendan Byrne Arena
By Peter Watrous
The New York Times - October 17, 1991
Tom Petty's show at the Brendan Byrne Arena in East Rutherford, N.J., on Oct. 9 was easy enough to sink into. Mr. Petty, unlike many larger rock acts, makes soft, cloudlike music with a laziness to it that allows a listener to relax. And Mr. Petty, who is one of rock's more misanthropic songwriters, interspersed the show with vignettes; his stage was covered with odd things like candelabra, old trunks, a totem pole and a large anthropomorphic tree. Mr. Petty is an ironist, and while the show had a languid quality to it, cynicism and humor regularly nudged it toward a semblance of thought. It wasn't stupid, and in an arena, almost everything meant to have nuance becomes overblown and dumb.
Though Mr. Petty sounded at times as if he was singing through a pile of old socks, it was still clear that he has a gift for melodies. Using one of the best drawls in the business, accented with a touch of the adenoidal, Mr. Petty managed to make most of his songs sound sarcastic. Though he played a handful of tunes from his new record, "Into the Great Wide Open," which is nosediving off the charts, he quickly started rummaging through older pieces. He sang "I Won't Back Down," "Don't Come Around Here Anymore," "American Girl" and "Freefallin'," tunes that used their choruses to express an intellectual sensibilty.
Petty to be first on city's walk of fame
Gainesville Sun - October 22, 1991
Tom Petty and the Heartbreakers will be asked to put their hands in wet concrete to create Gainesville's version of the Hollywood Walk of Fame.
City commissioners Monday approved a plan to turn a sidewalk along W. University Avenue into a memorial to former residents who have achieved fame, starting with Petty and his band.
The rock 'n' roll superstar was born and raised in Gainesville. He assembled his first group, the Sundowners whole attending Howard Bishop Middle School. He graduated from Gainesville High School in 1968.