Tom Petty gets weird (and Tony likes it)
By Tony Jordon
The Lafayette - Friday, February 16, 1990
As the opening keyboard notes of "Love Is A Long Road" began, the audience could just make out the band members standing behind the translucent screen. The guitars banged in, the curtain rose, and Tom Petty and the Heartbreakers began another show on their More Strange Behavior tour.
The stage had the look of a twisted garage sale, with items such as a stuffed grizzly bear, a suit of armour, a totem pole, and a ram's skull placed on the boundaries of the stage. The band rolled through "Love Is A Long Road" and then began "A Mind With A Heart Of Its Own," another song from the phenomenal Full Moon Fever album.
After this, things began to get interesting. Petty has increasingly been experimenting with different musical styles on his tours and this night was no exception. The drummer, Stan Lynch, took over on vocals to do a little rockabilly number. Then Benmont Tench took his turn at center stage, playing rollicking boogie-woogie piano on a tune appropriately known as "Ben's Boogie."
It was then time for some drums. But this wasn't your typical rock concert drum solo. It seems that touring with the Grateful Dead and Bob Dylan in '85 had an affect on Mr. Petty. Each member of the band, except for Tom Petty, picked up a different percussion instrument. Mike Campbell (lead guitar) began playing an Indian-like string instrument with mallets, Howie Epstein (bass) played a kettle drum, and Tench and Lynch stayed on their respective instruments.
They produced a very mesmerizing sound and Petty returned to the stage looking very disoriented. He then proceeded to pick up two huge drumsticks and clanged right in on huge metallic sounding drums toward the back of the stage. This unexpected twist left many people looking as disoriented as T.P. The reason for this strangely psychedelic portion of the show soon began apparent as the band segued nicely into the trippy "Don't Come Around Here No More," complete with a liquid light show on the screens behind the stage. In all, it was a very weird and wonderful surprise.
Petty invades the Spectrum
By David L. Criblez
The Villanovan - February 16, 1990
Bo & Luke Duke, fear not, because America's favorite rebel, Tom Petty, is carrying on the southern tradition with his moonshine rock that seeped into the Philadelphia Spectrum Feb. 6.
The killer opening synthesizer made the hair ride on the necks of thousands of fans as the tune "Love Is A Long Road," from his multi-platinum disc Full Moon Fever, whipped the concert into a powerful early rage. "A Heart With A Mind Of Its Own," also from Fever, led as a nice bridge to the classic crowd sing-a-long "Breakdown," only to be backed up by two new classics "I Won't Back Down" and "Free Fallin'."
The rustic stage set was similar with the living room of Theodore Roosevelt, complete with a stuffed bear, mounted horns, a totem pole and wooden floor boards. It showed a special fresh-air feeling.
The evening's highlight was definitely the outstanding version of "Don't Come Around Here No More." The tune started with Petty opening up a treasure chest that gleamed with bright lights. He then pulled out his trademark Mad Hatter country-bumpkin top hat (from his infamous MTV video). The performance was complete with a strobe light and a climax that showed Petty staggering back to the treasure chest, plopping down the hat and slamming the chest shut, closing the song.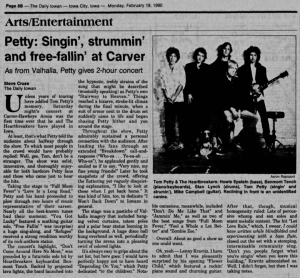 Petty: Singin', strummin' and free-fallin' at Carver
By Steve Cruse
The Daily Iowan - Monday, February 19, 1990
As from Valhalla, Petty gives 2-hour concert
Unless years of touring have addled Tom Petty's memory, Saturday night's concert at Carver-Hawkeye Arena was the first time ever that he and The Heartbreakers have played in Iowa.
At least, that's what Petty told the audience about halfway through the show. To which most people in the crowd would have probably replied: Well, gee, Tom, don't be a stranger. The show was solid, innovative, and thoroughly enjoyable for both hardcore Petty fans and those who came just to hear the hits.
Taking the stage to "Full Moon Fever"'s "Love Is a Long Road," Petty and his band proceeded to plow through two hours of music representative of their career. Nearly all the best-known tunes had their moment: "You Got Lucky" featured a scathing guitar solo, "Free Fallin'" was (surprise) a huge sing-along, and "Refugee" received a strong rendition worthy of its rock-anthem status.
The concert's highlight, "Don't Come Around Here No More," was preceded by a futuristic solo bit by Heartbreakers keyboardist Benmont Tench. Backed by projected lava lights, the band launched into the hypnotic, trebly strains of the song that might be described (musically speaking) as Petty's own "Stairway to Heaven." Things reached a bizarre, strobe-lit climax during the final minute, when a suit of armor next to the drum set suddenly came to life and began chasing Petty hither and yon around the stage.
Heartbreakers planning 1990 tour
By Gary Graff
Beaver County Times - February 21, 1990
The Heartbreakers thought their touring days were over for a while. They'd been on the road much of 1989 and were set to record a new album. So it came as a shock when leader Tom Petty announced a short tour for 1990.
"We thought we were done," says guitarist Mike Campbell. "It was a real surprise that Tom decided to go back out. Usually he's the first one who wants to go home."
Circumstance was to blame. Record producer Jeff Lynne, the former Electric Light Orchestra leader who worked with Petty in the Traveling Wilburys and on Petty's solo album, "Full Moon Fever," was busy finishing his own album. That meant he couldn't start work with the Heartbreakers on their first album as a group since 1987.
So Petty decided to hit the halls again. "I'm somewhat of a workaholic lately, constantly doing stuff," he says. "Maybe it's just more confidence."
Tom Petty Concert
By Maureen McGinn
Ocean City Sentinel-Ledger - February 22, 1990
The lights are dimmed, and a burst of energy fills the air. Slowly rising, the curtains show, the light shining on the musicians. A shadowy figure appears on stage, and reaches for his guitar. The chords begin to sing out of the instrument, and the rest of the band chimes in, Pulsating rhythms vibrate through the air, and chill the spectators to the bone.
On February 6, 1990, Tom Petty and The Heartbreakers gave an unforgettable performance at The Spectrum in Philadelphia. Kicking off the concert was Lenny Kravitz, who performed his peace bearing tune, "Let Love Rule," among others. The concert included hits from Petty's Full Moon Fever album, and previous hits such as "Stop Draggin' My Heart" and "Don't Come Around Here." After the electrifying performance, the audience demanded an encore. Tom Petty and The Heartbreakers gave their fans just what they expected—a night of musical celebration.
Grammys cap 'year of veterans'
By Andrew Lawler
The Red & Black - Thursday, February 22, 1990
Regardless of how the 32nd Grammy Awards turn out, this will be forever known as the year when "everything old was new again."
This was the year when rock and roll veterans, some with over 25 years of experience, returned with music as fresh as their first hits.
1989 saw ex-Eagle (and if all goes well future Eagle) Don Henley returning with his best work in years. "The End of the Innocence" was that rare creation, a critically acclaimed album, that sold lots and lots.
"Heartbreaker" Tom Petty weighed in with "Full Moon Fever," his most recent solo effort. "Fever" not only garnered Grammy nominations, but also helped put some quality videos back on MTV.
Petty was also recognized by Grammy for his work with "The Traveling Wilburys," the latest of rock's supergroups. The band, with over 200 cumulative years of rock experience, also features George Harrison, Bob Dylan, Jeff Lynne, and in almost his last performance, Roy Orbison.
If anything symbolized this year's Grammys, it was the return of, until John Lennon returns from Heaven, rock's greatest living group -- The Rolling Stones. The Stones released a best-selling album, went on a tour that's already grossed over 100 million dollars, and (although Grammy-less so far) were nominated for "Mixed Emotions," in the best rock vocal, duo or group category.
Tom Petty -- 'He's a good boy'
By Erich W. Zander
The Argus -- February 23, 1990
Rebel star rocks the Redbirds
As the lights brighten and the black valance is lifted we see a stage dotted with objects as eclectic as the crowd. A stuffed polar bear and a large totem pole with brightly painted birds flank the stage. Two very large African drums, a full suit of armor, an alligator, the skulls of two ruminants and a big black trunk find their place in a set straight out of theatre macabre. Plush red velvet curtains and sumptuous patterned fabrics in opulent lengths, draped the edges of the stage and to the rear a large ship's mast loomed and several screens awaited.
Suit accuses Petty of stealing song
The Free Lance-Star - March 3, 1990
LOS ANGELES -- A little-known songwriter has charged a lawsuit that singer Tom Petty copied the music for the song "Runnin' Down a Dream" from an album recorded 14 years ago by the songwriter.
The song appears on Petty's current hit album "Full Moon Fever," which has sold more than 3 million copies and earned a Grammy nomination for best album of 1989.
In a suit filed Wednesday in Los Angeles federal court, Martin Allen Fine of Marina de Rey claimed that "Runnin' Down a Dream" contained music "identical" to "Ascending," a song Fine said he wrote and recorded in 1976.
Besides Petty, the suit names rock musician Jeff Lynne and Mike Campbell, lead guitarist for Tom Petty and the Heartbreakers, as well as Warner Bros. Music Corp, MCA Records, Inc. and two other record companies.
In a joint statement, managers for Petty, Campbell and Lynne said the lawsuit is without merit.
Pop Music Review: Tom Petty Presents an Artistry All His Own
By Chris Willman
The Los Angeles Times - March 3, 1990
Rock summit: Though he was joined by Springsteen and Dylan at the Forum, the veteran rocker wasn't overmatched.
Tom Petty has arrived at that summit of stardom where, when joined in encore Thursday at the Forum by what in rock terms amounts to a visitation from the gods--Bob Dylan and Bruce Springsteen--he didn't seem outranked. This, as far as the crowd was concerned, was a meeting of equals.
It's the characteristics he shares with both those now-contemporaries which make him, in turn, a unique figure. Petty is like Springsteen in his eagerness to please a crowd, sociably playing almost all the favorites with a very tight, vigorous band--the Heartbreakers, of course--and coddling them with compliments and sing-alongs.