Record Review: Life in the wasteland
By Jon Healey
The Daily Princetonian - November 16, 1979
In the wake of the second British invasion, led by the likes of Elvis Costello, a number of new, talented American groups have developed unnoticed. Two such groups are Tom Petty and the Heartbreakers and Jules and the Polar Bears, both of whom have released new albums, Damn the Torpedoes and Fenetiks, respectively. These albums demonstrate just how much both groups deserve attention, for they are remarkably entertaining and insightful as well.
The world of Torpedoes, Petty's third album, is bleak, but not without means to salvation. The secret to living in a hopeless world, Petty contends, is to find out who ones' friends are, and to order ones' world accordingly. Petty seeks order, but prefers to let matters sort themselves out: "Let me know when you're finished with me/What you want me to be/Baby you tell me." Torpedoes thus represents Petty's attempt to tie up his loose ends and make sense of what he has left.
Petty's efforts tend to be more than just songs. They are also anthems, hymns to those who save themselves: "Somebody must have kicked you around some/Tell me why you would lay there reveling in your abandon ... You see you don't have to live like a refugee."
Sound Ideas: Petty challenges The Boss
By Marty Racine
The Milwaukee Sentinel - Friday, November 16, 1979
The term 'New Wave' is applied not only to a definitive style of rock 'n' roll -- definitions too big for this discussion -- but also to that branch of rock which is fresh, urgent, off the streets, lyrically "meaningful," new, honest, daring -- interesting.
Bruce Springsteen, for example, is not readily categorized as New Wave because of his mass appeal and at times lengthy songs, but under the above descriptions he is and so are Tom Petty & the Heartbreakers and the Police.
---
 Tom Petty's third album, "Damn the Torpedoes" (MCA 5105), will go down as one of this year's blockbusters, an album that makes you take notice. Already it's showing up on virtually evey FM rock (AOR) playlist in the country. Big radio sellers are not usually unique works, but in this case the attention is justified.
Petty, as was Springsteen in his early days, has been a "cult" artist through his first two LPs, which is an euphemism for someone who doesn't have a big following. "Cult" also connotes an overlooked talent, and there are those who feel Petty is rock 'n' roll.
Tom Petty has rock 'n' roll in his veins
By Steve Morse
Boston Globe - Wednesday, November 21, 1979
TOM PETTY & THE HEARTBREAKERS — In concert at the Orpheum on Monday.
Under the shadowed lights, his face was gaunt and pale though his blond shag looked as bright as a headlight in the darkness. Tom Petty, specter-thin and confessing he was "high on antibiotics," had come at least to Boston, ending a chain of poseponements that had dragged on for more than a week.
"I called my mother on the phone today," Petty told the jammed, SRO Orpheum crowd. "And she said, where are you? I said 'Boston—Rock City, USA.' And she said, it's about time."
Full Speed Ahead for Tom Petty
By Jane Scott
Cleveland Plain Dealer - November 21, 1979
"I'm high on antibiotics tonight," lead singer Tom Petty apologized to the Palace audience Saturday night.
Well, that made it even. The sell-out crowd was getting high on Tom Petty and the Heartbreakers' hard-driving and exuberant songs.
True, Petty's voice was a little rougher and raspier than usual (the group canceled its Wednesday Boston gig because of his sore throat) but somehow Petty sounded more interesting because of it.
Petty is that skinny blond from Gainesville, Fla., with blunt bangs, high cheek bones, prominent teeth, a red kerchief around his neck, a fast-moving guitar and traveling feet.
He stalked around the stage like a hunter, moved up toward the front at times, sat on an amp, and at the end, jumped high in the air and twirled around a dozen times. Yet his movements never distracted from the music.
People call the Petty partners new wave. Fair enough. But the music is much more. The Petty pattern is hard rock, softer songs with bouncy melodies, catchy toe-tappers, a touch of the blues and just plain good jamming.
Clubbing it: Raves for Petty and dynamite rock
By Ted Drozdowski
Meriden Morning Record and Journal - Saturday, November 24, 1979
A PETTY TOUR -- Tom Petty is the best young singer/songwriter in American rock and roll.
Petty and the Heartbreakers, his four-man band, launched their first major U.S. tour on Nov. 11 with a show at the Palladium on New York City's 14th Street that had enough raw energy to light up Manhattan, give or take a few Blimpie stands.
Petty is the most significant artist to rise on the popularity of New Wave, although his music is simply dynamite rock. His lyrics have the expressive elegance of an Elvis Costello without the strangulation of bitter anti-Semitism and woman-hatred. Petty also pens hooks twice as infectious as the big E's and the Heartbreakers revved-up sound recalls the Stones at their rowdiest.
Tom Petty and the Heartbreakers have had a cult following since late 1976, when "Tom Petty and the Heartbreakers" was released on the Shelter label. The album just did not get any airplay anywhere, despite its amazing strength. Those lucky enough to stumble upon the new group discovered the freshest rock on the street brought to a focus by Petty's pleading voice and Heartbreaker Mike Campbell's hellfire lead guitar.
Read more: Meriden Morning Record and Journal - November 24, 1979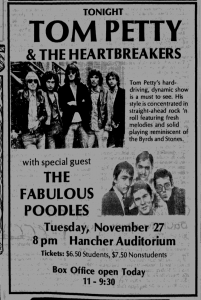 The Heartbreakers bring rock 'n' roll back to Iowa City
By J. Christenson
The Daily Iowan - Tuesday, November 27, 1979
Tom Petty and the Heartbreakers will bring infectious rock 'n' roll to Iowa City when they play at Hancher Auditorium tonight at 8 p.m.
Rock/Pop Records: Damn! Submerged in anonymity
By Vaughn Palmer
The Vancouver Sun - Friday, November 30, 1979
Damn the Torpedoes/Tom Petty and the Heartbreakers (Backstreet). This guy does not deserve to languish on two-bit record labels. Petty's first two records (Tom Petty and the Heartbreakers and You're Gonna Get It), among the best albums released in the late '70s, suffered from under-exposure and under-promotion.
Bankruptcy brought the Floridan a new label, but alas it is a division of MCA which has a spotty track record (Elton John excepted) and which recently folded its spanking new Infinity label.
So Petty's third, Damn the Torpedoes, will probably go unnoticed, except by those who are determined to ferret out the best damn Byrds-style rock and roll since the Byrds. Which this is -- again.
Two Nights, Two Bands
By Stephen Moniak
The Mass Media -- December 4, 1979
Friday night at the Paradise Theater. It's only ten o'clock, but despite the chilling cold, people are already queuing up for the eleven o'clock show. Tonight's twinbill features Ultravox, an English new wave band beset with personnel and identity problems. But listening to the conversation outside the door leaves no doubt as to tonight's main attraction. Everyone wants to see the Motels.
Or they at least want to check out Martha Davis, whose erotic vocal has catapulted "Dressing Up" into a surprising FM hit. On the radio Martha sounds just like a little girl whose found life exciting on the stange side of the tracks. In "Dressing Up" she coos, purrs, and pouts through lyrics which both bare and celebrate the neurotic egotism of fashion junkies. At times, in the intimacy of her vocals, she sounds like she's whispering in your ear.
Petty 'Damns the Torpedoes'
By Bill Osterbrock
The Daily Sundial - Friday, December 7, 1979
With the release of Damn the Torpedoes, Tom Petty appears ready to take his place as one of the top rock'n'roll acts in the United States.
The new album, which was mired in the legal hassles which developed between Petty and his record companies, is much more accessible than either of his first two efforts.
Damn the Torpedoes also shows some of the feelings which went through Petty's head when he was in the midst of the court hearings, with lines like, "When I got that little girl by my side I can tell the whole wide world to shove it," from "Here Comes My Girl" on the first side.
The whole legal business began while Petty was working on Damn the Torpedoes when ABC (his old label) was bought out by MCA. Instead of accepting the change in labels, Petty told MCA that his contract with ABC was non-transferable and a long court battle ensued in which Petty was away from the studio and in meetings with lawyers.