Ridin' with the king
By LeRoi
KC Pitch -- July 1987
Tom Petty and the Heartbreakers | ★★★★★ | "Let Me Up (I've Had Enough) | MCA 5836 | $8.98 list | Produced by Tom Petty and Mike Campbell
I must admit I've pretty much written Petty off the last few years. I felt he was a prime example of the "well-fed artist" syndrome. Well let me tell you, this record was a slap in the face. It's solid, straight-ahead rock, much more in line with his earlier work. I really recommend giving this one a shot.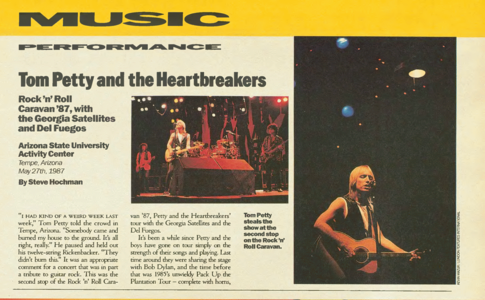 Music Performance
By Steve Hochman
Rolling Stone #504 -- July 16, 1987
Tom Petty and the Heartbreakers | Rock 'n' Roll Caravan '87, with the Georgia Satellites and Del Fuegos | Arizona State University Activity Center | Tempe, Arizona -- May 27, 1987
"I had kind of a weird week last week," Tom Petty told the crowd. "Somebody came and burned my house to the ground. It's all right, really." He paused and held out his twelve-string Rickenbacker. "They didn't burn this." It was an appropriate comment for a concert that was in part a tribute to guitar rock. This was the second stop of the Rock 'n' Roll Caravan '87, Petty and the Heartbreakers' tour with the Georgia Satellites and the Del Fuegos.
Editor's Note: The sideways page was actually sideways in the page - not a scanning error!
Fulfilling Hard Promises
By Mike Hammer
RockBill -- August 1987
Why do people always have to screw around with the best things in life?
Vandalism mars some of the finer buildings and artworks in our cities. Our parks are strewn with garbage and crimes waiting to happen. Somebody shot John Lennon.
Now, they've burned Tom Petty's house to the ground.
Oh, and by the way, whoever did it could've killed him. Petty and his family happened to be inside when the structure was set ablaze.
Nice stuff, huh. Here's a guy who's given us some of the best hard-nosed rock 'n' roll of the last 10 years, and somebody turns his private life into a charred black patch on a Southern California field.
Record
By Bob Darden
Exploring -- September 1987
TOM PETTY AND THE HEARTBREAKERS | "Let Me Up (I've Had Enough)" | MCA Records 5836
"Let Me Up (I've Had Enough)" is the latest release from Tom Petty and the Heartbreakers.
Petty & Co. comprise one of the most underrated musical aggregations in American popular music. Their albums "Southern Accents" and "Damn the Torpedoes" (from 1979) are genuine rock-era classics. The Heartbreakers have also produced a fistful of hit singles, including "The Waiting," "Refugee," "You Got Lucky," and "Don't Come Around Here No More."
Too many people don't take Petty and the Heartbreakers seriously because 1. they're from the South and 2. they take chances. You can't do much about where you're born, and I don't think the band is too concerned with No. 2.
Tom Petty: Walkin' Like an Egyptian
Rolling Stone #511 -- October 22, 1987
Tom Petty brought his entire brood along for MTV's Rock and Roll Caravan. Two winners got to join Petty and the Heartbreakers on a tour of Egypt and Israel that included a Nile cruise and the Bob Dylan-Petty show in Tel Aviv. A high point of the trip was a visit to the Great Pyramid at Giza. "The sound inside is so fantastic, maybe we should do our next album there," said Petty after visiting the monument's cavernous interior.
Let Me Up (I've Had Enough) | Tom Petty and the Heartbreakers | MCA
Rolling Stone #515 -- December 17, 1987
With 'Let Me Up,' Petty and his Heartbreakers broke out of their Southern Accents studio slump in fine crackling-guitar style, no small thanks to the remedial garage-band training they got backing up Bob Dylan on tour the year before. "Think About Me" and "Jammin' Me" recalled the bar-band whack of the band's earliest records; more tempered tunes, like "Runaway Trains," with its gentle folk-rock jangle, still bristled with a refreshing immediacy, courtesy of the no-frills, no-froth production, by Petty and lead guitarist Mike Campbell. Funny title for the record, though -- too much of this kind of Petty is never enough.
Notable News
Rolling Stone #528 -- June 16, 1988
Dylan also got together with George Harrison, Tom Petty, Jeff Lynne and Roy Orbison to record "Handle With Care." The song, which all five wrote, will be released only on a Harrison single in Europe. "It has a Dylan flavor," reports Orbison. "George is singing the verses, but it has all of us in it." Now Harrison, Petty and Lynne are working on a song for Orbison's upcoming album on Virgin Records.
Music In Brief: Petty goes it alone on new album
By Anthony DeCurtis
Rolling Stone #529 -- June 30, 1988
Tom Petty has completed his first solo album, titled Songs from the Garage, the record was produced by Petty, Heartbreakers guitarist Mike Campbell and Jeff Lynne, the former ELO guitarist who handled the board for George Harrison's Cloud Nine. Harrison plays guitars on one track, and Roy Orbison sings backgrond vocals on another. The record is set for a July release, with a single -- as yet unchosen -- probably coming sometime sooner. Petty has no plans for a tour to support the album; he will begin work on a record with the Heartbreakers later this year.
Supergroup: The Traveling Wilburys
By Shelia Rogers
Rolling Stone #539 -- November 17, 1988
What do you get when you put Bob Dylan, George Harrison, Jeff Lynne, Roy Orbison and Tom Petty in the same room? You get the Wilburys -- the Traveling Wilburys, to be more precise.
The story goes that last spring Orbison and Petty were over at Lynne's house, in L.A., working on their respective albums (both of which Lynne is producing), when Harrison dropped by. They went to dinner that night, and when George mentioned that he needed an additional track for a European EP, everyone agreed to help out. Then George suggested they all go over to Bob's house. "I didn't know who Bob was," said Orbison. "It turned out to be Bob Dylan." The following day, at Dylan's, they recorded the song "Handle with Care." That number turned out so well that they decided to make an entire album. The group spent the next few weeks writing songs and laying down tracks in the recording studio at Dave Stewart's house.