Meet the Heartbreakers: Boys in Tom Petty's band
by Scott Benarde
The Tuscaloosa News - Thursday, October 24, 1991
They've performed before thousands of people, co-written hit songs and helped sell millions of records. They have appeared on TV, heard their collective name trumpeted on radio and seen it a thousand times in the press.
Probably few in their audiences, however, could name the members of what is considered one of the best rock bands in the world. The boys in this band could walk down the street unrecognized, without being asked for autographs, without bodyguards. That's because fearless leader Tom Petty gets nearly all the limelight.
Meet the Heartbreakers: guitarist Mike Campbell, drummer Stan Lynch, keyboard player Benmont Tench, and bassist Howie Epstein.
Petty And The Heartbreakers Pump It Up After Slow Start
By Parry Gettelman
Orlando Sentinel - October 26, 1991
Tom Petty and the Heartbreakers weren't at their absolute fieriest at the Orlando Arena Friday night. Fortunately, even a lesser Heartbreakers show is better than most band's best.
The Heartbreakers have set a high standard for themselves, especially with their last show at the arena. Curiously, the group seemed to have more zest when it was touring behind Petty's solo album, rather than a true Heartbreakers release. (Full Moon Fever did have stronger songs than the current Into the Great Wide Open.)
Petty got the concert off to a relatively low-key start with two new songs, "Kings Highway" and "Too Good to Be True." The resolute "I Won't Back Down," from Full Moon Fever, got the near-sellout crowd going, but the band's generators didn't kick into full power until the the hard-rocking "Out in the Cold," the best of the new songs.
Petty makes concrete history
By Bill DeYoung
Gainesville Sun - October 27, 1991
Tom Petty capped a day of reminiscences and hometown honors Saturday with an electrifying performance in the O'Connell Center.
The 41-year-old rock 'n' roll superstar, after being feted with the key to the city, and putting his hands in wet cement for the cornerstone of Gainesville's upcoming Walk of Fame, paid his local fans back, with interest, in a warm and welcome two-hour concert.
Both Alachua County and the city of Gainesville proclaimed Saturday "Tom Petty and the Heartbreakers Day," an honor Petty and his four-man band took quite seriously.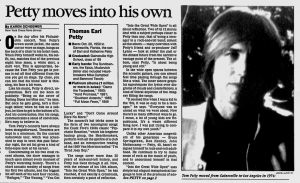 Petty moves into his own
By Karen Schoemer
Gainesville Sun - Wednesday, October 30, 1991
On the day after his Philadelphia concert, Tom Petty's brown suede jacket, the same one he wore on stage, hangs on the back of a chair in his hotel room. When Petty himself walks in, his outfit, too, matches that of the previous night: blue jeans, a white shirt, a dark vest. This is appropriate, because the Tom Petty you get in person is not all that different from the one you get on stage. Up close, you can see that his blond hair is thinning, his face a bit worn.
Like his music, Petty is direct, unpretentious. He's not too keen on publicity: "Being on the cover of Rolling Stone terrifies me," he says. But once he gets going, he's a thorough talker; when he hits on a subject, he likes to get to the bottom of it. And his conversation, like his songs, communicates a sense of conviction. He's easy to believe in.
Petty animated, but concert shows gimmicks
By Marty Racine
Houston Chronicle - Friday, November 1, 1991
Tom Petty closed the Cynthia Woods Mitchell Pavilion in The Woodlands for the season with a two-hour set that fluctuated between greatness and gimmickry.
Autumn arrived just in time Wednesday night to make the outdoor concert a pleasant experience. It was a blowout before a near-capacity bunch of rowdies.
Internal combustion liquids seemed preferred, judging from the behavior on the hill, where one fan took general admission seating to heart and went tumbling backward about 30 feet into a trash can before somersaulting to his feet and calling for more beer.
Ah, yes, rock 'n' roll, don't you just love it? Tom Petty does.
Steve Anderson's Compact Disc Reviews
By Steve Anderson
The California Tech - November 8, 1991
Rating System: After stating the author, title and publication information, I give the dollar amount that I would pay for the CD if I were going to buy it.
Tom Petty and the Heartbreakers | Into the Great Wide Open | (c) 1991 MCA Records Inc. | $4.50
Those few Techers among you who listen to modern radio stations will certainly recognize some of the tracks on this album, especially "Learning to Fly," the first track. While the singing and the instrumentals on that track are first-rate, the melodies are a little vacuous and repetitive. I have to say that I far and away prefer the Pink Floyd song of the same name.
Tom Petty and the Heartbreakers are still rocking after 15 years
By David Whittaker
Round Up - Friday, November 8, 1991
Wednesday night at the Pan American Center, Tom Petty and the Heartbreakers proved that rock and roll is still alive.
Performing on a massive stage set that had a giant inflatable tree, complete with a stairwell and a door, a suit of armor and chandelier over the crowd, Petty and the band performed a hit-filed set that sustained the audiences interest throughout.
Celebrating 15 years together, the Heartbreakers, Mike Campbell on guitars and mandolin, Stan Lynch on drums, Benchmont Tench on keyboards and bassist/acoustic guitarist Howie Epstein, showed that the passage of time has not distinguished their fire on stage. The band was as tight as a wet suit on a Sports Illustrated cover girl. There were no signs of road wear on the band.
POP MUSIC REVIEW : Heartbreakers Still Makin' Some Noise
By Mike Boehm
The Los Angeles Times - November 11, 1991
If backing bands could sue stars for neglect, the Heartbreakers might have a case against Tom Petty.
Tom Petty & the Heartbreakers hasn't truly existed on record since 1987's "Let Me Up (I've Had Enough)." The current "Into the Great Wide Open" is a Heartbreakers album in name only. Like Petty's 1989 solo album "Full Moon Fever," it bears the production imprint of Petty's fellow Traveling Wilbury Jeff Lynne, with all the fastidious sound-tailoring that implies.
The question on Saturday at the Pacific Amphitheatre in Costa Mesa was whether Tom Petty & the Heartbreakers could still play like Tom Petty & the Heartbreakers.
Reviews: 'Great Wide Open' has message worth hearing
By Amy Fisher
Florence Times Daily - November 13, 1991
Music videos give us images to watch along with the music we love to hear.
The portray the singers and musicians of the songs engaging in live performances or lip-syncing along to a seldom-related story line.
Even though I am a big fan of music videos of all kinds, few actually have a complete story that goes with the lyrics of the song, start to finish.