Random Notes
Rolling Stone #697 - December 15, 1994
Pete Droge's run at the Viper Room, in West Hollywood, Calif., drew Tom Petty, busy guy Mike McCready of Pearl Jam and the Wallflowers' Jakob Dylan, who joined Droge for "People Get Ready" and "Sway." "Ironically, during sound check, we tried to do a Petty tune, 'I Won't Back Down,'" says Droge. "We butchered it. I'm glad we didn't pursue that further -- it would've been horribly embarrassing because Tom was actually there."
Tom Petty | Wildflowers | Warner Bros
Review by Jim Greer
SPIN - January 1995
I had intended to download "You Don't Know How It Feels" off Tom Petty's latest album (second solo record, I guess, although distinguishing either of those from Heartbreaker-associated efforts seems close to pointless, unless you happen to be a Heartbreaker) from America Online, but when I found the process would take "approximately 1.3 hours," I decided just to listen to the tape a few more times. Although I wondered if something as organic as listening to a Tom Petty album would be altered significantly by hearing it trickle tinnily from my ancient Mac SE, it turned out to not really matter; I had just as hard a time trying to hear the record through the mechanical precision of Rick Rubin's production.
VH1 Viewers Get 1st Dibs On Petty Tickets In 40 Cities
By Deborah Russell
Billboard - January 21, 1995
LOS ANGELES -- VH1 reviews will have the first access to 16,000 Tom Petty concert tickets, which will be sold exclusively on the music network before being released to the general public.
On Friday (20), VH1 and TicketMaster will link to sell some 400 tickets in each of the 40 U.S. markets booked for Petty's 1995 world tour. Tickets will be sold during a live, one-hour program devoted to Petty's tour, which kicks off Feb. 28. Each caller will be able to purchase up to four tickets, and if the tickets are not sold out within the hour, they will continue to be sold through VH1.
The "VH1 Tickets First: The Tom Petty 1995 World Concert Tour" program airs Friday at 9 p.m. (EST). The show is independent of the MTV Networks' home-shopping series "The Goods," and it marks the first time tickets are being sold on ticket prior to their general release to the public.
Keepin' The Beat
Billboard - January 28, 1995
Celebrating International Drum Month, Rockline recently brought in a host of skin smackers. Pictured, from left, at Alex Van Valen, Matt Sorum of Guns N' Roses, ex-Heartbreaker Stan Lynch, Chad Smith of the Red Hit Chili Peppers, and former Pearl Jam member Dave Abbruzzese.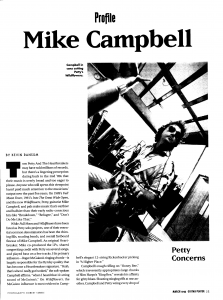 Profile: Mike Campbell
By Kevin Ransom
Guitar Player - March 1995
Petty Concerns
Tom Petty And The Heartbreakers may have sold millions of records, but there's a lingering perception dating back to the mid '80s that their music is overly broad and too eager to please. Anyone who still spews this viewpoint hasn't paid much attention to the musicians' output over the last five years. On 1989's Full Moon Fever, 1991's Into The Great Wide Open, and the new Wildflowers, Petty, guitarist Mike Campbell, and pals make music that's earthier and ballsier than their early radio-conscious hits like "Breakdown," "Refugee," and "Don't Do Me Like That."
Acoustics Wilt Petty
By John Metzger
The Music Box - March 1995
This was my first visit to the newly constructed United Center, and hopefully there won't be many more visits in the future. While the layout is nice, the acoustics are abominable. Built to amplify the crowd noise at a sporting event, this stadium should NOT be used as a concert venue. At times, the crowd was so loud, it was nearly impossible to hear Tom Petty and the Heartbreakers.
As for the show, Petty and company blasted out a number of songs in a greatest hits fashion. Much to my disappointment, most of the songs were played note for note off the albums. The highlights were Mary Jane's Last Dance and It's Good to Be King which showed how good Petty and his band can be. These songs were given a Crazy Horse, feedback-laden touch with some lengthy guitar duets from Petty and Mike Campbell.
Single File
By James Hunter
Vibe - March 1995
Tom Petty's "You Don't Know How It Feels (Warner Bros.) offers up last year's best rock sonics, as well as some brilliant self-pity; he reinvents his youth with a tune that's in-your-face and shy at the same time.
Tom Petty On the Road: This is how it feels
By Fred Schruers
Rolling Stone #707 - May 4, 1995
"That's all we need is another dog onstage." Tom Petty's calm drawl has just gone as thick as black smoke from a smudge pot. Petty is standing midstage in the indoor twilight of his late-afternoon sound check in an aging arena at the University of Notre Dame, in Indiana. Even as he says it, Petty can't quite throttle the conspiratorial smile we know so well from the videos. How many platinum-selling bandleaders get to address this issue?
The Beat: For Petty's Sake: Another Boxed Set?
By Melinda Newman
Billboard - November 18, 1995
THIS AND THAT: "Playback 1973-1993," a six-CD/cassette boxed set chronicling Tom Petty's career will come out later this month. The package contains material through Tom Petty & the Heartbreakers' greatest hits. Unlike some sets that offer only a few previously unavailable tracks, this collection is a veritable treasure trove for true Petty fans. One disc contains 15 B-sides, none of which were available in the U.S. before npw; another disc includes previously unreleased performances; while a third disc contains unreleased recorded material not released previously.