Random Notes: Bob Dylan is a real Heartbreaker
By Merle Ginsberg
Rolling Stone #468 -- February 27, 1986
Bob Dylan just won't stop draggin' those hearts around. He liked playing with Tom Petty and the Heartbreakers at Farm Aid so much he decided to take a little working vacation with the band for six weeks -- to New Zealand, Australia and Japan. Dylan thought the Heartbreakers were just about the best band he's ever played with, and the tour wasn't that hard to arrange, since Dylan's manager and Petty's manager are partners. Petty and the Heartbreakers are spending most of February and March -- which is summer down under -- backing Dylan, and they'll also play their own sets at each gig. U.S. dates are being discussed, but if those plans fall through, you should get to see highlights of the tour via either a movie, a television special or a home video -- are all being bruited about.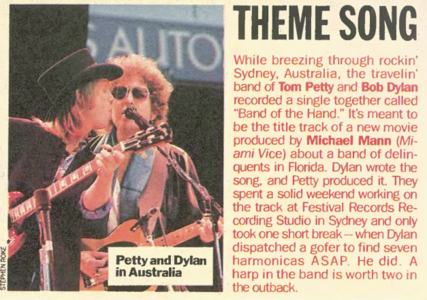 Random Notes: Theme Song
Rolling Stone #470 -- March 27, 1986
While breezing through rockin' Sydney, Australia, the travelin' band of Tom Petty and Bob Dylan recorded a single together called "Band of the Hand." It's meant to be the title track of a new movie produced by Michael Mann (Miami Vice) about a band of delinquents in Florida. Dylan wrote the song, and Petty produced it. They spent a solid weekend working on the track at Festival Records Recording Studio in Sydney and only took one short break -- when Dylan dispatched a gofer to find seven harmonicas ASAP. He did. A harp in the band is worth two in the outback.
Rhythm & Blues
By Nelson George
Billboard -- May 10, 1986
Tom Petty gets flagged for 'Plantation' mentality
A controversial but healthy outgrowth of the film version of "The Color Purple" has been increased concern with the image of black Americans in the media. The depiction of any minority in the mass media is of great concern since, as history as shown, distorted images can have far-reaching social, economic, and psychological impact on the victims of the distortion -- and on its creators.
It was in that spirit that "The Color Purple" was attacked by many blacks. It was in that spirit that this column complained about the Rolling Stones' video for "Harlem Shuffle." Paul Simon's witty observation that one man's ceiling is another man's floor is worth remembering here, since the perspective one uses in receiving images is often as important as what the creator of those images intended. Which brings us to The Black Rock Coalition, a New York-based group of musicians, writers, and plain old music lovers, which recently sent a letter to several publications and to Tom Petty's manager, Elliot Roberts, about the title of Petty's current album. "Pack Up the Plantation," and his use of the Confederate flag in his stage show.
Dylan, Petty to play twenty-two cities
By Steve Pond
Rolling Stone #474 -- May 22, 1986
Bob Dylan and Tom Petty have formally announced plans for a tour that will take them to twenty-two U.S. cities during June and July. The tour -- which will feature Petty and the Heartbreakers backing Dylan and also performing their own material -- will begin June 9th in San Diego and head east, stopping mainly at indoor arenas and summer theaters. Two shows will be presented in San Francisco (June 13th and 14th, at the Greek Theater), the Los Angeles area (June 16th and 17th, at the Pacific Amphitheatre in Costa Mesa) and New York (June 15th and 16th, at Madison Square Garden).
As reported in the last issue of Rolling Stone, the duo will also play four stadium dates with the Grateful Dead: Minneapolis (June 26th, at the Hubert H. Humphrey Metrodome), Akron (July 2nd, at the Rubber Bowl), Buffalo (July 4th, at Rich Stadium) and Washington, D.C. (July 6th, at RFK Stadium). The U.S. leg of the tour -- which comes on the heels of a trek through Australasia -- is slated to wind up in Philadelphia, at the Spectrum on July 19th. But more dates may be added, according to Tony Dimitirades, Petty's comanager. European dates have not yet been confirmed, but Dimitriades said, "This tour might not end until 1988."
The shows were announced at a Los Angeles press conference attended by Dylan and Petty. Both looked bored; neither had much to say. When asked how the tour came about, Dylan said, "We just felt like it." Asked what it was that brought them together, Petty said, "Money."
Records: Live Albums
By Denny Angelle
Boys' Life -- July 1986
Pack Up The Plantation by Tom Petty and the Heartbreakers (MCA): Tom Petty's snarling, Southern rock voice saves the day on this double-record set.
This 16-song set, recorded on tour in 1985, is really a greatest-hits collection disguised as a live record. But that really doesn't matter, because these versions of Petty favorites like "The Waiting" and "American Girl" are performed with pedal-to-the-metal power. On every cut, the Heartbreakers pour out thunder behind Petty's rough, emotional singing.
Petty and company toss in a few rejuvenated moldy oldies to further energize the party. The best of these are "Shout," an Isley Brothers rocker from 1962, and "Needles and Pins," a duet with Stevie Nicks.
This record reveals why Tom Petty has such a huge following. Even a predictable live show blasts off when jump-started by Tom's remarkable singing. That alone puts him in a league with Bruce Springsteen and Bob Seger.
Dylan on HBO: A concert curio
By David Fricke
Rolling Stone #478 -- July 17, 1986
"I'm gonna do a song about my hero," Bob Dylan announces at the beginning of Bob Dylan in Concert, which made its debut June 21st on Home Box Office. Then he leads Tom Petty and the Heartbreakers into a gloomy, foreboding rendition of "In the Garden," from his 1980 pulpit-pounding album, Saved.
A nonhit from one of Dylan's least popular abums, raising once again the specter of his zealous Bob-the-Baptist period, it is a curious way to kick off his latest television special. And Bob Dylan in Concert, a one-hour performance movie filmed February 24th and 25th at the Sydney Entertainment Center during the Dylan-Petty tour of Australia, is every bit as unpredictable as its star. Gillian Armstrong, the Australian director best known for her evocative dramatic features My Brilliant Career and Mrs. Soffel, inexplicably shot Dylan's Sydney shows in a flat rockumentary style that visually blunts the kinetic surge of Dylan, Petty and the Heartbreakers as they rev up ancient history like "Knocking on Heaven's Door" and "Like a Rolling Stone." The songs performed are an odd lot, ranging from "Just Like a Woman" and a rusty but tender acoustic "Girl from the North Country" to the Empire Burlesque ballad "I'll Remember You," and the funereal "Lenny Bruce," from Shot of Love.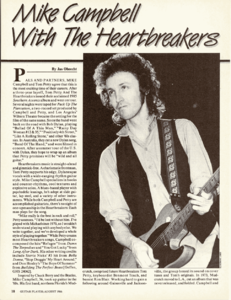 Mike Campbell With The Heartbreakers
By Jas Obrecht
Guitar Player -- August 1986
Pals and partners, Mike Campbell and Tom Petty agree that this is the most exciting time of their careers. After a three-year layoff, Tom Petty And The Heartbreakers issued their acclaimed 1985 Southern Accents album and went on tour. Several nights were taped for Pack Up The Plantation, a two-record set produced by Campbell and Petty, and Los Angeles' Wiltern Theater became the setting for the film of the same name. Soon the band went back on the road with Bob Dylan, playing "Ballad Of A Thin Man," "Rain Day Woman #12 & 35," "Positively 4th Street," "Like A Rolling Stone," and other '60s classics. In Australia, they cut a new Dylan song, "Band Of The Hand," and were filmed in concert. After a summer tour of the U.S. with Dylan, they hope to wrap up an album that Petty promises will be "wild and all guitar."
Heartbreakers music is straight-ahead and gimmick-free. A charismatic frontman, Tom Petty supports his edgy, Dylanesque vocals with a wide-ranging rhythm guitar style. Mike Campbell specializes in hooks and counter-rhythms, cool textures and explosive solos. A blues-based player with psychedelic leanings, he's adept at slide guitar, lap steel, and a variety of other instruments. While both Campbell and Petty are accomplished guitarists, there's no sight of one-upmanship in the Heartbreakers: Each man plays for the song.
Avenue reviews
By Bill Shapiro
KC Pitch - August 1986
Bob Dylan | A- | Knocked Out Loaded | CHS 40439 | $9.98 list
Side one of Dylan's latest is a bit of a disappointment, but side two is a knockout. The second side opens with "Brownsville Girl," an 11-minute epic which Dylan wrote with actor/playwright Sam Shepard. It captures the majesty of Dylan and is an eloquent testimonial to America's recent past. This one is followed with "Got My Mind Made Up," co-written with Tom Petty and played with obvious enthusiasm.
The record closes with a cut Dylan wrote with the highly unlikely Carol Bayer Sager. It seems that even on the weakest of Dylan's albums there is always one extraordinary song that reaffirms his unique genius. And while there is other strong material on this LP, "Under Your Spell" is the absolute stunner, ranging as it does through '40s pop sensibilities to gospel and r&b and closing with yet another Dylan lyrical irony.
Knocked Out Loaded is not a great Dylan album. (Something of its diversity reminds me a bit of Self Portrait.) But there is only one Bob Dylan and this release is a worthwhile addition to an amazing body of work.
Singles: Bite This!
Column by John Leland
SPIN -- August 1986
Bob Dylan with the Heartbreakers: "Band of the Hand" b/w Michael Rubini: "Theme from Joe's Death" (MCA)
"Down on these streets the fools rule/There's no freedom or self-respect/A knife's point of a trip to the joint/Is about all you can expect." Dylan's mythological street epic is as far removed from reality as any of his recent music and as stylized as Miami Nice. And it's so far off the mark that it almost works. Tom Petty's irredeemably lame Heartbreakers camp up (or, more probably, fake) a sloppy gospel groove. "Band of the Hand" offers 18/8 time and organ and harmonies as a symbol of the apocalypse, and the formula is recognizable enough to work even in such a perfunctory workout. But Dylan is so obviously intent on painting a sordid scene that he invests his apocalyptic scum with bald affection. Which is where these stylized street epics generally go astray. The record sleeve doesn't tell you, but you also get a sub-Jan Hammer instrumental by Michael Rubini on the B-side. Some things are best left unsaid.