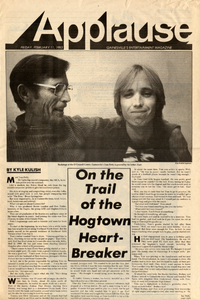 On the Trail of the Hogtown Heartbreaker
By Kyle Kulish
Applause - February 11, 1983
Meet Tom Petty.
He fights big record companies, like MCA, to retain power over his contract.
Like a modern day Robin Hood he cuts from the big record companies' profits to give his fans lower prices.
His style of singing and songwriting about everyday folks, mixed with good rock 'n' roll, has people comparing him with "The Boss," Bruce Springsteen.
But most importantly, he is Gainesville born, bred, brave, bold, boisterious, and beloved.
What's so special about Gainesville?
Editor's Note: Thanks to Sue Reaney for this scan!
Tom Petty Is Sorta Like God And Sorta Like The Rest Of Us, And Other Theological Insights
By Charles M. Young
Musician - March 1983
In religion, there are Catholics and there are Protestants. Catholics believe that by doing enough good works, you can earn grace. Protestants believe that good works are okay, but nobody earns anything from God. Either He decides to drop grace on you or He doesn't, and the most you can do is be ready for when it happens.
In the recording studio, there are Catholics and there are Protestants. Catholics believe that by accumulating enough overdubs, you can earn a good song. Protestants believe that overdubs are okay, but nobody can will anything onto tape. Either your unconscious drops a good song on you or it doesn't, and the most you can do is wait for that mystical union that musicians achieve only at moments unpredictable by humans.
Tom Petty: Long After Maturity -- Life With The Heartbreakers!
By Sylvie Simmons
Creem -- April 1983
STAR TRECK: Scene One: Writer meets Star.
Okay, lights, cameras. Take One. Winter in Hollywood, sun beaming like a Moonie, friendly guard at the Universal Studios gate points out the path to Soundstage Four. Tom Petty and the Heartbreakers are there rehearsing for a tour. Writer gets walking, turns the final corner, and there he is! Heading in her direction, waving as if he knew her, loved by millions, larger than life (actually barely larger than five foot two) the star. AL PACINO!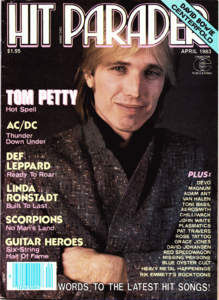 Tom Petty: hot spell
by David Gans
Hit Parader -- April 1983
Lighting Up The Night Under The Spotlight
"I was fired from every job I ever had, except this one -- and I may get fired from it," says Tom Petty with a laugh. The only career plan he's ever had, he says, has been "to avoid work as much as possible."
Petty doesn't mind making jokes like that, because he knows just how hard you really do have to work to make it in the music business. "I know what real work is, because I had jobs," he says. "This ain't like having a job, you know? It is work, but it's fun, too. As much as I can complain and say I'm tired, the truth is that it's a lot of fun. If it wasn't fun, there wouldn't be any inclination to do it.
"Sometimes the music business can be such a pain in the ass, but the payoff is so big and the fun is so enormous, that it kind of balances things out. I just try to swell on all the positive aspects of playing in a rock band." While Long After Dark, the new album by Petty and his band, the Heartbreakers, isn't all just fun, fun, fun, Petty says that it is "something that you can just put on and bop to.
Tom Petty & The Heartbreakers / Nick Lowe
By Blanche Goodman
Cashbox - April 16, 1983
THE MEMORIAL AUDITORIUM, BUFFALO, N.Y. — Since the album "Damn the Torpedoes," Tom Petty has been at the top of the rock heap. With the release of his single, "You Got Lucky," and his newest album, "Long After Dark," Petty shows no intention of returning quietly to his native Gainesville, Fla.
Opening with "One Story Town," Petty received a vivacious welcome from the crowd. In addition to doing many of his newer tracks, he mixed in more familiar material, improvising new lyrics. Among the spotlighted new songs were "Change of Heart," "Straight Into Darkness" and the requisite "You Got Lucky." Petty sang the first two verses of "The Waiting," which he introduced as his favorite song, without any accompaniment except for his own guitar, and played at a slower pace than normal until the band and crowd joined in. The show stopper proved to be "Breakdown," with a 10-minute introduction and overpowering light show.
Leaving the stage, Petty waited through a full 15 minutes of applause before finally reappearing. The applause became louder as he went into a cover of "Shout." Responding to demands for a second encore, Petty returned to close with "Even The Losers."
Opening for Petty was Nick Lowe with Paul Carrack, former member of Squeeze. Highlighting his new LP, "Abominable Showman," Lowe sang several cuts off the album, including the single, "Raging Eyes." In addition to new songs, Lowe touched on his more well known compositions, including "Cruel To Be Kind." Carrack contributions included the familiar "How Long Has This Been Going On?" from his days with Ace, and "I Need You."
Stan Lynch -- Heartbreaking Rhythm
By Robyn Flans
Modern Drummer - February 1984
With $100 in his pocket, Stan Lynch drove his dad's VW bus from Florida across country to L.A. in 1974. For $40 a month, he found the ultimate luxury of a Laurel Canyon basement sans kitchen and bathroom, and got a job at a record store, but quit when he found himself peering into the wrong end of a gun during a holdup.
Shortly thereafter, Benmont Tench phoned him to play on some songwriting demos. Tench had been the keyboard player in a Gainesville band which rivaled Lynch's band "back home." The whole group, minus the drummer, had journeyed to Los Angeles and now Stan found himself in the studio with them on that momentous occasion. Tom Petty, another member of that rival band, dropped by that night to play harmonica, and about a month later, he called Stan to ask him to assist on his project. His solo album was not coming together and he wanted to know if Stan would be interested in coming down to work on it.
Random Notes: Petty sidlined by hand injury
By Christopher Connelly
Rolling Stone #436 -- December 6, 1984
It was four in the morning, and Tom Petty was in his recording studio listening to a playback of "The Best of Everything," written by him and produced by Robbie Robertson, with horns by Jack Nitzsche -- and, he told an associate, "It was so fucking good I couldn't believe it." So he slammed his left hand into a studio wall ("'cause I'm an asshole") and broke several bones. Patching up the damage required a four-hour operation at Los Angeles' Cedars-Sinai Medical Center, during which two pins were inserted into Petty's knuckles. He'll be in a cast for four to six months and he will receive ultrasound therapy, but whether or not he'll be able to play guitar again professionally is said to be in question. One puckish member of Petty's band, the Heartbreakers, has already started referring to Petty as "the L.V." -- the lead vocalist.
Petty did, however, have plans to return to the studio this month and supervise the final mixes of his forthcoming album, Southern Accents; the accident has pushed back the release of the record until January 1985. The LP cover will be a painting by Winslow Homer titled (ahem) The Veteran in a New Field.
Editor's Note: Yeah, I find it amusing that the description of the record is longer than the review itself.
Tom Petty and the Heartbreakers | Don't Come Around Here No More (4:19) | Producers: Tom Petty, David A. Stewart, Jimmy Iovine | Writers: T. Petty, D.A. Stewart | Publishers: Gone Gator/ Blue Network, ASCAP | MCA 52496
Billboard -- March 16, 1985
Strangled emotions shrouded in cobwebs and mystery; odd-couple collaboration is Petty's first release in two years.