Style Stars of '81
People -- September 21, 1981
By comparison, 29-year-old Tom Petty of the Heartbreakers is almost tame, dressed down in tattered t-shirts, jeans, sneakers and leather motorcycle gear, all purchased at secondhand stores. Theorizes designer Johnson of the wiry blond-haired, blue-eyed singer-writer: "His hard edges remind me of Jagger and Bowie -- just how a rock star should look."
Records: Promises Kept and Pleasant Surprises
By Ken Fulton
Boys' Life - November 1981
HARD PROMISES** Tom Petty and the Heartbreakers -- Tom Petty is a fighter. As fans of the group wanted for this album, it was delayed due to another of Petty's battles. MCA recording company wanted to use Hard Promises as the record to introduced its increased list price for albums, $9.98. Petty refused to make rock fans dig into their pockets for an extra dollar. He finally won, and the album was released with a suggested list price of $8.98. Hard Promises may be Petty's best album ever, well worth the wait. It is full of sharp insights about hard times, hard hearts, lard luck and the hard promises all lovers and losers have to live with. "The Waiting," the hit single that opens the albums, sets the pace. True to the theme of Hard Promises, the song is about a man who has found his love, but only after a long struggle. "Nightwatchman," another track, is about a man who lives on the edge of society, while "Something Big" is about a man on a desperate, mysterious mission. "A Woman In Love (It's Not Me)" tells of a man giving all his love only to be rejected. On the second side, Stevie Nicks of Fleetwood Mac joins the band to provide harmony on the song "Insider." It is a haunting tune that demonstrates the versatility of both Nicks and Petty and the Heartbreakers. While the album may be about hard promises, the music of Petty and his band is never a letdown.
Doctors halt Tom Petty tour
Rolling Stone #357 -- November 26, 1981
"I'm gonna go somewhere and pass out," declared an exhausted Tom Petty, after doctors persuaded him to bow out of his last two U.S. tour dates, lest his road-ravaged vocal cords develop nodes. Petty and the Heartbreakers concluded their four-month excursion by playing their first hometown gig in Gainesville, Florida, since splitting for greener pastures seven years ago. After copping a key to the city earlier in the day, the band tore through an hour and a half set, highlighted by Stevie Nicks' joining Petty on "Hard Promises" and their hit duet, "Stop Draggin' My Heart Around," and rockabilly ace Joe Ely's contributing to a kick-out-the-jams version of "Wild Thing." Next project for the rail-thin rocker: a collaboration with Fifties star Del Shannon, and perhaps a British and European tour early in 1982.
LeRoi's Rockin' Reviews
By LeRoi
The Penny Pitch -- December 1981
★★★★ | Del Shannon | Drop Down and Get Me | Elektra 568 | List $8.98 | Produced by Tom Petty
I was afraid this was going to turn out to be another Tom Petty album, but they pulled this one off very slick. With Petty and the Heartbreakers backing Del comes out fighting and never quits. He does a cover of the old Stones tune "Out of Time" that could easily be a hit single. The great thing about this record is the subtle approach taken by Petty. If you listen real hard you can find slight hints of Petty's style of guitar and rhythm, but not once does it overpower you. Del's vocals are still in top shape and the songs are pretty strong also. It's a good solid effort well worth owning.
Talent Talk
By Roman Kozak
Billboard -- December 19, 1981
Tom Petty dropped by Dooley's nightspot in Tempe, Ariz. Dec. 8 and played an entire set with advertised headliner Del Shannon. Apparently, Dooley's is one of Petty's favorite clubs (he jammed with Muddy Waters there recently) and a few hours before showtime notified all involved that he would be sitting in with Shannon...
LeRoi's Rockin' Reviews
By LeRoi
The Pitch - January-February 1982
Tom Petty and the Heartbreakers | MCA 52006 | List $5.98
People should not overlook the fact that Petty was good from the beginning. I first thought it was Roger McGuinn.
In One Ear & Out The Other
Ampersand - March-April 1982
Tom Petty's latest album is still in the studio, with an interim bass player, Howie Epstein (who usually backs Del Shannon, whom Petty recently produced, hence the logical connection). Ron Blair, Petty's former bassist, left around Christmas last year and is, as they say, "pursuing different musical directions."
Petty previews LP for students
Rolling Stone #368 -- April 29, 1982
Tom Petty took a break from recording his next album -- due out this summer -- to do a guest-lecture gig at UCLA's Student Center, where he shot the breeze with 2500 Bruins for about ninety minutes. "He was real nervous at first," said one intimate, "but in the end he had a great time." As for the LP, Petty told the students that it'll showcase "new musical directions" for the Heartbreakers. "We'll even make some personnel changes to get our new sound," he augured. "And if we don't get it ... I'll just go back to Florida." One personnel change has already taken place, at least in the studio: Howie Epstein has replaced Ron Blair on bass.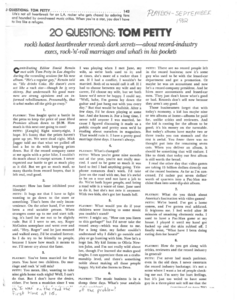 20 Questions: Tom Petty
By David Rensin
Playboy -- September 1982
rock's hottest heartbreaker reveals dark secrets -- about record-industry execs, rock-'n'-roll marriages and what's in his pockets.
Contributing Editor David Rensin met with Tom Petty in Los Angeles during the recording sessions for his new album. "He's a regular guy," Rensin told us. "He drinks Coke. He doesn't even act like a rock star -- although he is very skinny. But underneath his good manners are strong opinions and an informed rebelliousness. Presumably, what is what makes all the girls go crazy."