In One Year & Out The Other: What Might Have Been (A Continuing Saga)
Ampersand -- March 1981
Two musicians were on their way to Ampersand's cover recently, but each got uniquely sidetracked.
Delbert McClinton, now Top Ten with "Givin' It up for Your Love," was slated for a flight to Los Angeles recently, there to meet with Ampersand, Rolling Stone, Newsweek and the camera crew of Solid Gold, a TV pop music series. Came Tuesday and no Delbert. "We don't know where he is," chorused McClinton's manager and record label. "But we think he had a fight with his wife and he might be somewhere in Mexico ... maybe."
Tom Petty, triple platinum a year ago with Damn the Torpedoes, an album made in the midst of legal battles, is delaying completion of his newest album because MCA, parent label to his Backstreet Records, wants to retail the finished product at $9.98. Arguing that a whopping price would damage his personal image, Petty adds, "For once in my life, I'd like to make a record without a legal battle. It's just not fair to the kids."
"Maybe," countered an anonymous MCA spokesperson, "If he didn't burn up a million dollars making the record, it wouldn't have to cost so much."
Music: Tom Petty battles MCA over album pricing
By Steve Pond
Rolling Stone #339 -- March 19, 1981
Once again, Tom Petty is squabbling with his record company. This time he's angry because MCA -- which owns his label, Backstreet Records -- may slap a $9.98 price tag on his upcoming album. "My immediate reaction was 'no way,'" Petty said. "It just ain't right. I don't need the extra dollar, and I can't imagine that MCA needs it. They're just motivated by greed."
Petty, who spent time in court two years ago fighting MCA over his contract rights, learned of the possible price hike when he read that a Los Angeles record store planned to boycott both his album and Steely Dan's Gaucho, another $9.98 MCA record. But MCA Records Vice President Gene Froelich denied that any decision has been made yet about Petty's LP. "It could come out as $9.98, but it could also come out at $8.98, $5.98, or $12.98," he said. "We will make that decision when the album's been delivered to us."
Petty wins battle over new LP's price
By Steve Pond
Rolling Stone #342 -- April 30, 1981
The big news about Tom Petty's fourth album, Hard Promises, is that the record's list price will be $8.98 -- a figure Petty publicly demanded, holding up the album's production when MCA Records indicated that it might release the LP at $9.98.
"It's a great example of what can be done," Petty said. "The kids responded and something happened. But I hope people don't get the impression that I hate this industry. There are some good people in the business, and I'm relieved that for once the record company was big enough to accept public opinion. I've gotta thank all the fans who wrote in, because they're the ones who really helped me out."
Petty said the album, which he coproduced with Jimmy Iovine, is "very much a rock album, but we do push into some stuff we haven't done before. We did a lot more with keyboards and vocals, and the songs aren't all two and a half minutes long, either. There aren't any all-day wonders, but some are in the four-minute range."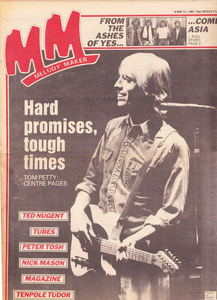 Editor's Note: Thanks to Sue Reaney for the magazine scan.
Tuning up the criminal kind
By Adam Sweeting
Melody Maker - June 13, 1981
Adam Sweeting and TOM PETTY get sun-tanned in Los Angeles
Benmont Tench remembers the day well. "It was April Fool's Day 1974 when we drove to LA," he recalls. At the time, keyboardsman Tench, guitarist Mike Campbell and a scrawny blonde kid called Tom Petty were part of a band from Gainesville, Florida, called Mudcrutch.
The momentous move to LA got off to a disastrous start. Two blocks from home, the van broke down. "We weren't even outside the Gainesville city limits," Mike Campbell says ruefully.
Seven years on, Tom Petty and the Heartbreakers are four albums old and near the top of the tree in American music. The new album, "Hard Promises," is homing in on the American number one slot, though not as quickly as its seven inch counterpart "The Waiting." It's confirmation of the breakthrough marked by the best-selling performance of Petty's 1979 album, "Damn the Torpedoes."
They have a way to go before they approach Springsteen's legend-in-a-lifetime status, but they sometimes get mentioned in the same breath. It seems, I say to Petty, that apart from you and Bruce, there are precious few artists carrying the flag for the great American tradition. "Yeah, it's gettin' to be a shorter list," he says simply.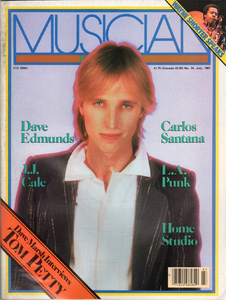 Tom Petty
By Dave Marsh
Musician -- July 1981
Returned from legal purgatory and a vocal meltdown, the Gainesville gunfighter talks about the life and times of the band-next-door, critical chic, the corporate shaft, Hard Promises and cold facts.
When Tom Petty burst into his manager's Sunset Blvd. offices early this April he was exuberant. No wonder. He'd just finish mixing and mastering his fourth and most mature album, Hard Promises, and the sessions had gone off without a hitch -- indeed, much of the album had been recorded using completely live takes. (MCA had almost managed to create a crisis by announcing plans to release the new Petty album at a $9.98 list price. But Petty politicked judiciously in the media -- at one point threatening to make the LP title Eight Ninety Eight -- and his desire for a more affordable price prevailed.)
Hard Promises is not a breakthrough record, as Damn the Torpedoes was. But it presents everything that the Heartbreakers can do well in quantity, and Petty's writing has grown enormously. Emblematically, Hard Promises is the first T.P. record to contain a lyric sheet, which Petty says was a concession to Iovine, bit which also reflects his new confidence in what he has to say, and his ability to say it well.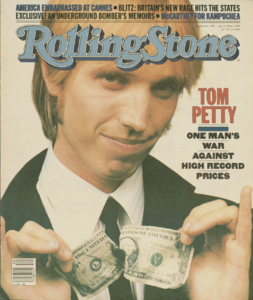 Tom Petty: a rock & roll hero keeps fighting on
By Steve Pond
Rolling Stone #348 -- July 23, 1981
LOS ANGELES
"I still haven't gotten used to it," Tom Petty says, shaking his head as he steps out into the bright afternoon sunlight on Sunset Boulevard. "You know -- putting another record out."
This morning, radio stations have received copies of Hard Promises, the new Tom Petty and the Heartbreakers album. Now, as Petty and guitarist Mike Campbell head off to view some promotional videotapes, Petty is clearly uneasy. I've just mentioned seeing an upcoming Los Angeles Times review of the album, and Petty's immediate reaction is an only half-joking "Should I start quaking?" As soon as he slides into the front seat of Campbell's tan BMW, Petty makes a stab at the tape player, popping out a cassette and flipping on the radio. Before we get half a block, he's twirled his way to pay dirt: A station playing the final bars of the Petty-Stevie Nicks duet, "Insider." "Heyyyy," he says with a toothy, thin-lipped grin. "Here we are."
Rock And Roll: LeRoi's Short Reviews
By LeRoi
The Penny Pitch -- July-August 1981
★★★★ | Tom Petty and the Heartbreakers | Hard Promises | MCA/Backstreet 5760 | $8.98 List | Produced by Tom Petty & Jimmy Iovine
The main reason I like this record is I had my doubt that Petty could follow up the Torpedos album this strong. This is a bona fide good follow-up with two or three strong singles and should finally establish Petty as a real star.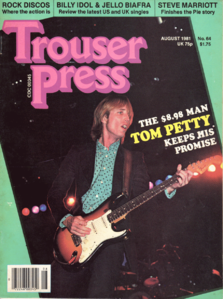 Just A Popular Rock 'N' Roll Band
By Blair Jackson
Trouser Press -- August 1981
Tom Petty and the Heartbreakers fight the good fight -- for decent rock on AM radio, $8.98 albums and the American way of life.
Two years ago, Tom Petty's career was in a strange limbo. His record label, ABC, had been sold lock, stock and barrel to entertainment giant MCA, and his contract was part of the deal -- unbeknownst to Petty. He had two successful albums under his belt, yet he was virtually broke.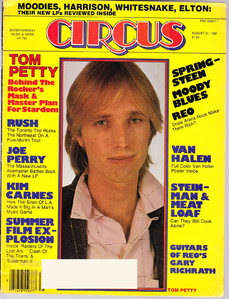 Editor's Note: Thanks to Sue Reaney for the scan!
Tom Petty makes 'Hard Promises' to rock & roll
By Richard Hogan
Circus - August 31, 1981
Tom Petty stood in a small boat on Lake Alice, Florida, hunched over the bow with a long pole. Petty was minding his own business, doing his day job with the boat's small crew. His task was to remove the thick layer of hyacinths which covered the surface of the lake. Except for the scaly green back of a cruising alligator, he saw nothing to ruffle his composure. Suddenly he noticed that a water moccasin was slithering across the deck of the craft.