Winwood Builds It Up; Heartbreakers Break It Down
By Curtis Ross
The Tampa Tribune - July 17, 2008
A great band with a set of great songs is all well and good. But Tom Petty and the Heartbreakers also know how to play.
Jamming seems like the wrong word -- Petty and his band aren't The Grateful Dead, willing to go out on -- and sometimes off of -- a limb in search of sonic nirvana.
But, man, when the Heartbreakers break it down, they break it down.
Petty, Heartbreakers show they still rock with the best of them in Tampa show
By Jim Abbott
Orlando Sentinel - July 19, 2008
TAMPA -- After Tom Petty and the Heartbreakers played the Super Bowl, there was a lot of noise about how maybe the band was too old to rock.
Well, these guys are no spring chickens, but an old-school concert Wednesday at the St. Pete Times Forum showed that the Florida-bred vets know more about rock shows than some of the kids.
Mile High Music Fest, Day 1: Deserves a bow
By Laurie Scavo
The Denver Post - July 20, 2008
It was a fine debut for the Mile High Music Festival, which opened Saturday on the outer grounds of Dick's Sporting Goods Park in Commerce City.
The music was varied, the festival experience was pleasant, the weather was hot and the things that are usually the most trying experiences at a music festival — parking, entrance lines and finding your way around — were (for the most part) painless.
The first-year festival, which wraps up tonight with Dave Matthews Band, John Mayer and others, is Colorado's entry to a world that has been dominated by the Europeans and the savvy promoters behind Coachella and Bonnaroo. And with a crowd of more than 40,000 on Saturday alone, things got a big bang of a start.
Concert review: Tom Petty adds a sharp, crisp touch to his familiar hits
By Jon Bream
Minneapolis Star Tribune - July 24, 2008
His audience contained a contingent of teens and 20-somethings to go along with all the baby boomers.
Maybe he should change the moniker to Tom Petty and the Matchmakers. Because when it comes to cross-generational marketing in concert, Petty is a master.
In the 1980s, Tom Petty & the Heartbreakers toured with Bob Dylan. In the '00s, as opening acts, he has featured Jackson Browne, Pearl Jam and now Steve Winwood, who joined him Wednesday at sold-out Target Center.
Tom Petty forever the Wild One
By David Schmeichal
CANOE - August 7, 2008
Here's the thing about Tom Petty, the Florida-born rocker who brings his much-anticipated show to MTS Centre this weekend: No matter what your station in life -- no matter how much money you've earned, or how many accomplishments you've racked up -- Tom Petty is cooler than you.
Why? Because Tom Petty is cooler than everybody.
Oh sure, he's kinda funny-looking, and thanks to endless repetitions on classic rock radio, his catalogue has taken on a certain Baby Boomer ubiquitousness. Even so, it's unlikely we're going to grow tired of Tom (or his longtime backup band The Heartbreakers) anytime soon.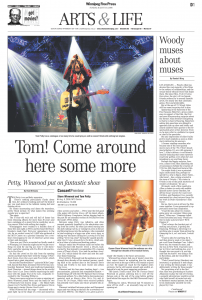 Tom! Come around here some more
By Rob Williams
Winnipeg Free Press - Sunday, August 10, 2008
Petty, Winwood put on fantastic show
Steve Winwood and Tom Petty | August 9, 2008, MTS Center | Attendance: 13000 | ★★★★½ out of ★★★★★
Tom Petty is an unlikely superstar.
THere's nothing particularly flashy about him, he's ordinary looking and isn't the kind of guy you read about in the tabloids raising hell and chasing skirts.
He seems unassuming and damn the torpedoes, pretty blood normal. So what makes this seeming regular guy a superstar?
Petty In Top Form
By Rick Overwater
CANOE - August 12, 2008
Saddledome, Calgary | August 11, 2008 | ★★★★☆
CALGARY - Hitting the stage with a full beard and the same shoulder length haircut he's had since... he was born perhaps, Tom Petty wasted little time getting down to the hits at the Saddledome last night, playing several of them right off the bat including Free Fallin' and Listen to Her Heart.
By the third, I Won't Back Down, the crowd could see they were getting the Tom Petty show they wanted, the Tom Petty of right now, the Tom Petty of five years back, the Tom Petty of the 80s.
Tom Petty: Cool classics go down easy on a sweltering night
By Travis Hay
Seattle Post-Intelligencer -  Sunday, August 17, 2008
GEORGE --On a night when temperatures reached triple digits, the iconic music of Tom Petty and the Heartbreakers cooled down a capacity crowd at the sweltering Gorge Amphitheatre Friday with a show chock full of classic rock staples.
Petty swayed and danced carelessly throughout the show as if he was letting the musicianship of the Heartbreakers, easily one of the best backing bands in rock history, carry him like a cool summer breeze. He definitely seemed to be enjoying himself a lot more than he did the last time he performed back-to-back nights at the Gorge three years ago. The mercury was in the three-digit range then too.
Tom Petty delivers strong performance in Glendale
By Larry Rodgers
The Arizona Republic - August 21, 2008
After playing for a global television audience of a couple hundred million in Glendale at February's Super Bowl XLII, Tom Petty & the Heartbreakers returned to the city Wednesday night to show why they had been picked for the high-profile NFL gig.
As longtime fans have come to expect, Petty and his band delivered yet another close-to-flawless performance for about 15,000 at Jobing.com Arena.
With no new album to promote, Petty staged a greatest-hits show, with a few lower-profile selections thrown in to satisfy repeat customers.