The Week Ahead: Tom Petty's bucking the big-bucks trend
By Randy Lewis
The Los Angeles Times - August 1, 2005
The Eagles come home to roost next month for concerts at Staples Center and the Arrowhead Pond, and Ticketmaster's prices are $25 to $175. For U2 at Staples Center in November, tickets are going for $51 to $171. When Paul McCartney returns to the Southland the same month, the asking price ranges from $49.50 to $250.
And when the Stones arrive in November, seats for performances at the Hollywood Bowl and Anaheim Stadium are running from $60 to $454.50.
So how come Rock and Roll Hall of Fame member Tom Petty, whose core audience is the same disposable-income-laden baby boomers these other veteran acts depend on, is getting only $30 to $70 a ticket when his current tour enters California this week?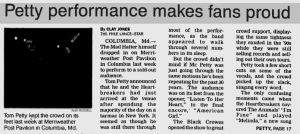 Petty performance makes fans proud
By Clay Jones
The Free Lance-Star - Thursday, August 4, 2005
COLUMBIA, Md. -- The Mad Hatter himself dropped in on Merriweather Post Pavilion in Columbia last week to perform to a sold-out audience.
Tom Petty announced that he and the Heartbreakers had just arrived at the venue after spending the majority of the day on a tarmac in New York. It seemed as though he was still there through most of his performance, as the band appeared to walk through several numbers in its sleep.
Petty still breaking some hearts
By Richard Cromelin
The Los Angeles Times - August 16, 2005
Is this the world's best bar band? An arena-rock war horse? Tom Petty & the Heartbreakers flashed a bit of both identities Sunday at their Verizon Wireless Amphitheater concert, but mainly they came across as a classic-rock band that's stayed on this side of the nostalgia frontier. The set included hardly anything less than 10 years old, but the band scored its points by playing with immediacy and freshness rather than merely triggering fond memories.
That's the only way it could work for Petty, an artist who has fostered a fiercely loyal following not just with enduring hooks and lyrics but also with the genuineness and conviction behind them. In exchange for one of the lowest-priced tickets on the big-name summer-tour market, he and his band deliver a direct, uncluttered, bluster-free show.
Well, there was a little bluster on Sunday, mainly in Benmont Tench's crazed piano showcase and in some of Mike Campbell's guitar solos. That's the Heartbreakers' arena-rock side, but it never got excessive.
A Far Cry From Petty
By Linda Zhu
The Daily Californian - Monday, August 29, 2005
Running Down The Greek, Tom Petty Mesmerizes Diverse Berkeley Crowd, Both Young and Old
Tom Petty played it straight Saturday night, and straight was all he needed. As Petty and his Heartbreakers made their way through three decades of favorites, one got the sense that they needn't to try too hard.
They were coasting, and it didn't matter: the audience sang through near the entire thing.
Commentary: Tom Petty's Nostalgia Reigns Supreme
By Ricardo Baca
Lakeland Ledger - August 29, 2005
When Tom Petty and the Heartbreakers have played live in recent years, the music leapt off the stage and raced up and down the bleachers with a reassuring exuberance and familiarity. The band's cohesiveness was outshone only by the blinding brightness of its sunny catalog of songs that fans know by heart.
Yes, Tom Petty and the Heartbreakers have grown into one of those bands.
Tom Petty delivers the goods at the Greek -- what else would an understated rock icon do?
By Joel Selvin
The San Francisco Chronicle - August 29, 2005
He hasn't put out a new record in years, but Tom Petty is rock aristocracy. He doesn't get the big-time media play of Springsteen or Dylan, but in front of his audience, no rock musician is more convincing or powerful than Petty.
"We got the genuine all-American rock 'n' roll show," he promised the audience Friday at UC Berkeley's Greek Theatre, the first of two sold-out shows last weekend. And so he did.
Petty gives Gorge crowd all it could want
By Travis Hay
Seattle Post-Intelligencer - Sunday, September 4, 2005
Rock 'n' roll legends Tom Petty and the Heartbreakers played a set that took the capacity crowd on a musical journey that spanned three decades of hits during their first night of a sold-out two-night stint at The Gorge Friday.
Wearing a black shirt, green military jacket and tattered blue jeans, Petty started his two-hour set with "Listen to Her Heart." The rest of the set list read like a greatest-hits compilation with a few newer songs plugged in for good measure. The bluesy "Honey Bee," and a newer song "Melinda," which featured a bridge that showcased pianist Ben Tench's versatility, were the newer songs that stood out the most. Of course, Petty staples such as "Free Fallin'," "Refugee" and his first single, 1976's "Breakdown," were performed.
Throughout the night, it was evident Petty takes pleasure in what he does, and he is basking in the afterglow of the success his Hall of Fame career has brought him.
Legends of noisy ghoul, suicide haunt university residence halls
By Anna Suggs
The Independent Florida Alligator - Friday, October 28, 2005
OLD COOK, TOM PETTY SONG INSPIRED STORIES
Rumors about an impossible suicide and a disgruntled cook continue to haunt UF residence life.
Two prevalent ghost stories exist at UF, Housing Department spokeswoman Sharon Blansett said.
The first involves a UF student in the 1970s who allegedly committed suicide by jumping from her dorm room window in Beaty Towers. The towers are located next to 13th street, also called U.S. Highway 441, she said. Many believe this story because of the the song "American Girl" by Gainesville native Tom Petty, which is about a young girl killing herself by jumping from a balcony "out on 441."
Blansett said there are no records of any girl jumping from Beaty Towers, and there are no balconies.
Read more: The Independent Florida Alligator - October 28, 2005
Book explores Petty's area roots
By Dave Schlenker
Gainesville Sun - Sunday, October 30, 2005
What started out as a case study in songwriting - a sit-down chat on the craft with Tom Petty - turned into a nostalgic stroll through the streets and clubs of the singer's native Gainesville.
The Rock 'n' Roll Hall of Famer delves deep into his music, family and Gainesville roots in the book "Conversations With Tom Petty," which will be released Tuesday by Omnibus Press. In Q&A format, the book was written by music journalist Paul Zollo, who interviewed Petty for a little more than a year in the singer/songwriter's homes in Malibu and Malibu Beach.
"His idea was to do a book on songwriting, and I was interested in that," Petty told The Gainesville Sun. "But as we went along, it seemed necessary to add in some biographical material to understand where I was coming from. So I guess the book is kind of half and half - half biographical and half in-depth study of the songs and how they were written."
"So I don't know," Petty said, pausing before a slight laugh. "It's got a lot of nice pictures."