Music Review: 'Hard Promises' a major success
By Allan K. Lilley
Williamsport Area Community College Spotlight - Tuesday, September 8, 1981
Tom Petty and the Heartbreakers rose from the ranks of cult adulation to rock superstardom in 1979 with their third album "Damn the Torpedos."
On the latest release, "Hard Promises," Petty shows why he is a major success.
From straight-ahead rockers like "The Criminal Kind," "Nightwatchman" and "Kings Road," to the emotion-filled "You Can Still Change Your Mind" and "Insider" (a ballad with Stevie Nicks of Fleetwood Mac), Petty again steals the show with his virtuoso vocal arrangements.
Most painful
Two songs emerge from "Hard Promises" as classic examples of America rock and roll. "Letting You Go" and "A Thing About You" are superb good timing songs. "A Woman In Love," however, is a solemn anthem of love desired but not fulfilled. This is the most painful song Petty's ever done.
One major difference between "Hard Promises" and other Heartbreakers' records is that Petty has developed into an important song writer. Penetrating and even intense could describe the level on which the songs are written.
Still the trademark
"Hard Promises" reaches rock potential due largely to guitarist Mike Campbell (especially on Nightwatchman) and keyboardist Benmont Tench. Tom Petty's voice is still the Heartbreakers' trademark.
Achieving fame took quite a few years for the Heartbreakers, but if they continue to release excellent albums like "Hard Promises," they are certain to remain important figures on the rock scene.
Sounds on Sound
Clarion's Call - Friday, September 11, 1981
Tom Petty and Heartbreakers - Hard Promises - One of the best albums of the summer; Petty's songwriting ability is improving with each album, showing more and more dimensions of his personality. Some critics knocked this album because of its drop in intensity from "Damn the Torpedoes," but they seem to have forgotten that the contractual, financial, and personal problems that plagued TP during the recording of "Torpedoes" had since then been resolved. ON songs like "The Waiting" and "A Woman In Love," Tom Petty and the Heartbreakers never sounded tighter or more confidant. If you like the Petty, Stevie Nicks duet on "Stop Draggin' My Heart Around," check out the soulful ballad, "The Insider" on "Hard Promises."
Platter Chatter
By Gordon Dalman
Coe Cosmos - September 11, 1981
Tom Petty in Concert | Rating: ★★★★
The best night of last summer was August 14, when Tom Petty played at the Met Center in Minneapolis. The quality of the music was the best I've ever heard, with the exception of Maynard Ferguson at Orchestra Hall.
T.P. started things off with "American Girl" from his 1976 album. The five men that stand behind Petty on stage (yes, T.P. added another Heartbreaker since Hard Promises) were all dynamite and used their solo time to prove it. Mike Campbell was at his bet.
Petty wows 'em in Irvine
By Renee Tawa
The Daily Titan - September 24, 1981
A few songs into his two-hour set at the Irvine Meadows Amphitheater, Tom Petty looked out at the 5,000 fans with reserved seats in the front and the 5,000 more fans camped on beach towels in the back and said to loud applause, "We finally made it out to Orange County."
Tom Petty and the Heartbreakers, on their "Hard Promises" tour, sold-out Friday and Saturday, which is good news for Irvine Meadows promoters eager to present the amphitheater as an attractive alternative for Orange County fans tired of driving to Los Angeles for concerts.
But from CSUF, the one-half-hour drive to the grounds of Lion Country Safari, where the Amphitheater is situated, is not much shorter than the drive to Los Angeles.
Because of the poor set-up of the Amphitheater -- most notably the long walk up to the unreserved seats and the sound system which at times produced loud, muddled music -- Petty had to work extra-hard to win over the fans sitting on the lawn who were trying not to slip down the steep grassy incline they were packed on.
Tom Petty and Heartbreakers to play Civic Center tonight
By Jay Watson
The Red & Black - September 29, 1981
One of rock music's most exciting and intelligent bands, Tom Petty and the Heartbreakers, play the Atlanta Civic Center tonight at 8:00. Petty and company bring along the turgid but bright sound and lyrical excellence which have graced four albums and the strength and commitment that has survived heat from the courts and record companies alike.
Petty, aided by guitarist Mike Campbell, bassist Ron Blair, drummer Stan Lynch and keyboardist Benmont Tench released two well-received, moderately successful albums before plunging into massive personal debt and eventual bankruptcy. Ironically, the bankruptcy kindled Petty's emotional resiliency and songwriting prowess to a level light years above his first pair of efforts.
"Damn the Torpedoes" and "Hard Promises," the resulting albums, may be viewed as companion pieces. "Torpedoes" crystallized Petty's trebly blend of Byrds-like electric 12-string guitar, crackling drum work and Tench's tremulous organ into a product for mass consumption and immense critical praise.
Petty concert set on full speed
By Jay Watson
The Red & Black - October 1, 1981
Aptly enough, the predominant theme behind Tuesday's performance by Tom Petty and the Heartbreakers in Atlanta might have been labeled, "Damn the Torpedoes," for there is no question that these Floridans came in rocking full speed ahead.
Undaunted by the strain and pressure of touring, constant promotion and two best-selling albums, Petty capitalized on the incredible momentum generated by the aforementioned album. The Heartbreakers set the Civic Center and several thousand maniacal fans on the edges of their seats with a set that displayed the band's capacity for admirable diversity amidst a common excellence.
The Joe Ely Band opened the show with a forty-minute set of Texas booze-blue and rockabilly tunes. The standouts were an energized cover of fellow Texan Buddy Holly's classic "Not Fade Away," in which the guitar-saxophone chemistry finally sprked, and a clever jam entitled "I Let My Fingernails Grow." Ely's high-speed, high-volume approach geared the crowd up sufficiently to await the feature set.
From the first wave of ringing guitar chords of Petty's quintessential opener, "American Girl," the show's excellence was never in doubt. After crashing through that tune and delivering a moody, smoldering version of "Listen to Her Heart," another early Petty favorite, the band settled into their playlist, which consisted of material from "Damn the Torpedoes" and "Hard Promises," as well as a few oldies thrown in for good rocking measure.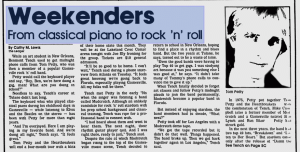 Weekenders: From classical piano to rock 'n' roll
By Cathy M. Lewis
Lakeland Ledger - October 2, 1981
While an art student in New Orleans, Benmont Tench used to get midnight phone calls from Tom Petty, who was then a member of a popular Gainesville rock 'n' roll band.
Petty would call the keyboard player and say, "Hey, Ben, we're here doing a gig, man! What are you doing in school?"
Needless to say, Tench's career at Tulane didn't last long.
The keyboard whiz who played classical piano during his childhood days in Gainesville -- while listening to Elvis and the Beatles on the stereo -- has been with Petty for more than eight years.
"And I'm overjoyed. Here I am playing in my favorite band. And we're doing all right," Tench says. "It feels great."
Tom Petty and the Heartbreakers will end a four-month tour with a blitz of their home state this month. They wll be at the Lakeland Civic Center arena tonight with Joe Ely fronting for the group. Tickets are $10 general admission.
"It'll be so good to be home. I can't wait," Tench said during a phone interview from Atlanta on Tuesday. "It feels great knowing we're going back to Florida, especially playing Gainesville. All my folks will be there."
Concert Report: Petty's transformation leaves his audience shouting for more
By Cathy M. Lewis
Lakeland Ledger - Monday, October 5, 1981
Donning cowboy boots and a blue bandanna tied beneath a full-toothed grin, Tom Petty moved onto the Lakeland stage Friday looking like the embodiment of the mythical all-American boy.
Petty smiled his way through "American Girl" and "Listen to Her Heart" with the naturalness of water moving against the coastline of Florida, his native state. Even a haunting keyboard solo by Benmont Tench on the grand piano during "A Thing About You" didn't erase Petty's smile.
When the band launced into "I'm in Love," Petty skipped and swaggered across the stage with the joy of an adolescent in puppy love.
Watch Petty prance. Watch Petty preen. The rest of the audience leaned back and relaxed. They'd just watch and wait their turn. And the singer didn't disappoint them.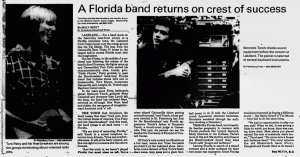 A Florida band returns on crest of success
By Kelly Scott
St. Petersburg Times - Tuesday, October 6, 1981
Tom Petty and the Heartbreakers with Joe Ely, 8 p.m. in the Bayfront Center Arena tonight. Tickets $10. For more information, call 883-7251.
LAKELAND -- For a band stuck on the fraternity beer-bust circuit in a Florida university town, the Lakeland Civic Center looms over the orange groves like the Taj Mahal. The lap from the Gainesville Beta Theta Pi house to the largest hall in central Florida must defy the imagination.
But last Friday, in the middle of a national tour following the release of the band's Hard Promises, the lights came up and Gainesville's Tom Petty smiled his characteristically slow, toothy grin. "Hello Florida," Petty growled, to open the Heartbreakers' week-long Florida stand that includes shows here and in Jacksonville, Fort Myers, hometown Gainesville and, tonight, St. Petersburg's Bayfront Center arena.
In the years since Petty, keyboards player Benmont Tench, guitarist Mike Campbell and drummer Stan Lynch left the state, the band has outlasted disco, survived an off-target New Wave label and ridden the resurgence of straightforward American rock 'n' roll.