The B Side
Orange Coast Magazine - January 1991
Vol. 3, Traveling Wilburys (Warner Bros) -- It takes a while to get into this second offering from the super group that includes George Harrison, Bob Dylan, Tom Petty and Jeff Lynne. The loss of the late Roy Orbison is sorely felt as a raspy-throated Dylan tries -- and fails -- to pick up the slack. Instrumentally, the album scores high marks. Harrison's distinctive guitar licks, handled superbly by production meister Lynne, are particularly effective on country-tinged "Poor House." The best songs, however, are the nostalgic Fifties-sounding "7 Deadly Sins" and the rollicking "Inside Out." While not as polished or as satisfying as Vol. 1, the Wilburys' best-selling debut package, Vol. 3 contains enough moments to make it worthwhile.
★★★★ | Into The Great Wide Open | Tom Petty and the Heartbreakers | MCA
Review by Parke Puterbaugh
Rolling Stone #608 - July 11, 1991
Into The Great Wide Open started out as potentially another Tom Petty solo record, but it eventually became a full-scale collaboration with his longtime backup band, the Heartbreakers. This shift in Petty's conception of the album enabled him to combine the unduplicable power of a long-standing band of rock & roll confederates with the new directions he has pursued with Jeff Lynne, the new album's coproducer and Petty's fellow Traveling Wilbury. In its best moments, the result sounds like a cross between Full Moon Fever and Damn the Torpedoes and features the most focused and resonant lyrics Petty has ever written.
Employing spare, deceptively simple rhymes in attractive pop settings, Petty sings about the failings, compromises and existential emptiness that underlie the American dream as it staggers, violent and overfed, into the Nineties. His characters range from the compulsive materialists of "All the Wrong Reasons" to the rockin', rollin' Hollywood hotshots of "Into the Great Wide Open," On the latter, the boundless promise of the title is undercut by a minor-keyed intimation of the pot of fool's gold that await one tattooed dreamer at the end of the rock & roll rainbow: "His leather jacket had chains that would jingle/They both met movie stars, partied and mingled/Their A&R man said, 'I don't hear a single'/The future was wide open." Petty's protagonist is not just a rebel without a cause; he's "a rebel without a clue."
Music Review: Into the Great Wide Open (1991)
Review by Dave DiMartino
Entertainment Weekly #75 - July 19, 1991
Though he's a major American rock & roll star, Tom Petty has yet to produce the kind of classic album artists of his caliber are supposed to make at least once in their careers. And while Into the Great Wide Open may not be it, it's the closest he and his band the Heartbreakers have come in nearly 15 years.
You can hear it yourself. Petty's first two albums — 1976's Tom Petty & The Heartbreakers and 1978's You're Gonna Get It! — have both just been re-released on Petty's own Gone Gator record label, and still stand as his best work, effortlessly combining catchy melodies and unpretentiously raucous rock & roll. The follow-up, 1979's Damn The Torpedoes, went triple platinum and made Petty & the Heartbreakers an arena attraction, but it also signaled a dulling of Petty's grasp of the pop hook that — success or no — has simply made his music not as interesting as it used to be.
TOM PETTY | Into the Great Wide Open  | MCA
Review by Ivan Kreilkamp
SPIN -- August 1991
On Into the Great Wide Open, Tom Petty plugs his drawly voice and twangy guitar into a sweet hard-rock formula, producing as many radio-ready hits as he needs, each one as pleasantly crisp as a fresh greenback. His tunes are so basic these days that they stand or fall by the strength and (relative) originality of their catchphrases. Lines like "I'm learning to fly / But I ain't got wings" work; "A rebel without a clue" is lame. Further on, the dazed road-rip wisdom of "where the sky begins the horizon ends, despite the best intentions" anchors Petty's dreamy soul to reality.
His cliches of freedom and escape are "built to last," Petty's wide open dirty road may just be an image he ponders as his jet taxis down the runaway, but it's an enduringly meaningful symbol for homebound fans. Also included are moral fables about yuppies and rock stars who "want it all," one drum break to die for, a political allegory, and songs about women that resonate oddly for anyone who recalls the scene in The Silence of the Lambs with Petty's "American Girl" playing in the background (available mid-July)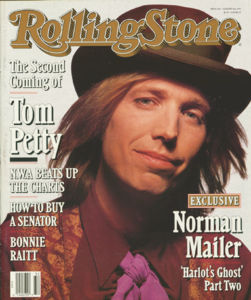 Over the Hump
By David Wild
Rolling Stone #610 - August 8, 1991
After suffering through a period of personal crises and career doldrums, Tom Petty has reemerged as one of rock's most vital artists.
The waiting is still the hardest part. Tom Petty and the Heartbreakers are spending the day at Bob's Airpark, part of an immense airplane graveyard in Tuscon, Arizona. All one can see in any direction of this surreal location are the carcasses of countless aircraft of various vintage set dramatically against an otherwise barren desert landscape. Occasionally, military planes in far better condition than the ones below fly loudly overhead. Everyone here this afternoon is waiting for some unusually cloudy weather to pass so director Julien Temple can finish shooting the video for "Learning to Fly," the first single from the band's exquisite new album, Into the Great Wide Open. Throughout the morning, Petty and the Heartbreakers -- guitarist Mike Campbell, keyboardist Benmont Tench, drummer Stan Lynch and bassist Howie Epstein -- were balanced precariously on the wings of stripped-down planes as they braved, with varying degrees of stoicism, the intense desert heat for hours on end. Jane Petty, Tom's wife of eighteen years, observed one setup and appeared concerned. "Look at poor Benmont," she said. "He's roasting out there."
During a much-needed break, Tom hurries over to Jane, who could pass for his twin sister, and surveys the rather bizarre scene. "I suppose if you worked here at Bob's, this would have to qualify as a pretty good day at the office," he says, his deep voice still betraying a slight Southern accent. "It's like, 'Oh, yeah, honey, then there was some band in here making a video.'"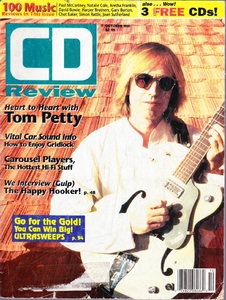 Editor's Note: Thanks to Sue Reaney for the scan!
Tom Petty: Traveling Heartbreaker
By Jeffrey Ressner
CD Review - October 1991
An aquamarine lava lamp and a classic Rickenbacker guitar: The icons are almost too cool. They're right next to each other, casually set against a wooden wall in Tom Petty's brathtaking Encino, CA, home. Although they don't appear to be deliberately displayed displayed together, the two pop artifacts capture that sense of quirky playfulness and jangling sound that has defined Petty's rock'n'roll style since his debut album with the Heartbreakers in 1976.
Seated comfortably in front of the guitar and lamp, Petty is smoking cigarettes and settling down to discuss his latest album, Into the Great Wide Open; his new Gone Gator Records label, his ongoing travels with the Wilburys, and other Mad Hatter tales. Though the lanky musician speaks softly and betrays a slight Florida drawl, his responses are down and forthright, with none of the usual Hollywood shuck or star-trip jive.
Artists In Concert
Review by Carlo Wolff
Billboard - October 12, 1991
TOM PETTY & THE HEARTBREAKERS | CHRIS WHITLEY | Blossom Music Center | Cuyahoga Falls, Ohio
Tom Petty & the Heartbreakers delivered a show of superb craft and staging nine days into a three-month tour, but opener Chris Whitley stole a bit of Petty's thunder at this Sept. 13 concert.
Augmented by Los Angeles keyboardist Scott Thurston, Petty's group worked 13,700 fans with an hour and 45 minutes of well-drawled, immaculately played hard rock.
The the kineticism of the set -- a daffy blend of enchanted forest and turn-of-the-century ballroom -- was missing from the show itself.
Petty and his dedicated gang were somewhat static despite a stirring playlist spanning the Beatlesque pop of "Learning to Fly," the dark, knowing title track of their new MCA album, "Into The Great Wide Open," and the psychedelic "Don't Come Around Here No More."
Petty's voice was strong, his kibitzing easy, his manner natural. The band played well, particularly on material from the new album. Drummer Stan Lynch's tough vocal on the Count Five's "Psychotic Reaction" proved Petty and his boys still know how to rock, and Petty's reverent reading of Van Morrison's "I'm Tired, Joey Boy" showed the band can be downright tender.
"Don't Come Around Here No More" was excitingly theatrical, but "Refugee" was marred by excessive dramatics. Overall, the show seemed more '70s than Petty's own later material itself.
Armed with a battery of guitars and provocative, subversive songs, 31-year-old Chris Whitley and a dedicated rhythm section (including producer Malcolm Burn on keyboards) surprised the crowd with a sexy, enigmatic set.
The highlights were the wide-screen "Big Sky Country," the bluesy "Phone Call From Leavenworth" (delivered solo on Whitley's trademark National steel guitar), and the hard-rocking, unrecorded "Complex Sex Ritual."
Tom Petty and the Heartbreakers | Chris Whitley | Fiddler's Green Amphitheater | Englewood, Colorado | August 29, 1991
Review by David Okamoto
Rolling Stone #616 - October 31, 1991
Dwarfed by a giant inflatable tree that loomed over the stage like a Keebler-elf condo, Tom Petty and the Heartbreakers launched their forty-city American tour by going out on a limb. At the risk of alienating longtime devotees sprinkled among the 16,000 fans who packed this suburban Denver amphitheatre, Petty put "Breakdown," "American Girl," "I Need To Know" and other trusty war horses out to pasture, dedicating most of the two-hour performance to songs from Full Moon Fever and the engaging new Into the Great Wide Open.
Editor's Note: The concert listed was actually on October 29.
Tom Petty and the Heartbreakers | UNO Lakefront Arena | October 25, 1991
By Keith Spera
OffBeat - December 1991
He didn't come right out and say it, but if Tom Petty had had to sum up his attitude about being onstage, it would probably have been along the lines of "Aw, shucks, guys, this really is fun." After swinging into the set with a pair of lesser-known cuts from the Heartbreakers' latest album, the crowd got its first big charge from what Petty called "my favorite three-chord song": "Free Fallin','" from his 1989 solo album. Throughout the two hour show, the catch phrases that mark Petty's recent work—"and I won't back down," 'I'm learnin' to fly/but I ain't got wings," "... a rebel without a clue," etc.—lent themselves easily to arena sing-a-longs. And if the Heartbreakers resented having to showcase Petty's solo material—and endure its enthusiastic reception— they didn't show it; the musicians attacked this material with the same vigor as their own.
Petty was careful to grant each player a moment in the spotlight (drummer Stan Lynch even handled lead vocals on "Psychotic Reaction"). Mike Campbell soloed on a pair of guitars, and contributed excellent slide work throughout the show, as well as quite a bit of mandolin. The set favored later material; "American Girl" and other oldies were reduced to an acoustic medley in the encores. The Heartbreakers had an elaborate southern-accents-meets-the-psychedelic-forest set on which to frolic: chandeliers and candelabras mingled with a huge, Keebler-esque tree. Petty even tossed in a bit of schtick, when he fended off caricatures of Nixon, Reagan and Bush with a huge peace symbol. A cute touch, but the music was plenty.