Editor's Note: Thanks to Sue Reaney for the scan.
Petty Prime
By Sandy Robertson
Sounds ­- April 20, 1985
Will Tom Petty exchange his super slinky strings for a microchip? In an exclusive interview with the man, Sandy Robertson finds out.
You can't take the myth out of Tom Petty. Like the one (which even MCA, his label in the UK, believed) about his his sister was the beauteous blonde in his new video. He doesn't even have a sister. And yet, just to confuse matters, sometimes truth is stranger than bitchin' where Tom Petty And The Heartbreakers are concerned. Hear the one about him deliberately smashing up his guitar hand? Or the tale of good old boy TP working with a trendy synth-rock band? Or about footage of him eating cake being censored as obscene? Or even...
We're in the offices of Lookout on Sunset Boulevard, Los Angeles, It's the kind of rock gaff they used to call 'funky' in the Seventies: small, comfy, platinum-lined, calmly busy since another client has just arrived back from an Australian tour. He is tall, silent, in fringed buckskin and black hat. He is Neil Young. Lookout put Yes back together and keep The Cars turning over. They also handle Tom Petty. Gently.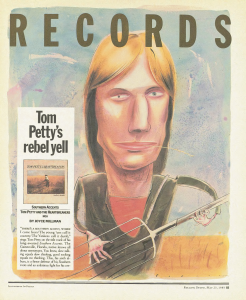 Tom Petty's Rebel Yell
By Joyce Millman
Rolling Stone #448 -- May 23, 1985
Southern Accents | Tom Petty and the Heartbreakers | MCA
"There's a southern accent, where I come from/The young 'uns call it country/The Yankees call it dumb," sings Tom Petty on the title track of his long-awaited Southern Accents. The Gainesville, Florida native knows all about stereotypes. You know, slow talking equals slow thinking, good rocking equals no thinking. This, his sixth album, is a fierce defense of his Southern roots and an ambitious fight for his creative honor.
Up On The Roof
Rolling Stone #450 -- June 20, 1985
The folks in St. Petersburg, Florida, got lucky when Tom Petty and the Heartbreakers started getting down up on the roof of the Don Ce Sar Hotel one sunny afternoon. It seems Petty and band, on a little pre-tour break, decided to have a little fun and recreate that famous scene from the Beatles film Let It Be. Tom hadn't played wiuth the band since he smashed his hand last fall, so a little rehearsing was in order. They lugged their equipment to the roof, and played a half-hour of neopsychedelic Southern rock, Petty style. An Orlando TV station arranged to capture some footage via helicopter, and the crowd from a nearby beach gave the rooftop rebels a standing ovation. The imprompti performance ended abruptly, however, when the local police politely asked them not to come around there no more (at least not without a permit). The band has since adopted a more down-to-earth approach. They hit the road for their Southern Accents tour, which will continue all summer long.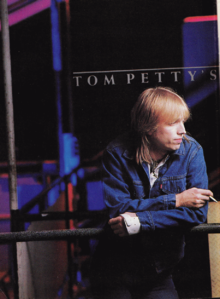 Tom Petty's Year (Or Two) Of Living Dangerously
By Bud Scoppa
Record -- August 1985
'Southern Accents' was the album that would bring together all that Tom Petty had learned over 10 years as a recording artist and all the deep-rooted experiential stuff gathering force inside him. He was going for the whole ball of wax this time...
Crackin' up/ I'm gettin' ready to go
Had enough / I can't take anymore ...
I'd run, but I'd find no face
I'd laugh, but it's wreckin' me, wreckin' me
It make a shiver / It make a shake / It
make a monster / Just like an earthquake
Everybody havin' fun / I don't know how
they can carry on
'Cause I don't think it's funny no more ...
-- from "Crackin' Up" by Nick Lowe (as recorded by Tom Petty and the Heartbreakers)
Talent in Action
Review by Ethlie Ann Vare
Billboard -- August 17, 1985
TOM PETTY AND THE HEARTBREAKERS | LONE JUSTICE | The Forum, Los Angeles | Tickets: $16.50, $14
Tom Petty's first Los Angeles appearance in three years was marked by a pleasant synthesis of tight and loose on Aug. 1: The musicianship of the Heartbreakers and their tour backup (three horns, two singers) was seamless, while T.P.'s informal stage banter and sleepy posture kept the feeling laid-back. Ever since he released the "Southern Accents" album, Petty's started to drawl more.
Petty seemed heartened by the warm welcome of the sold-out house in his adopted city (word is the show hasn't been doing all that well elsewhere) and gave the ticket-holders a jam-packed two-hour set. With a voice that starts at his rear molar and ends at his left bicuspid Petty sang the songs the folks wanted to hear: "Breakdown," "You Got Lucky," "Refugee," and most of the contents of the last MCA release. The stage set consisted of antebellum plantation-like columns, between which backdrops and video screens altered the mood.
When Petty got to "Don't Come Around Here No More," the backdrop became a proper '60s psychedelic light show. Well, not proper, perhaps: It was on videotape. Pulsating liquid light that glows identically night after night loses something in the translation. But the song certainly didn't suffer, especially when the Heartbreakers were joined by guest guitarist Dave Stewart of Eurythmics, who co-wrote the song. Not to take away from Petty's own songwriting skills, but that and the final encore of "Make It Better (Forget About Me)," Stewart's other contribution, were without doubt the high points of the show.
Petty and Stewart: Paisley Pop
Rolling Stone #456 -- September 12, 1985
Two psychedelic-guitar crazies onstage are better than one. Eurythmics' Dave Stewart joined Tom Petty in San Francisco and L.A. for "Don't Come Around Here No More" and the nugget "Little Bit of Soul."
Editor's Note: Thanks to Sue Reaney for the scan.
Tom Petty's New Tales Of The Old South
By Gary Graff
Creem - October 1985
First there's The Hand Story, or how Tom Petty learned that—as Johnny Mercer once wrote—when an irresistible force meets an old unmovable object, something's gotta give.
He learned the hard way. What gave in this case were several bones in Petty's left hand.
---
Newsmakers: Farm Aid
Billboard -- October 12, 1985
Rockers to the Rescue. Tom Petty, right, backs up Bob Dylan.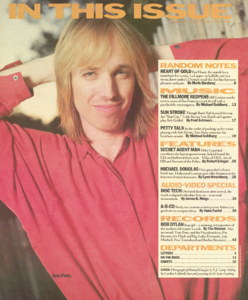 Back On The Road
By Michael Goldberg
Rolling Stone #465 -- January 16, 1986
Tom Petty teams up with new pal Bob Dylan
The phone call came from Bob Dylan. Would Tom Petty and the Heartbreakers be willing to back him for a five-week tour of New Zealand, Australia and Japan? "Are you kidding?" exclaimed Petty, still jazzed from playing with Dylan at Farm Aid. "Put me down. Send me the itinerary!"
And so Dylan did: The tour will kick off February 5th in New Zealand. It will be filmed, perhaps for a cable-TV special. No U.S. dates had been scheduled at press time.
At initial rehearsals in Los Angeles, Petty, and Heartbreakers and Dylan were all in top form, working out such recent Dylan songs as "Union Sundown" and "In the Garden," then jamming into the night on old blues changes. "I can't remember when I've had so much fun playing," said Dylan. "They play my music great."