Editor's Note: Thanks to Sue Reaney for the scan.
Tom Petty
By Duncan Campbell
Rip It Up - May 1980
For all he's been through, Tom Petty looks remarkably well preserved.
Physically he's about the same as his record covers, rather fragile, but smothering everything with that toothy, cocky grin. No wonder the little girls love him. The deep, drawling speaking voice is a surprise. He laughs a lot and is obviously well pleased with his present state of affairs. A sharp contrast to last year, when it seemed there was nowhere else but down.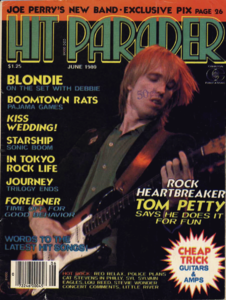 Editor's Note: Sadly, some of the images were cut out.
Heartbreakers and American Girls: Tom Petty Does It To Have Fun
by Richard Robinson
Hit Parader -- June 1980
Now that modern music has replaced all the new waves that came crashing down on us, everyone has stopped worrying about Tom Petty's place in the new music and begun to just enjoy him for what he is -- a go-for-broke rock and roller who's always said, "The main point of rock is to have fun; that's why I'm doing what I'm doing and that's why I'll continue to do it."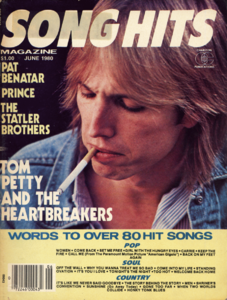 Pop Star of the Month: Tom Petty and the Heartbreakers
Song Hits -- June 1980
Tom Petty and The Heartbreakers' first two albums established them as one of the top bands on the music scene as the decade drew to a close. Their style concentrates on straight ahead rock 'n' roll that features fresh melodies and solid playing.
The band's 1979 appearances have showcased an exciting combination of their stage standards and their music from their new album, Damn the Torpedoes, the debut release on Backstreet Records. Attending concert critics have been unanimous in labeling the unit a major force in popular music.
Live Wave: Tom Petty and the Heartbreakers, Tommy Tutone | Blossom, June 20
Review by Dave Voelker
Cleveland Scene -- June 26, 1980
The advance sellout of Tom Petty's first Blossom appearance dramatically confirmed how his popularity has skyrocketed since last fall's release of DAMN THE TORPEDOES. After riding out several tough, lean years, Petty's hard work and dedication are finally paying off in spades, earning him the widespread acclaim that those who have followed him closely from the start knew was inevitable. Tom Petty now stands at the zenith of his career, and his ebullience on stage makes it clear that he's enjoying it all tremendously.
As was his concert last year at the Palace, this night's performance was a crowd-pleaser from start to finish. Petty growled, stuttered and crooned; the Heartbreakers backed him with both professional tightness and emotional vigor. If it was hard to focus on the show's fine parts, it was because crowd rowdiness and the distractions of a summer evening often made it difficult to concentrate. For many -- especially the thousands on the lawn -- it was really more of a "happening" than a concert, with To Petty providing the entertainment for what had to be the area's biggest party this night.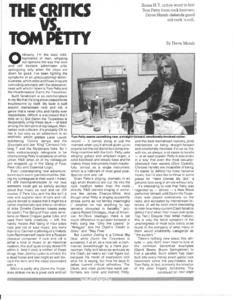 Editor's Note: This is not the easiest article to understand.
The Critics Vs. Tom Petty
By Dave Marsh
Musician -- June-July 1980
Some N.Y. critics want to bar Tom Petty from rock heaven; Dave Marsh defends good old rock 'n' roll
Ordinarily, I'm the least mild-mannered of men, whipping out opinions the way that rock and roll doctors administer pills, apologizing only when the chips are down for good. I've been fighting the symptoms of an unaccustomed defensiveness, which ebbs and flows in spurts coinciding precisely with the obsessiveness with which I listen to Tom Petty and the Heartbreakers' Damn the Torpedoes.
Sounding Good: Key Men
Rolling Stone #321 -- July 10, 1980
Some of the best keyboard players in the business talk about the instruments they use
Benmont Tench
Tom Petty and the Heartbreakers keyboard player Benmont Tench credits two sources with helping him get the right sound from his keyboards. "For organ, I go to Booker T.," Tench says, "and for piano, I go to the Rolling Stones — Beggar's Banquet, all that stuff. Nicky Hopkins — he's the best. And Billy Preston, if you take the synthesizers away from him, is a hell of a keyboard player.
Both onstage and in the studio, Tench uses four basic keyboards: a Hammond C-3 organ, a Wurlitzer electric piano, a Steinway grand piano and an ARP String Ensemble. He uses the latter instrument because "I can't stand synthesizers; they're too cold. Also, the sting ensemble is basically just an organ with string sound, and if you fuck with it right, you can make it sound like an old pump organ."
Tench cites Ian McLagan's playing with the Faces as having had a big influence on his electric piano technique. "If you want a piano sound — not an organ sound, but something with attack on it, and you want it to distort — then you go for the electric piano," he says. "Or, if you want a different kind of sustain than you get from the grand — a little thinner sound — then you go for the electric piano. But if you want a full-bodied thing, then you go for the grand. I've got a Baldwin electric upright at the house. That's what I practice on, and it sounds good through a Leslie. But like all electric pianos — the ones that try to sound like grands — it sounds too thin to me. So I carry a grand. It doesn't make the roadies happy, but it makes me happy."
Rolling Stone #326 -- September 19, 1980
Tom Petty and the Heartbreakers are back in the studio working on the followup to their triple-platinum Damn the Torpedoes album. The new LP will feature more than two dozen tracks, and it's already been titled Benmont's Revenge -- a possible allusion to the fact that not one of keyboardist Benmont Tench's tunes was included on Torpedoes....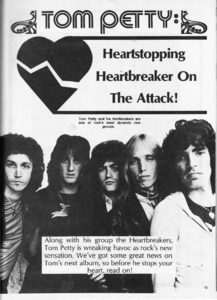 Tom Petty: Heartstopping Heartbreaker On The Attack!
Rock Special -- Fall 1980
Along with his group the Heartbreakers, Tom Petty is wreaking havoc as rock's new sensation. We've got some great news on Tom's next album, so before he stops your heart, read on!
Hot flash Tom Petty fans! Stop right there! Hold everything! Tom Petty, the rock and roll animal of Southern California, is finishing the tracks for his new fourth release as we write -- and it's gonna be HOT!
In fact, Tom's coming back better than ever now. If you were ecstatic over third l.p. "Damn the Torpedoes," catch your breath -- and hold it. Tom's new tunes'll blow you away!
Tom Petty and the Heartbreakers' star trip
By Lloyd Sachs
Rolling Stone #325 -- September 4, 1980
Tom Petty and the Heartbreakers | Poplar Creek Music Theatre | Hoffman Estates, Illinois | June 18, 1980
Illuminated by a steady white spotlight, Tom Petty's lean, chiseled face and shiny blond hair took on an almost angelic quality at Poplar Creek, the immaculate new open-air amphitheatre near Chicago. That image certainly jived with the adoring reception he got from the throng of fans in attendance: simply stated, not only did Petty and the Heartbreakers not have to prove it all night, they didn't really have to prove it at all.