Tom Petty returns for more
By Cameron Crowe
Rolling Stone #263 -- April 20, 1978
'It's been a crazy year and a half'
LOS ANGELES -- Tom Petty and the Heartbreakers' new album shoud finally be out in mid-April, eighteen months after their debut LP was released. The group is completing the album in a converted apartment house on "the bad side" of Hollywood Boulevard.
"It's been a long time since our last album," Tom Petty agrees. "But it's been a crazy year and a half, you know." It began with Tom Petty and the Heartbreakers, released without advertising at the same time as new albums from the Eagles and Fleetwood Mac. There were other problems, too: a highly visible punk outfit led by ex-New York Doll Johnny Thunder was also called the Heartbreakers. "The press thought we were punks," Petty says. "Most people didn't know us at all. We were just another new group. We hadn't even toured together when we made the album. So we went out on the road ... and stayed out."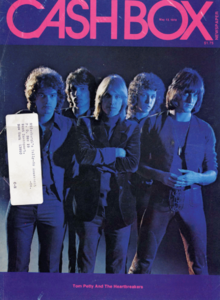 Cashbox -- May 13, 1978
Since the release of their self-titled debut ABC/Shelter album 1-1/2 years ago, Tom Petty and the Heartbreakers have been regarded as one of the best new American rock 'n' roll bands by many prominent music critics. After performing over 200 dates throughout the United States and Europe in 1977, the group broke through on a popular level: "Breakdown" became a Top 40 hit in the U.S., while "American Girl" and "Anything That's Rock and Roll" enjoyed similar success in Great Britain.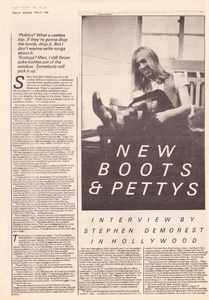 Editor's Note: Thanks to Sue Reaney for the magazine scan!
New Boots & Pettys
By Stephen DeMorest
Sounds - May 27, 1978
Shelter Records may have the coolest offices in America, a ramshackle wooden house nestled under a grove of tall trees set well back from Hollywood Boulevard. There's a genuinely rural flavour about it, a substantial earthiness which contrasts the surrounding city of electric lights and sky, Los Angeles, the mirage in the desert. Shelter is not just "casual," which is now a designer's term for expensive clothes—it's totally loose.
True to his environment, Tom Petty clomps in loudly in scuffed suede boots, an unironed shirt, and naturally faded jeans. He detours around a bamboo couch and a heavy oak desk, crashes easily into an old rocking chair, and bends down to strike a match off the bare, hardwood floor. Sighing lazily, he lights his cigarette and flashes an engaging, crooked smile from under his straw-colored hair.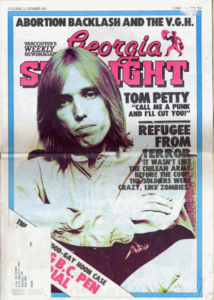 Editor's Note: Zoom into the address label on the cover!
"Call Me A Punk & I'll Cut You..."
By Tom Harrison
Georgia Straight -- June 9-22, 1978
Tom Petty succeeds in spite of everybody.
Tom Petty is resolute. He will not pose for photographs; he will not be drawn into badmouthing the heavy metal kings his Heartbreakers are supposed to be unseating; he won't let the media peg him.
The media have got him -- or they think they've got him -- for twelve hours of seperate interviews, a full day's work in Vancouver, and Petty has resigned himself to the barrage of leading questions and misconceptions he is getting used to confronting.
Elvis Costello to the contrary, Tom Petty is this year's model, and he intends to stick around. He's taken him ten of his twenty-five years to get where he is now and he's still only building up steam.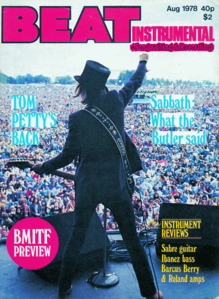 Tom Petty's Back
by Tom Stock
Beat Instrumental -- August 1978
Tom Stock did the interview, went to Knebworth, did another interview, went to the Marquee, and did another interview.
In the middle of last summer (or should that read 'the last summer?') Tom Petty and The Heartbreakers, cresting a rising wave of euphoria in the music press, thundered around the country on a tour supporting Nils Lofgren. A couple of weeks later the band returned to headline the Rainbow in their own right, confirming, as many had intimated, the suspicion that the tour promoters had gotten their sums all wrong. The first album had been universally acclaimed by critics and poseurs alike, while Petty adamantly denied spurious accusations of punkdom. Beat wondered whether this phenomenon could be the elusive future of rock 'n' roll comprising as it did the right brand of hard, lyrical, uncompromising music with that physically acceptable face of rock. And then, nothing.
It seemed for a time that Petty had managed to upstage that master of non-follow up, Bruce Springsteen.
Tom Petty: You're Gonna Get It
By David M. Gotz
Record Review -- August 1978
You're Gonna Get It is the title of Tom Petty and the Heartbreakers new album. It's clear, precide, and unpretentious rock 'n' roll. There's no use in describing the music in any other way or in detail, you will hear most of it sooner or later anyway. So the rest of this review/article will be what Tom Petty has to say about this new record and music today.
It's been nearly two years since the last record from this band. Half that time was spent on the road, slowly pushing their first album up the charts. Another eight months were spent on legal hassles and getting a new, more favorable contract, and the rest recording. The record company executives expected an album in one month like the first one, but:
"I really got interested in this record, we spent nearly four months on it. I hardly ever left the studio. We took alot of chances. I'd write a song and say lets do it this way, then we'd end up changing it, some ballads ended up rockers! We got into it, we just had a real good time making the record. We loved it so much that we had to work it until it was just right, sometimes that meant writing a different song every day. The trick of getting a good album is very simple, but no one seems to do it. You've got to make every track stand on its own, and fit into the album. I don't know why people don't do that, but they don't. I think that they just get tired and don't maintain the unity of the album.
Talent in Action
Review by Roman Kozak
Billboard -- August 12, 1978
Tom Petty & Heartbreakers | Derringer | Carillo | Palladium, New York
It was almost like an old-time battle of the bands when Tom Petty, Derringer and Carillo clashed head-on before less than capacity, but fully enthusiastic crowd at the Palladium July 14.
It was Carillo's birthday and he had his friends up in front. Derringer brought in some outside help with Ted Nugent making a brief appearance. But the winner turned out to be the headliner, Tom Petty & the Heartbreakers.
Petty, in his 90-minute set, played no-nonsense rock 'n' roll, its component parts stripped bare of all frills and pretensions. His music, while not really new wave, shares with the genre the sense of immediacy and potency missing from so much of commercial rock.
Petty and the four other musicians who make up the Heartbreakers performed 15 songs in their set, combining new material with rock classics. There is a country influence in Petty's music, but while most country rockers have gone mellow and sweet, Petty, as he showed with a biting rendition of the Byrds' "American Girl," remains raw and vibrant.
Editor's Note: Thanks to Sue Reaney for the scan.
Tom Petty gettin' it straight
By Dave Fagence
Dark Star - August 16, 1978
In just over a year Tom Petty and the Heartbreakers have, you might say, arrived, from obscurity to being a popular act whose music is also respected by discerning listeners, in rather alarmingly fast fashion, but so thoroughly deserved considering the excitement and energy of their live performance and the quality of material on record.
Their career took its biggest upward leap on their first British dates when they knocked out seemingly everybody who pulled any weight and got heaps of lavish praise poured over them from all directions. This time around Tom's not quite so happy; they've had a rough time with the British music press. Nobody in the band quite understands why as they feel they have done nothing but improve since they last played here. Their performance at The Marquee would have been staggering if one could have become as involved with the music as much as one had to be wiping the sweat off one's nose. "Listen To Her Heart," "Strangered In The Night," "American Girl" and "Luna" were all rock'n'roll nuggets played with rare verve.
You're Gonna Get It! | Tom Petty and the Heartbreakers | Shelter/ABC DA-52029
Review by Tom Carson
Rolling Stone #273 -- September 7, 1978
Tom Petty and the Heartbreakers, released last year, was a debut album that declared almost nothing, but intimated all over the place. The music was intricate and deft, with spooky hints of everyone from J.J. Cale to the Guess Who, all played very close to the vest. Petty himself lived up to the "Mystery Man" title of one of the songs, practicing a terse and elliptical romanticism, always just out of reach. Anything more explicit might have made him banal: his very elusiveness was what gave the record most of its tantalizing, unsettling charm.
On You're Gonna Get It!, Petty has shed some -- but not all -- of his cloaks. "Magnolia," the most straightforward love song he's yet done, maintains the mystique: "Then she kissed me and told me her name/I never did tell her mine." But by the song's end, it's the girl who's forgotten the singer, while he's left remembering her. Everything's open-ended enough to make you want more.