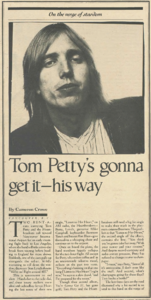 Tom Petty's gonna get it -- his way
By Cameron Crowe
Rolling Stone -- October 19, 1978
Vancouver, B.C.
Two rent-a-cars carrying Tom Petty and the Heartbreakers roll towards Vancouver International Airport for an early-morning flight back to Los Angeles, where the band will take a two-day break from touring before heading to England for more shows. Suddenly, one of the cars pulls up alongside the other. Wildly motioning to roll down the window, Stan Lynch shouts: "We're on! Right around 102."
This is tantamount to red alert. Hands dart to the radio dial, and these weary rockers come alive with schoolboy fervor. Hearing the last notes of their new single, "Listen to Her Heart," on AM radio, the Heartbreakers -- Petty, Lynch, guitarist Mike Campbell, keyboardist Benmont Tench and bassist Ron Blair -- give themselves a whooping cheer and continue on to the airport.
Once on board the plane, the band members happily collapse for the two-hour flight. All except for Petty, who orders coffee and in an uncommonly talkative mood, reflects on the past two years. "Everything's banking on that one song ['Listen to Her Heart'] right now," he says in a slow drawl, "and I'm prepared for the worst."
Stellar Sound
by Stan Soocher
Circus - November 21, 1978
Stereo Equipment the Stars Groove With at Home
Tom Petty got the Marantz 2270 amplifier and JBL-44 speakers for his house in Sherman Oaks, California, from his co-producer, Denny Cordell. "They were sitting around Denny's office," Tom recalls. "I liked them so much, I stole them when he went to England."
Petty plays his Marantz with the treble turned all the way to 10, the loudness switch on, and the bass rolled off one notch. "Heartbreakers' guitarist Mike Campbell tripped and kicked a hole in the JBL 44s with his boot," Tom says, "but they still sound great on the highs."
With a Garrad Synchro-Lab 95B turntable and a Shure M55E cartridge, Tom has been listening lately to Carlene Carter, the greatest hits of the Everly Brothers, and Marvin Gaye and Tammi Terrell. His first record player was an Arvin that he got at age 11. "I taped a quarter to the tone arm so it would stay in the groove. It was a mono job, but Meet the Beatles never sounded quite right to me in stereo."
In his pine-paneled music room, Petty records demos on a Teac 3340S four-track reel-to-reel using Ampex Grand Master ATape. "I plug in direct with my Gibson RD, which has a built-in limiter and expander. I also have an MXR compressor to prevent clipping. Lately, I've been recording dogs barking. I've overdubbed 150 dogs already."
Petty's Sony CF-550A casette deck is his favorite piece of equipment. He uses it with the new Ampex Grand Master cassette tapes. "I carry the Sony with me on the road," Petty explains, "so I can listen to our performances the same night we play."
Editor's Note: There was actually only one brief mention of Petty inside. Go figure ...!
Backstage Pass -- February 1979
Cover artist, Tom Petty, arrives '79 with Gibson RD Artist in hand and RIAA Gold for his second ABC album, "You're Gonna Get It."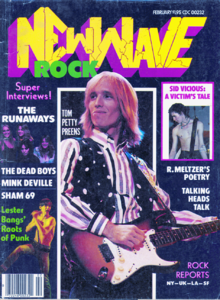 Tom Petty -- Heartbreaker At Home & A Broad
by Michael P. Liben
New Wave Rock -- February 1979
When I was asked to interview Tom Petty, I had one nagging thought: Is he new wave? Granted the press has labeled him new wave (spelled p-u-n-k), but superficially I had my doubts. First of all, he's from Southern California (and before that, Gainesville, Fla., former stomping grounds of the Allman Bros., Lynyrd Skynyrd and two-fifths of the Eagles). Secondly, he looks suspiciously like Jackson Browne, who's also from So. Cal. and has this nasty habit of making me wretch from his all-too-laid-back approach to er, um ... music? Lastly, I've heard a number of Tom Petty tunes on WNEW-FM in Noo Yawk and as we all know, they don't play much noo wave music over those airwaves.
Billboard -- March 24, 1979
GOLDEN HEARTBREAKERS -- ABC's Tom Petty and the Heartbreakers receive an Ampex Golden Reel Award for "You're Gonna Get It," recorded at Shelter Studio in Los Angeles. Shown, left to right, are group members Stan Lynch, Ron Blair, Mike Campbell, above, and Tom Petty; group manager Tony Dimitriades; Ampex mastering tape salesman Joe Cirincione; group member Ben Trench; and Ampex regional sales manager Jack Valdespino. The group selected the Free Arts Clinic, a home for battered children, as recipient of Ampex's $1,000 cash donation.
Tom Petty Defendant in 2 Court Actions
Billboard — June 9, 1979
LOS ANGELES — Tom Petty is a defendant in two separate local Superior Court suits filed by MCA Records and Shelter Records accusing him of breaching a contract.
The first suit, filed by MCA Records, seeks to require Petty to fulfill his 1976-77 Shelter-ABC packs which were acquired by the plaintiff when it purchased ABC Records last March 4.
The pleading alleges that Petty feels his binder ABC through Shelter was invalidated when MCA bought the label holdings. MCA counters that the contracts specifically provide ABC records could assign its right to Petty to others.
Petty Broke, Lists Debts Of $Half Million
By John Sippel
Billboard -- June 23, 1979
LOS ANGELES -- Recording artist Thomas Earl Petty, 2605 Hacienda Way, Santa Barbara, Calif., has filed bankruptcy here under Chapter Xi, showing known debts of $576,638.16 against assets of $56,845.
Petty's voluntary bankruptcy action caused Judge Calvin K. Ashland to stay and enjoined from continued prosecution two litigations filed recently by MCA and Shelter Records against Petty in local courts (Billboard, June 9, 1979).
Creditors of Petty have been requested to meet before Judge Ashland June 19 at 9:30 a.m.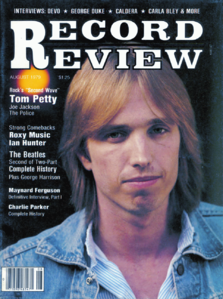 Record Review Interview: Tom Petty
By David M. Gotz
Record Review -- August 1979
Popular music in America is going through some very uninspired times right now. Disco Reigns, but its dependance upon endless repetitions of percussive and verbal nonsense is boring the hell out of a lot of people. Mellow rock seems to be another alternative for the masses, but there too, insipid lyrics and melodies are making mush out of many active souls. There's rock too, but how many power chords are there, and how many times can you ply the same lead? So where do we turn? Back to good old rock 'n' roll. Yes, the sheer energy of punk and new wave has brought with it a new awareness of this most valuable native American asset.
Tom Petty files for bankruptcy
By Salley Rayl
Rolling Stone #297 — August 9, 1979
With a third album and a California tour in the offing, Tom Petty filed a formal bankruptcy in Los Angeles on May 23rd. The petition is a proposal for economic rehabilitation — as opposed to complete liquidation of assets — and means that Petty is seeking more time to pay off his debts while retaining possession of his money and personal property. Petty claimed debts of $576,638 against assets of $56,845. As part of the petition, he also motioned to have his contracts with ABC Records and Shelter Records rejected by the bankruptcy court. Petty says this would allow him to sign with another record company for more money and to reorganize his financial affairs to be of more benefit to his creditors.
The petition temporarily stays all state court proceedings in a suit involving Petty and MCA Records; MCA claims that Petty's contract with ABC Records was validly transferred to MCA after it purchased ABC last March (RS 289). While several MCA sources charge that Petty is using the bankruptcy petition as a legal maneuver to get out of his MCA contract, Tony Dimitriades, Petty's comanager (with Elliot Roberts), says, "We have a listing of debts and no money to pay them. What MCA would pay us now is simply not enough money to pay for the album, let alone the rest of the debts."